Tech Nation, the growth platform for UK tech scaleups and leaders, has today revealed the 22 cyber security scaleups selected to join its Cyber 2.0 growth programme.
---
You can view the full list of the scaleups joining Tech Nation's Cyber 2.0 growth programme at the end of this article.
---
The announcement comes at a time when the world tackles increased cyber security threats in light of Covid-19 and the vulnerabilities of a mass remote working environment.
The leading UK cyber security scaleups that have been selected to join Cyber 2.0 are utilising cutting-edge technologies to provide innovative solutions to improve security for businesses and individuals.
Many of the issues being tackled by these cyber companies are coming to the fore against the backdrop of Covid-19.
Bob's Business, GlassWall, Hut Six, OutThink and ThinkCyber all provide training to reduce the human risk from scams, while Dataswift, ByzGen and Symphonic are all providing innovative data sharing and privacy solutions for both companies and individuals.
Commenting on the process of the selecting the cohort for the Cyber programme, Ollie Bone, Cyber Lead at Tech Nation, said: "For the cyber programme judges look for something unique, maybe an "edge", in areas such as the team, product or growth. Last year, when Awen Collective applied, they were one of the youngest and smallest companies to do so but the judges loved them. They have now doubled in size and secured a large MoD contract.
"This year, the cohort varies from more well known companies like Glasswall Solutions which has a fantastic product and reputation down to breakout companies like PreCog which has an edge in its market insight and an innovative product."
New solutions to tackle Covid-19
Many of the scaleups joining the Tech Nation's Cyber programme are also directly providing new solutions and responses to Covid-19.
For instance;
• ByzGen are working closely with strategic partners to identify ways to improve the exchange of sensitive medical data between primary health providers in the NHS.
• CyberSmart have created a new Small Business Resilience Hub to help SMEs navigate the transition to remote working safely.
• PreCog has developed a real-time crime intelligence solution for the government, and can even help monitor social distancing measures.
On the need to find new solutions to tackle the security risks created by coronavirus, Caroline Dinenage, Minister for Digital and the Creative Industries, said: "We're working closely with tech companies to find innovative ways to stop the spread of coronavirus. It is great to see some of the successful startups developing solutions to speed up the vital exchange of health data and make it easier for SMEs to work from home securely.
"This important initiative will not only allow promising cyber security startups access to expert advice but also help make Britain the safest place in the world to be online."
Covid-19: a cyber threat to businesses and individuals
Over the last few weeks, Covid-19 has been exploited by cyber criminals taking advantage of the unprecedented number of employees working from home.
With an increase in remote working and a rise in virtual meetings, there has never been a more urgent time to invest in cyber security.
Dave Palmer, founder, Darktrace, commented: "At a time when solidarity in the tech community is more important than ever, we look forward to sharing our lessons learned in applying AI to the cyber challenge and scaling Darktrace into a global business with the Tech Nation Cyber 2.0 cohort — the next generation of the UK's cyber security scaleups."
A key growth sector
Cyber security is already a key growth sector in the UK — between 2015 and 2019 UK cyber companies raised £7.8 billion.
The UK is third in the world for cyber investment after the US and China, raising £17.5 billion and £16.4 billion respectively from 2015 to 2019. But which companies are offering the most innovative and effective cyber solutions?
Tech Nation's Cyber programme 2.0
At a time when cyber security has never been more important, Tech Nation's Cyber programme aims to unlock the growth potential for early-stage cyber scaleups.
The programme addresses key issues facing cyber founders, including scaling internationally, scaling company culture and navigating access to clients and stakeholders in the cyber ecosystem.
The cohort represents the up and coming leaders in the cyber sector right across the UK:
• 45% of the companies joining the cohort have female founders.
• 68% of the companies are based outside of the capital.
• 19% of the cohort are based in Belfast.
• 14% of the cohort are based in Edinburgh.
• Other companies joining the programme are from a broad range of locations across the UK: Barnsley, Newport, Cambridge, Woking, Southampton, Chorley, Milton Keynes and London.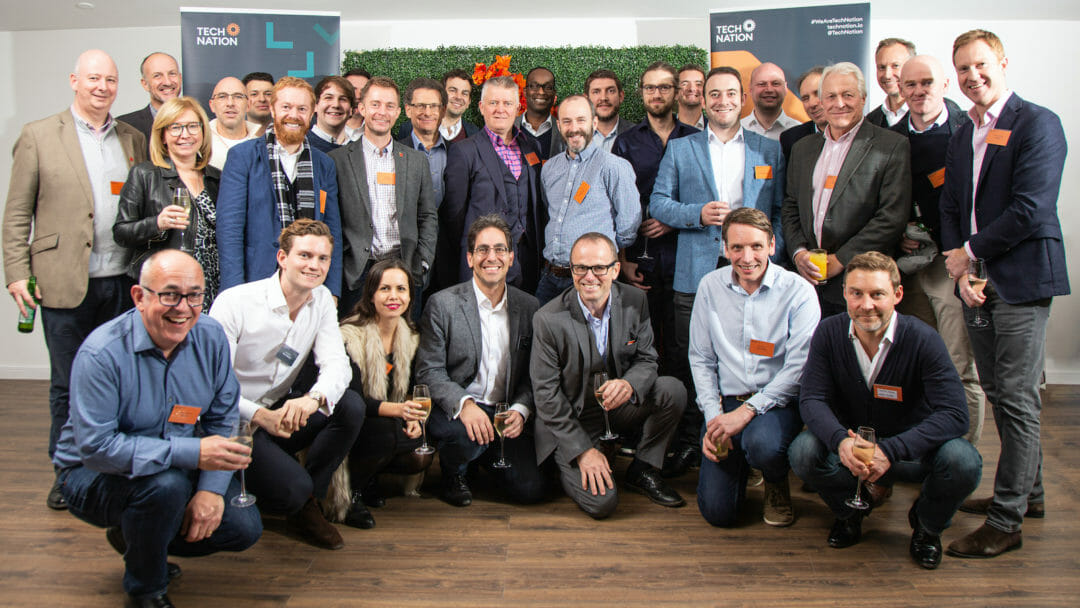 The previous Cyber cohort: success
Companies who have previously been on the programme have seen considerable success.
White Bullet, an AI risk scoring software provider, doubled their annual recurring revenue, expanded their operations into Asia and forged potential projects in the US off the back of the Cyber 1.0 trip to New York.
Red Sift raised $8.8 million Series A finance and started its expansion in the USA market.
Awen Collective won a 12 month project with the Ministry of Defence, extending their Dot product into the military and defence domain and increased incoming work orders by five times from the previous financial year.
The programme is supported by partners CBRE, RSM, Talent Works International and Wilson Sonsini who bring their expertise and networks to Cyber 2.0.
---
 The Cyber Cohort 2.0
1. Ampliphae
Belfast |
Ampliphae is an easy-to-deploy, sophisticated and affordable cloud-discovery, security and compliance platform, allowing businesses to take back control of the cloud. Ampliphae quickly finds all the SaaS applications in use on your network, monitors adoption rates, sees who is using what service, and, where necessary, migrates users from non-compliant services to approved ones.
2. Angoka
Belfast | London
Angoka provides hardware-based solutions for managing the cybersecurity risks inherent in machine-to-machine communication networks. It provides a trusted information exchange for connected and autonomous vehicles, IoT, smart cities and critical infrastructure, including National Grids and bank networks.
3. Audit Comply
Belfast |
Cyber attacks, customer trust, new data protection, privacy compliance requirements, and the rapid adoption of new technology are introducing unanticipated risks. AuditComply revolutionises the way organisations manage their risk, compliance and quality programs. It automates various workflows and aggregates risk data in support of cross-organization collaboration for risk management.
4. Bob's Business
Barnsley |
People, not technology, have become the most common target for cyber attackers. Bob's Business provides cyber security awareness training courses to businesses, including phishing training and compliance courses. It empowers individuals to take ownership of their data and their cybersecurity behaviours by providing content that relates to them on an individual basis which will become increasingly important as the lines between home and work blur.
5. ByzGen
London |
ByzGen's enterprise-grade, blockchain-inspired, Trusted Data Exchange Platform enables businesses and organisations to exchange their most sensitive and commercially valuable data between disparate partners, supply chains and stakeholders. It ensures absolute originator control, verifiable data states, provable histories and the highest levels of security for all critical enterprise data.
6. Cyan Forensics
Edinburgh |
Cyan Forensics helps law enforcement, social media and cloud companies find and block harmful content. Its new generation of tools provide dramatically accelerated on-site or lab based digital triage for policing, effective protection for social media, cloud and messaging apps, and empowering governments to achieve policy goals.
7. CyberSmart
London |
CyberSmart provides a unique approach to automating cyber security and compliance in line with (and exceeding) government standards, in order to protect against over 99% of cyber incidents. With its centralised dashboard, desktop and mobile apps, the service reduces the Cyber Essentials certification time from months to hours, making remote auditing the de facto approach for the industry, all whilst checking, fixing and monitoring compliance 24/7.
8. Dataswift
Cambridge |
Dataswift operates The Hub of All Things, an online platform that allows users to organise, control and exchange their personal data within private digital accounts. Dataswift's platform enables organisations to store their users data within these accounts so that it can be owned and controlled by users, but at the same time accessible by websites and apps in real time and on demand with the appropriate contracts and governance in place.
9. eXate
London |
eXate is the "Ink Bomb for Data" and protects production data in order to unlock its value. As a result, it allows data to be safely shared with third parties. By using eXate's sharding technology, the majority of sensitive data attributes remain within a company's firewall, allowing insights and analytics to be generated in a secure manner.
10. Foundries.io
Cambridge |
Rising Stars 2.0 winners Foundries.io address security and device management for IoT and Edge devices by developing software micro-platforms. They provide a self-service cloud solution with turnkey services to develop, secure, deploy and maintain embedded IoT and Edge compute products. They enable secure IoT devices and provide lifetime software maintenance at a fraction of current costs.
11. Glasswall Solutions
Chelmsford |
Working from home means greater reliance on cloud technologies. Glasswall Solutions offers unparalleled protection from file-based threats. Their signature-based security seeks to identify and remove dangerous files. Malware morphs and spreads at such a rate that malicious files are often missed and harmless files held, impacting both safety and productivity; with Glasswall, you can trust every file.
12. Hut Six Security
Newport |
Hut Six's information security awareness solution trains, tests and tracks your information security culture to increase awareness of potential cyber security issues that can occur in the workplace. They provide employees with knowledge to help them identify a potential risk before it happens, for example, clicking on a link in a phishing email. Their focus is to deliver relevant and non-arbitrary training that convinces users to change their behaviour.
13. NquiringMinds
Southampton |
NquiringMinds provides the tools to secure, share and analyse data at scale. Their Trusted Analytics platform securely combines data from different sources, solving the problem of establishing trust between data from different origins. Customers in SmartCities, Industry and Health have used NquiringMinds technology to provide deep AI powered insight and to deploy these insights operationally.
14. OutThink
London |
OutThink is the world's first Predictive Human Risk Intelligence platform (SaaS) and is revolutionising security awareness. The enterprise solution gives security teams powerful insights and the visibility they need to make targeted interventions, to manage human risk effectively.
15. PPC Protect
Chorley |
Rising Stars 1.0 alumni PPC Protect develop automation software for PPC advertisements, aiming to minimise the effects of click fraud and ad fraud for digital media advertisers, a criminal activity that is estimated to cost up from $19bn in 2019 – and it shows no sign of slowing down.
16. PreCog Systems
Milton Keynes |
PreCog has developed a crime intelligence system that is able to detect and react to the location of criminals, terrorists, trafficked persons and people of interest to governments, security services, law enforcement agencies and commercial organisations, all with the help of their data analytics platform.
17. Shufti Pro
London |
Shufti pro is an AI-powered SaaS solution that makes onboarding and verifications of users up to 40% more cost effective and can verify users in under 30 seconds. Shufti pro offers Identity Verification, KYC, AML & KYB solutions in over 230 countries.
18. SnapDragon
Edinburgh |
SnapDragon protects brands and intellectual property by fighting fakes and counterfeits being sold online. By identifying and removing fakes from online marketplaces, they protect customers at risk of purchasing low quality goods, the reputation of the brand and divert the revenue back to the people producing the real, quality product. They do this through an easy-to-use platform, and their clients range from SMEs to larger international brands such as Love Island and Stella McCartney.
19. Symphonic Software
Edinburgh |
Symphonic Software's software makes it possible for public and private sector organisations to exercise greater control over when they authorise access to data and services, by allowing policies to account for a much wider context and keep an audit trail of who has accessed which data. This is a key requirement of the modern security landscape and allows clients to adhere to strict regulatory compliance whilst still opening up access that is imperative to the needs of the company.
20. ThinkCyber
London |
ThinkCyber engages staff across medium to large corporations to understand and protect themselves against cyber-threats by delivering ongoing, real-time and context sensitive security interventions and guidance. They provide a cross-sector solution and offer the unique capability to deliver secure behaviour change in employees, tailoring content to individual behaviours.
21. Uleska
Belfast |
In a world where software is developed faster than it can be tested for security, Uleska is offering a quicker solution to test software for security flaws. Using intelligent automation and orchestration to conduct the testing, they help more software comply with regulations and make it safer for the end user.
22. VU Security
London |
VU Security was created to help both citizens and organisations by providing a product that ensures secure, safe and frictionless transactions.Their cloud infrastructure provides a one-stop shop connection to all of its solutions, letting clients easily integrate their existing systems with VU, whilst protecting users from identity theft and fraud.
---