Figures from the latest forecast from CCS Insight have underlined the immense scale of the global mobile phone industry. The report has estimated that close to two billion mobile phones will be shipped in 2017, a 2% rise from 2016.
Worldwide demand is expected to follow this trend, resulting in a staggering 10 billion mobile phones being shipped over the next five years.
Smartphones will continue to account for most sales, with an expected 1.53 billion shipped in 2017. This figure will rise to 1.90 billion in 2021, when smartphones will account for 92% of the total mobile phone market.
Marina Koytcheva, VP forecasting at CCS Insight, noted that "The mobile phone continues to power one of the most vibrant sectors of the consumer electronics market. Although total shipment volumes will remain largely flat over the next five years, the proportion of smartphones continues to grow and the technology landscape is changing rapidly."
>See also: 5G technology market set to grow rapidly
The forecast also revealed the strong progress that 4G LTE technology has made in mobile phones over the past decade. The first shipments of LTE phones in 2011 accounted for just 0.2 percent of the total market. Now, CCS Insight expects the technology to be incorporated into 68% of phones shipped in 2017, climbing to 84% in 2020.
Koytcheva added, "4G technology isn't limited to smartphones. The recent introduction of low-cost 4G chipsets for feature phones will put 4G technology on more and more affordable handsets. This will be particularly important in markets such as India that offer the highest growth opportunities in the coming years."
CCS Insight's forecast predicated the emerging potential for 5G-capable handsets, despite the fact that early deployment of 5G networks will focus on providing fixed wireless connections.
The analyst firm expects 100 million 5G-capable phones will be shipped in 2021; leading the charge will be North America and developed markets in Asia–Pacific such as Japan and South Korea.
Furthermore, CCS Insight's forecast identified several regional trends, with mature markets such as North America and Western Europe not experiencing any growth over the next five years.
>See also: UK 5G infrastructure will overtake fibre broadband
China will remain the largest global market, with sales reaching half a billion units in 2021. Growth in the Chinese market has been sustained longer than previously expected, fuelled by consumers continuing to upgrade to 4G-capable handsets.
Principal growth markets during the forecast period will be in Africa, India and some other markets in South-East Asia.
The forecast highlighted India as a particularly important market, with a compound annual growth rate of four percent between 2016 and 2021 — significantly higher than the 1.3% worldwide average.
Koytcheva commented, "We expect an interesting battle to emerge in India as rival phone makers compete to take advantage of this growth. Chinese smartphone manufacturers have clearly set their sights on increasing their share of the market, but the Indian government is determined to support local manufacturing efforts with its Make in India initiative".
However, CCS Insight has cautioned that, despite the impressive sales volumes, market conditions remain tough for phone manufacturers. "Mobile phone makers, especially the smaller ones, remain under tremendous pressure as component prices — particularly memory — continue to rise and margins keep getting tighter," observes Koytcheva.
>See also: 5G will be transformative for the UK
"It is more apparent than ever that success in mobile phones requires immense scale; as we predicted, smaller players are being squeezed harder than ever. Without the benefits of a large-scale business, the only way to survive is by identifying a niche that is underserved by the big players".
Worldwide Mobile Phone Shipments (Billions), 2017-2021
| | | | | | |
| --- | --- | --- | --- | --- | --- |
|   | 2017 | 2018 | 2019 | 2020 | 2021 |
| Smartphones | 1.53 | 1.64 | 1.74 | 1.82 | 1.90 |
| Feature phones | 0.46 | 0.38 | 0.30 | 0.23 | 0.17 |
| Total | 1.99 | 2.02 | 2.04 | 2.06 | 2.08 |
Source: CCS Insight Mobile Phone Forecast 2017-2021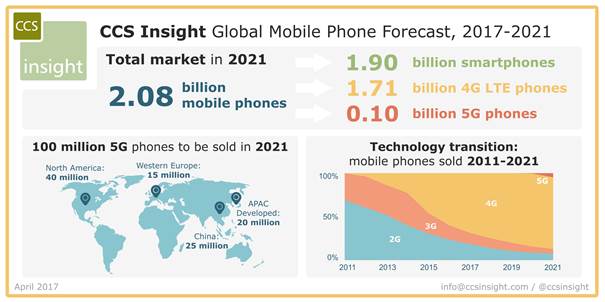 Nominations are now open for the Tech Leaders Awards 2017, the UK's flagship celebration of the business, IT and digital leaders driving disruptive innovation and demonstrating value from the application of technology in businesses and organisations. Nominating is free and simply: just click here to enter. Good luck!