Whilst the majority of brands the world over have long since embraced social media as a means to engage and drive value from their audiences, it seems that only digitally enabled global brands have so far fully leveraged the data and insights that social platforms can offer them.
The most pressing reason why brands need to consider audience intelligence is the sheer volume of social and digital content which is created for audiences verses the actual audience size and their available time to find and interact with content. The former is growing at an incredible rate, whilst the latter is not.
Amongst this increasing volume of content and messaging 'digital noise', a new topic has started to further disrupt attention share – namely politics.
>See also: The pros and cons of shadow business intelligence
Traditionally not a subject area which dominates social media when compared to, say, popular culture, as you can see from the chart below, conversation relating to Brexit and the Republican National Convention (RNC) were far more prominent than two of this year's top Hollywood movies….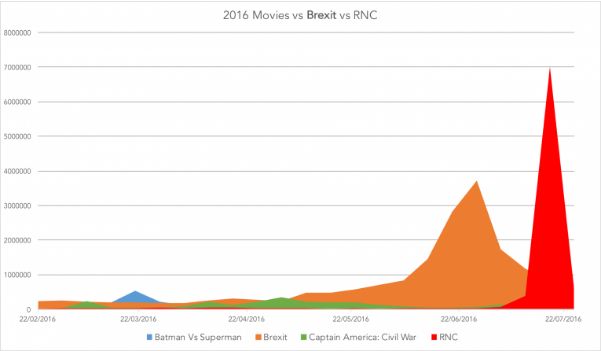 …however when we look at the conversation four years ago, a major political event such as the RNC saw a fraction of the attention.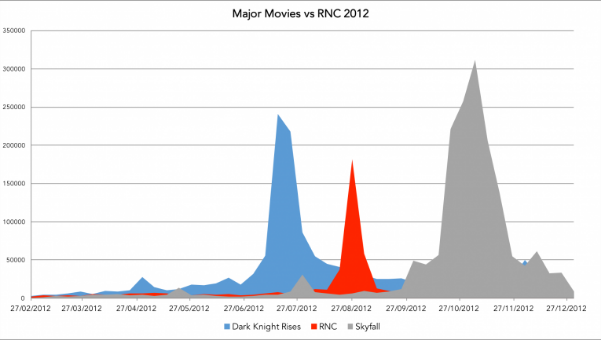 In terms of cutting through the 'digital noise', brands have a further problem in that they are generally all focusing on the same broader audience types such as 'millennials' or 'affluent males'.
This results in decreased visibility and increasing media costs in order to buy access to audiences.
The only way to combat this ever diminishing share of audience attention is by adopting precision in marketing practices.
>See also: Five reasons why BI and analytics are the top CIO priority
This can only be achieved by identifying the audience groups and digital tribes that offer the most value to brands and learning the best means to engage and inspire them.
A wealth Of opportunities for luxury
Given the vast number of often very passionate social media conversations relating to their products, luxury brands are in a highly beneficial position when it comes to available audience data.
They could also benefit from the opportunity to tell the kind of inspiring stories around their brand and products, which are known to engage and inspire audiences.
For example, EntSight conducted a recent audience intelligence report that focused on luxury watches and jewellery brands and discovered that 'advocacy' was by far the most prominent consumer behaviour across the prestige & luxury, high end and mid-range categories – confirming that vocal 'brand love' for these brands and their products was prominent across social and online media.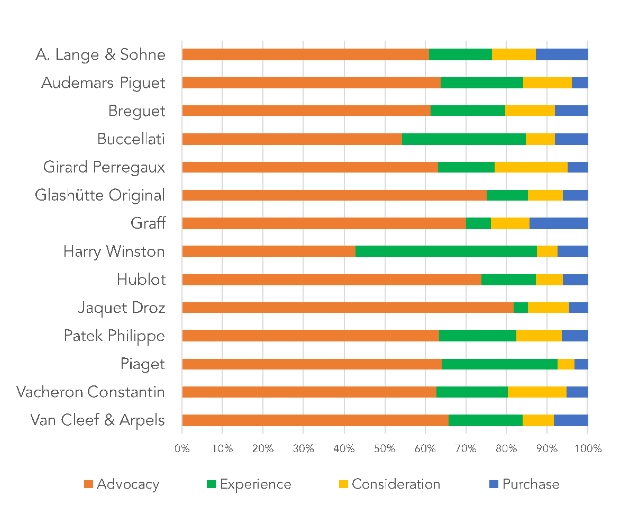 However, whilst some brands such as Tiffany & Co. and Tag Heuer have leveraged this enthusiasm with winning campaigns such as #LoveNotLike and "Don't Crack Under Pressure", many brands in the space are still using their social channels such as Instagram to simply reproduce their print advertising and are making the assumption that the resulting high number of 'likes' is proof of a strong strategy.
The likely truth is that whilst these visually strong social posts may be doing something to drive initial awareness they are not enough to distinguish brands from one another, properly engage and, most importantly, drive value from audiences.
We live in interesting times
By adopting a precision focused approach using audience intelligence, brands can begin to identify the interests and behaviours of their target audiences and engage them around the things they are most passionate about.
>See also: How technology will drive marketing in the next few years
As shown in the graph below, the intelligence that can be extracted from social profile data offers the chance for brands to effectively map out their audiences' interests and respond accordingly.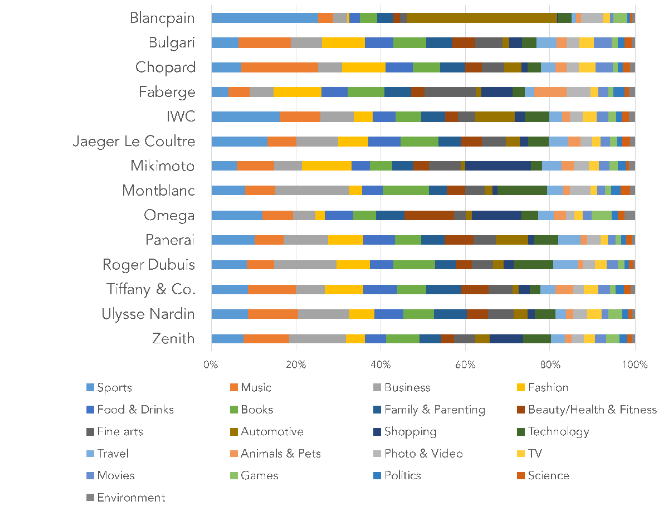 The application of audience intelligence does not stop at marketing either, as a good comprehension of an audience's motivations can also be used to develop more relevant and appealing products and solutions.
In the case of the luxury watch industry, brands have instant access to a community of highly informed horology hobbyists and adoring customers they can work with to co-create products, which audiences will feel naturally invested in.
The opportunities for brands using audience intelligence are manifold, and they should be looking forward to a future where they can better speak to their customers with a voice that truly cuts through the 'digital noise'.
Sourced by Edward Bass, co-Founder and director at Entsight