How can organisations deploy augmented reality (AR) at scale, solve meaningful business problems with the technology and embrace industry 4.0, as a result?
Four end user organisations discussed these questions and their own AR journeys during a panel at LiveWorx 19.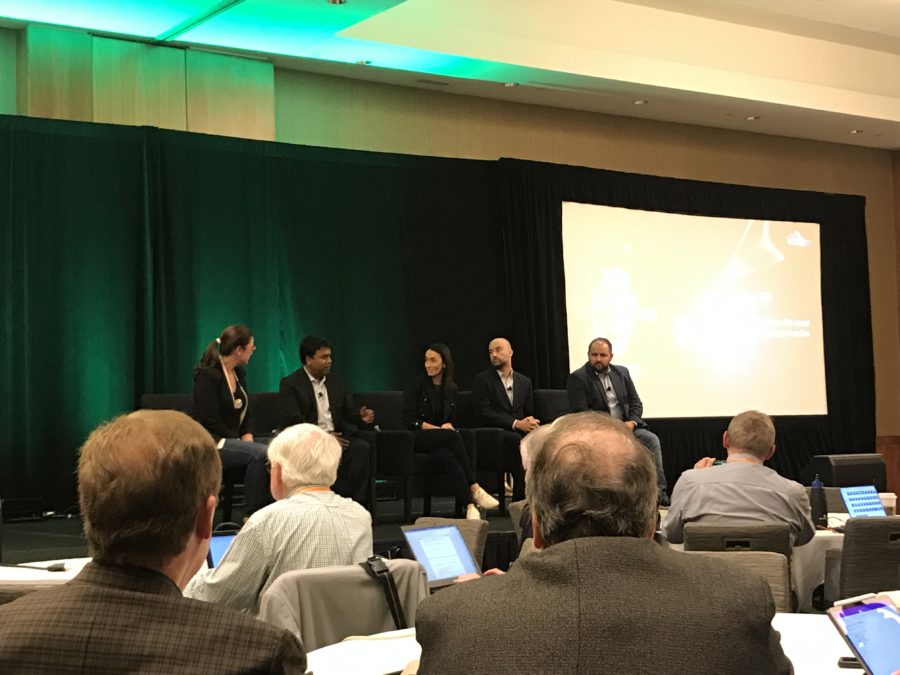 1. Howden
Howden is an engineering company that provides high quality air and gas handling products and services to the power, oil & gas, mining and petrochemical industries. It emerged in the peak of the first industrial revolution, but is now committed to embrace the fourth industrial revolution, or industry 4.0. It has done this, in one way, by looking to AR.
"AR has provided us with transformation and consistency," said Maria Wilson PhD, global leader data driven advantage at Howden.
The drive behind this technology started five years ago, on the back of the 'wave of industry 4.0'.
"Our leadership recognised this new way of operating was coming, but didn't quite understand it," Wilson said.
Different technologies and solutions were then thrust into the R&D department. And, for a year and a half "we were allowed to tinker, despite not knowing how these things we were exploring would impact our profit/loss line," she continued.
Embracing an IoT platform — in this case ThingWorx — took the unknown out of the digital for Howden, and allowed it to look at these exploratory technologies across the supply chain, in an easy to use way. "It was all-encompassing and created a natural flow for user experience," Wilson added.
But, in these initial phases, Howden was looking at AR, among other technologies, from a narrow angle. "We needed a big vision and that's when leadership got involved again" — providing resource, time and belief.
To succeed in digital transformation you need to have buy-in from your leadership and you need  a vision.
The value of AR to the enterprise

Businesses are finally realising that in the digital era, augmented reality has an important role to play in enterprise. Read here
A realisation
"Nobody knows how to manufactuer equipment better than us, but we don't know how to create ML algorithms and incubotor labs. This is intimidating," said Wilson.
For traditional organisations to succeed, they need to leverage the power of a strong ecosystem of partners, while continuing to do what they do best; but with more impact on customers in the digital.
It's important to preserve an organisation's core values and expertise, while leveraging partners to create new values in the industrial space.
AR is used as a visualisation layer to present IoT data in real-time
AR in factories
Howden have been using AR in factories — smart construction, engineer training, product design process etcetera — to foster "impactful transformation in the design process and productivity," according to Wilson.
It's about creating a connection and end-to-end experience between the customer and the product; an experience from design to manufacture to delivery.
AR "hasn't changed how we build our products, it's changed the way people look at them," concluded Wilson.
AR is no longer a futuristic technology, but one that is currently being used to address the most challenging of problems across different industries
2. GlobalFoundries
"AI, ML, RPA and AR/VR are combining for innovation; and together, they're going to change every part of every industry," eagerly claimed DP Prakash PhD, global head of innovation at GlobalFoundries.
The company is the world's first full-service semiconductor foundry with a truly global footprint and "we're seeing something extraordinary," he continued.
Predictable innovation is reaching it's quantum limit — making operations more streamlined via digital to improve efficiency, cost, productivity etcetera. "We now need new levers of innovation," said Prakash.
Now, GlobalFoundries is looking at fostering a culture of innovation, while moving to a platform model, rather than a point solutions (one and done) strategy. "This has helped us to get industry recognition," he said.
Entering the new age: How augmented reality will transform travel, healthcare and construction

Emerging technologies, like augmented reality, are transforming traditional industries – which might otherwise be victims of disruption. Read here
The journey to innovation
The journey to innovation needs to connect the ground floor to top floor. And, failure is fine.
On this journey, GlobalFoundries partnered with PTC.
"Our working relationship with PTC is intense, close and informal: it's about co-creating," explained Prakash.
Together, they have achieved what he described as "the new global standard for operating procedures," in the semiconductors industry.
With Vuforia Expert Capture, the experience of expert employees becomes the standard operating procedure for everyone
There are hundreds of pain points across different industries, but creating a standard operating procedure — from pure proof-of-concept to pilot to production — can alleviate these.
"Innovation is not for the fainthearted, it's not a straight line. Be creative and out of that, something beautiful happens," said Prakash.
The use of AR
With any technology, including AR, organisations should identify their aim and strategise around different work processes.
Prakash's job is to go and define this path. But, often, "we're hiking into the jungle with no path," he joked.
It's about using these technologies to create value that will impact an organisation end-to-end: AI and ML linking to AR and VR, supported by big data.
"We're in the augmented intelligence era and we're changing the industry by addressing traditional inefficiencies with these technologies," he continued.
The high value-pyramid
1. Documentation — in order to support innovation organisations need to know the rank of ROI projects: a standard operating procedure.
2. Training — AR can help train people in half the time. The tech allows you to give the delivery of information at the point of need.
3. Compliance and security.
4. Linking AR and IoT tech to AI is the "holy grail".
"In AR, every quarter represents a year" — Prakash
AR, more jobs?
There is a lot of work emerging from the insights gathered with new technologies. For example, displaying a crime scene to a jury via VR and AR. "We need new jobs to satisfy new use cases as and when they emerge," said Prakash.
Augmented reality: a revolution?

The consumer process will be transformed into a virtual world with real world profits. Customer engagement, and virtual marketing will be revolutionised. Read here
3. Fujitsu
David Taylor, a technical consultant, began re-engaging with AR and VR in 2015. He was looking at how he could turn the tech into a business advantage. Satisfying Fujitsu's demands, he helped create tools that people could use onsite and offline to deal with day-to-day problems; with failing machinery, for example. "It has to be very user-centric," he said.
Taylor then referred to Jim Heppelmann's earlier keynote, which emphasised how going through AR/workflow process has to be a seamless experience for those onsite.
#AR tech like @Vuforia Expert Capture is shifting "In advance" training to "in context and just-in-time micro courses," says @JimHeppelmann, president and CEO, @PTC #DigitalTransformation #LiveWorx pic.twitter.com/XtsEwyruGR

— LiveWorx (@LiveWorx) June 11, 2019
Financial sign off on AR
In order for the financial department to dig into their coffers, it's important for those championing AR to identify individual items (different pieces of equipment on a factory floor, for example) that will cost the most if they fail. If you can determine how likely it is that they will fail and what that will cost, then "you've got a pretty sound case," Taylor said.
The most important thing is to have a targeted approach to AR, rather than a wholesale proposition.
Digital transformation in the workplace: VR and AR will revolutionise the office

The workplace has changed significantly over the last five years. Technology is transforming not only the bricks and mortar of offices, but also how employees work and the integral make-up of today's businesses. Read here
4. Aggreko
Walter Davis, head of talent and learning applications started looking at AR and VR in early 2018. He recognised a lot of potential for training; "it's immersive, engaging and exciting," he said.
"I saw a big potential to help learning."
The tipping point for Aggreko — the temporary power company — was that AR could be delivered with an enterprise approach. It's not just a shiny technology, but it can deliver real business value: it's and Davis' eureka moment.
"We provide power in the very remote and visible locations. With that, offline and mobile is very important — and was the icing on the cake for us using PTC's Vuforia Expert Capture; on top of rapid ROI and ease of use," he said.
There has to be a business case, and in this instance, using industrial augmented reality helped minimise Aggreko's asset downtime and get that power back up, in the field, as fast as possible.
Championing AR
Working out loud is the best way to make sure everyone knows about the impact of AR. Share and include everyone in this; operations and engineering, for example.
"This creates more of a pull from the business — more appetite, rather than providing case by case examples of the benefits or results," advised Davis. "Keep that message alive: AR is part of our digital journey and it's going to compliment all the other technologies, like machine learning.
"It visualises and enhances experience."
CAD and PLM: transforming the industrial landscape and shaping how humans work — LiveWorx 2019

Attending PTC's LiveWorx 2019, Information Age heard about the convergence of the physical, digital and human — and how CAD (computer-aided design) and PLM (product lifecycle management) are enabling this. Read here