Every year I await Apple's annual developer conference with baited breath. As the producer of one of the leading social applications in both Apple's AppStore and Google's Play Store, the WWDC and IO was always how I stayed current with new announcements and hardware launches. Now in my role as SVP of product and technology at Hootsuite, I am also keenly interested in what steps both powerhouses are taking and the resulting impact on social media. This year, one of my most interesting take-aways is that augmented reality has moved even closer to mainstream. Beginning with the likes of Pokemon Go and SnapChat, AR is finding its way into more and more gaming, social, and brand experiences.
Apple was an early pioneer in the augmented reality field when they announced ARKit several WWDCs ago, Google quickly followed suit with a variety of investments including ARCore and Cardboard. This adoption of AR by two industry leaders gave birth to a wide variety of new applications and use cases, several of which have gone extremely mainstream such as Pokemon Go and SnapChat. Support has been impressive as ARCore goes back to Android 7.0 from 3 years ago. That being said, creating experiences can be challenging with the fragmentation of device capabilities and Android versions across the Google ecosystem.
Augmented reality: the new business tool driving industry 4.0

At LiveWorx 2019, four end user customers explained the impact augmented reality was having on their organisation and their journey to it. Read here
This year, at IO 2019, Google was much quieter on advancements for augmented reality developers, instead the focus was on showcasing AR capabilities inside of Google's own native applications such as such as Search and Maps.
Apple, on the other hand, went big with the announcement of the latest version of ARKit as well as the debut of the new RealityKit frameworks. The latest ARKit includes improvements that make it easier to capture people's movements by pointing the camera at them, as well as recognising when someone steps in front of an AR digital creation known as people occlusion. RealityKit assists developers with creating photorealistic renderings of digital assets, animating them, and having them obey the laws of physics. Also announced is a new Reality Composer feature to create AR experiences on the Mac, iPad, and iPhone.
---
Virtual and augmented reality headset shipments ready to soar
Donovan's prediction is not unfounded, as today, CCS Insight forecasts that worldwide shipments of virtual and augmented reality devices will reach 14.7 million units in 2019, with a sell-in value of $2.9 billion — an increase of 76%. By 2023, the research firm expects 75 million virtual and augmented devices to be sold worldwide, hitting a market value of $13 billion.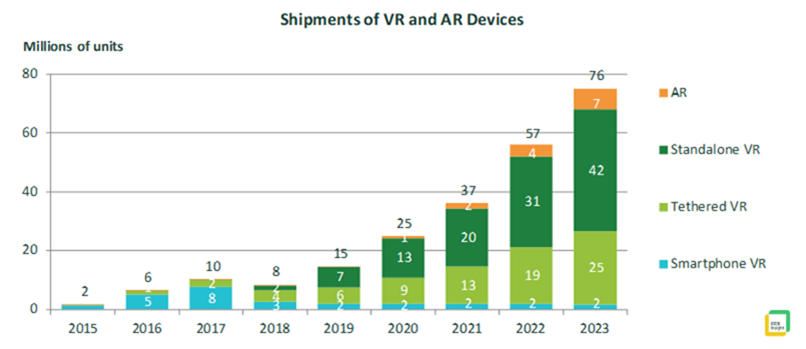 ---
The impacts of Apple's advancements in AR will be profound. I truly believe augmented reality is going to work its way pervasively into everyday use cases as the ability to create advanced experiences to a very large install base is bigger than ever before. In my opinion, AR will become an expected norm in terms of how brands will interact with their customers in the near future. Apple is even showcasing an AR experience to reveal what their new Mac Pro and Pro Display XDR will look like in an office space.
12 hot augmented reality ideas for your business

Augmented reality is one of the most exciting technologies that made its way into the mass market in the recent years. Read here
Earlier this year, we identified in our 2019 Social Trends Report that social is shifting back to its origins of one-to-one connection with immediate friends, family and acquaintances. Smart brands are focusing less on maximising reach and more on generating transparent, quality engagement. It is easy to envisage how big of an impact AR will have on social media, just imagine the possibilities of enhanced stories, videos, posts, and chat sessions. Advancements in AR will augment the power of human connection through social creating new levels of individualised social experiences for brands to reach customers. Imagine a world where one can see how a brand's products will fit into their own environment. Or seeing yourself in the midst of an amazing travel experience. This day is coming sooner rather than later. I am personally very excited to now be part of this movement and look forward to helping our customers take advantage of these capabilities sooner rather than later.