On Monday, the US Department of Defence said that it had tested its largest micro-drone swarm in October last year.
"In one of the most significant tests of autonomous systems under development by the Department of Defence, the Strategic Capabilities Office, partnering with Naval Air Systems Command, successfully demonstrated one of the world's largest micro-drone swarms at China Lake, California," the release stated
The test was carried out in California, where Three F/A-18 Super Hornets were used to release 103 Perdix miniature drones.
The Perdix drone was designed by Massachusetts Institute of Technology in 2013 and was subsequently modified for military use.
The drones have a wingspan of 12in (30cm). They can operate autonomously and share a 'distributed brain'.
>See also: Drone technologies establish evolved GIS
"Perdix are not pre-programmed synchronised individuals, they are a collective organism, sharing one distributed brain for decision-making and adapting to each other like swarms in nature," said William Roper, director of the Strategic Capabilities Office.
"Because every Perdix communicates and collaborates with every other Perdix, the swarm has no leader and can gracefully adapt to drones entering or exiting the team."
Indeed, the Defence Department's statement confirmed that "the micro-drones demonstrated advanced swarm behaviours such as collective decision-making, adaptive formation flying, and self-healing". Is this the beginning of some sort of dystopian Black Mirror episode?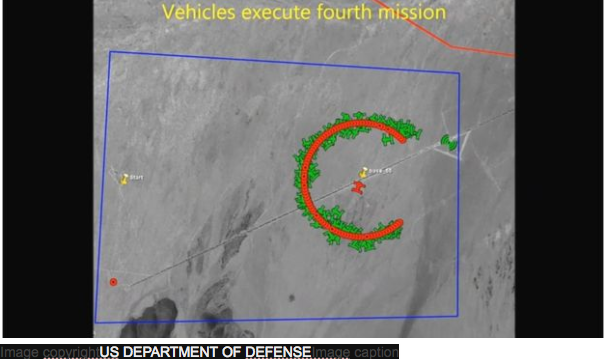 The applications for these drones could vary, but one military analyst suggests these unmanned aircraft will be primarily used for surveillance.
>See also: How to solve the danger of the drone
Of course, they could be used in an attacking sense and are more than capable of evading air defence systems.
"When looking at how you deal with air defence systems that are optimised to spot very large, fast-moving aircraft, small, cheap disposable drones seem to be one solution," said Elizabeth Quintana, at the Royal United Services Institute, a military think tank.
Video footage of the test was published online by the Department of Defence.