From modernising data centres and networks, to driving new services like 5G and edge computing, the cloud has become crucial to helping operators overcome some of their largest business challenges.
Below are some of the event's key themes within the context of AWS's telecoms direction — these have some big implications for the converging cloud and telecoms market.
The Pillars of AWS' Telco Strategy
More telco workloads run on AWS than any other public cloud. AWS was the first cloud provider to set up a dedicated business unit targeting operators in 2016, thanks to early customers including Comcast, Vodafone and Verizon.
Dirk Didascalou, VP of IoT stated that AWS' strategy focuses on the entire operator value chain and splits its approach into four key pillars:
• Digital transformation and data centre modernisation: On average, over 70% of telco workloads on are on-premises today and a key aspect focuses on modernising operators' data centres and private cloud environments and help operators move to the cloud.
• Network evolution and business automation: AWS is also enabling the shift to 5G packet core networks running in the cloud. This allows services such as network slicing, quality of service, network automation and analytics. Partners Mavenir and Nokia have been demonstrating their 5G core technology running on AWS for several years now. Additionally, many leading players in operations and business support systems such as Amdocs run on AWS, enabling operators to bring more automation to back office and innovation to front office billing systems.
• Applied AI: AWS' AI platform Amazon SageMaker and solutions such as Amazon Connect, Fraud Detector and Personalise are helping operators in several areas, including transforming contact centres, reducing fraud and churn, network automation and preventative maintenance.
• 5G, edge and IoT monetisation: A hot area focuses on the services that help developers build applications across the continuum of cloud, edge, IoT and 5G.
Products such as AWS Outposts, Local Zones, Snow Family, IoT Greengrass and most recently, AWS Wavelength, which I discuss below, are central to this effort.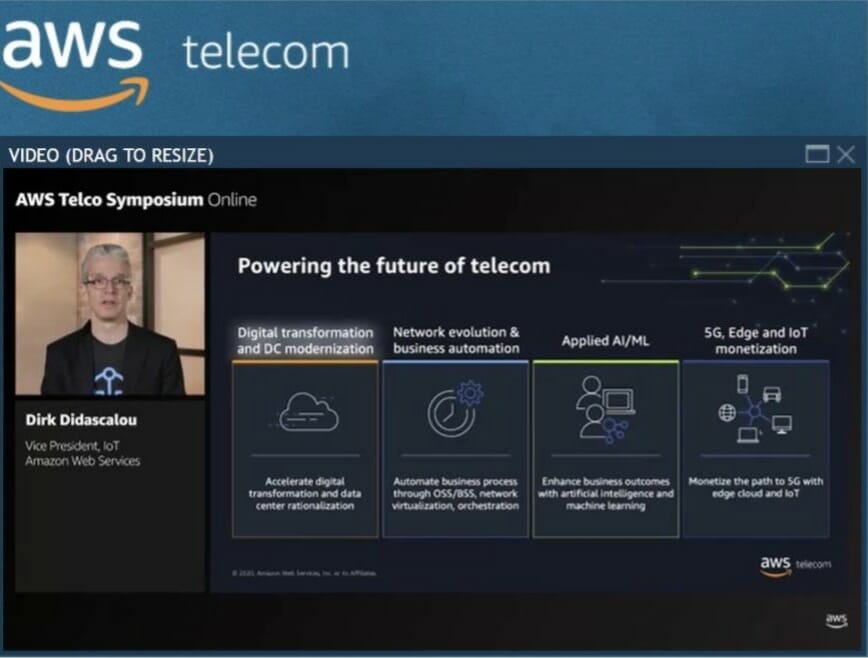 It's a striking set of capabilities and a full cloud transformation offering. And its partners play a pivotal role in how AWS differentiates and brings it to life.
The top 3 telecom trends for 2020

2019 was an important and transformational year for the networking industry, but what telecom trends could we see in 2020? Read here
Wavelength turns it up a Notch
At re:Invent last November, AWS raised the volume on its telecom strategy with AWS Wavelength.
Wavelength extends the AWS cloud to the operator environment by embedding AWS computing and storage at the edge of operators' 5G networks. The service, launched with Verizon, Vodafone, KDDI and SK Telekom, enables developers to build low-latency applications with mobile edge computing for 5G devices directly within AWS.
The event covered myriads of 5G applications but to meet the hype and expectation surrounding 5G, operators desperately need to woo developers to build applications on the platform. The most important benefit of Wavelength is that it makes it easier for developers to embed applications directly into operators' 5G networks, providing telcos with a valuable channel to market.
Operators that want to succeed long term, however, will need to compete for developer attention. Microservices, platform-as-a-service solutions and the quality of 5G network APIs in areas like location, slicing, quality of service, security and network forensics will be as important to future competition as connectivity is today.
Eyes on Verizon
One of the most interesting 5G presentations came from Thierry Sender, director of IoT at Verizon. As AWS' first partner to test Wavelength, many will be watching the carrier as the farthest ahead in this area.
As Verizon's preferred cloud since 2018, AWS Outposts will be deployed in the carrier's switching centres. Verizon has been trialling the Wavelength service in Chicago throughout 2020. Gaming company Bethesda was announced as the first customer to trial Wavelength, with other major markets in the US set to follow by the end of 2020.
How will 5G unlock revenue streams and increase profitability?

Brian Lavallée, senior director of Portfolio Marketing at Ciena, explains how organisations can get ahead in the 5G gold rush, unlock revenue streams and increase profitability. Read here
The final take
AWS is demonstrating early leadership in edge 5G and telco transformation. To maintain this, several important areas should now come into focus over the next 12 months.
• The competition: Cloud providers face mounting pressure to make themselves more relevant to industries. At the same time, they are jockeying to win the early race in hybrid and edge computing. AWS has been an early mover in both fields, but competition is growing. Microsoft's differentiation will stem from the assets it gained in 5G core networks from acquisitions — Affirmed Networks and Metaswitch. Google Cloud appears to be leveraging its own network with telcos and focusing on the orchestration of hybrid multicloud and edge workloads with Anthos for Telecom. The market is still young, and AWS will need to continue to invest in its strategy for the sector.
• Partners: Microsoft's recent purchases are raising questions about whether AWS will follow suit and either buy or take a stake in a major provider of 5G infrastructure. For now, AWS must ensure it maintains the strength of its ecosystem of telecom partners as a leading differentiator.
• Go to market: As Wavelength matures, AWS will need to provide more clarity to successful go to market strategies with operators, particularly in areas such as billing, joint service-level agreements and service reselling, and customer support.
• Trust: Finally, as much as 20% of cloud workloads could be running on 5G networks within the next seven years. Operators will naturally be cautious of hyperscalers moving up into the 5G stack to grasp opportunities in 5G more independently, first in platform-as-a-service solutions and then into the radio access network itself. I think the likelihood of this happening in the short term is low, but AWS will need to build trust with operators and ensure they understand that it's a partner, not a rival in the long run.
CCS Insight has long predicted that cloud providers and telecom operators would become bedfellows as 5G arrives, to bring commercial cloud services to the network edge for developers and enterprises. AWS' Telco Symposium was a good window into this trend and the company's long-term strategy.