Helen Yu, founder and CEO of Tigon Advisory, explores how organisations can become "cloud smart" for accelerated innovation
"Cloud-first" is history. In the beginning, organisations from all industries raced to the cloud. With the first wave of cloud innovation, we saw a broad shift from the single-cloud mindset to a multi-cloud model. Gartner indicates that about 75 per cent of enterprise customers are currently relying on two or more public and private cloud solutions.
The CXOs I work with are passionate about expanding their multi-cloud portfolio for each of their lines of business. The CIO and compliance teams, on the other hand, are often hesitant. Today, greater cloud choice has also led to a massive spike in complexity. Most report app development is slow and cumbersome, and managing their portfolio across clouds is difficult and expensive.
The "cloud chaos" dilemma
VMware CEO Raghu Raghuram characterised the second phase of the cloud transition as "cloud chaos", in his keynote at the 2022 VMware Explore event in San Francisco.
"Cloud chaos" comes from a landscape of unknowns. What is our enterprise cloud architecture? How do public and private clouds co-exist? What about edge computing? How do we align legal and compliance requirements in the multi-cloud world for heavily regulated industries such as fintech? Those daunting tasks and risks reflect the multi-cloud complexity and chaos we constantly live in.
Having worked with many organisations transitioning away from "cloud chaos", I see similar challenges regardless of the size of the business. It takes a vast amount of effort to architect and manage multi-cloud platforms. Think about scalability, interoperability, consistency, and a unified user experience. Think about the skill sets and knowledge required to build and operate cloud-native apps. Also, think about automating and optimising cloud management, architect cloud, and edge infrastructure. Think about connecting and securing apps and clouds. And finally, think about app security, legal, and compliance among other areas. These challenges keep CIOs up at night.
>See also: How securing cloud data saved one business £18,000
From "cloud chaos" to "cloud smart"
The solution and next phase in the cloud journey – "cloud smart". Raghuram describes this as taking an architected and planned approach to multi-cloud and digital transformation. With a "cloud smart" approach, organisations have the freedom to select the right cloud for the right app, based on the needs of the individual app.
So how can businesses make the jump from "multi-cloud happened to me", to "multi-cloud is a deliberate strategy"?
Move from disparate development, operations, and security to a new approach where you can accelerate app dev on any cloud. The key here is a consistent developer experience across clouds, which reduces developer toil.
Move from today's siloed cloud infrastructure to a new approach where you have consistent enterprise infrastructure across any cloud with greater resilience, security, and cost-efficiency.
Move from today's fragmented employee experience to a more frictionless experience in which employees can seamlessly and securely access any app from any location, whether they're at home, on the road, or in an office environment.
Here's how some companies successfully migrated from cloud chaos to cloud smart.
VMware's Cross-Cloud Services portfolio incorporates these strategies, helping organisations transition from "cloud chaos" to "cloud smart". Raghuram illustrated the five key areas critical for every organisation at VMware Explore 2022: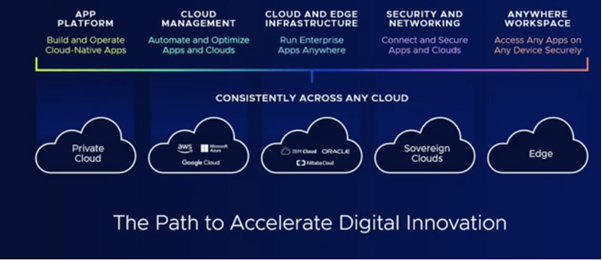 A state-of-the-art platform for building and deploying your cloud-native apps.
Cloud management for monitoring and managing the performance and cost of your apps across different clouds.
Cloud and edge infrastructure for operating and running your enterprise apps.
Security and networking to connect and secure all your apps and clouds.
Anywhere Workspaces for accessing any app on any device securely.
Among all areas VMware Cross-Cloud Services targets, I am most thrilled by its cohesive solution to monitor, manage, and mitigate security risks, improve governance, and simplify compliance with confidence. With increased visibility to the multi-cloud platforms, risk exposure and access leaks can be identified and addressed quickly. Consistently enforcing security controls is made easier and less resource-intensive as well. Data breaches, third-party cyber attacks, and other security events can be evaluated, mitigated, and controlled. Evidently, centralised governance across multi-cloud with a single set of rules is a critical piece of the journey to "cloud smart".
The big picture
When I work with CXOs on the transition to smart multi-cloud environments, the conversation always comes back to people, processes, and tools. Based on Gartner and my personal experiences, we should strive to:
Adopt a coordinated, holistic approach for multi-cloud management and governance.
Standardise cloud policies, define processes, and clarify ownership.
Align IT priorities with business and compliance objectives. Map out functional business needs for app platform, cloud management, cloud and edge infrastructure, security, networking, and anywhere workspace.
Balance functional and IT requirements to materialise functionality, drive consistency and efficiency across different cloud platforms.
Leverage best-in-class multi-cloud management platforms, services, and processes to smartly manage multi-cloud environments.
To be transformational, competitive, and successful today, organisations must accelerate their digital transformation and innovation. The best and fastest way to get "cloud smart" is to follow innovators and best practices. A unified and multi-cloud management solution should be top of mind as you adopt a "cloud smart" approach.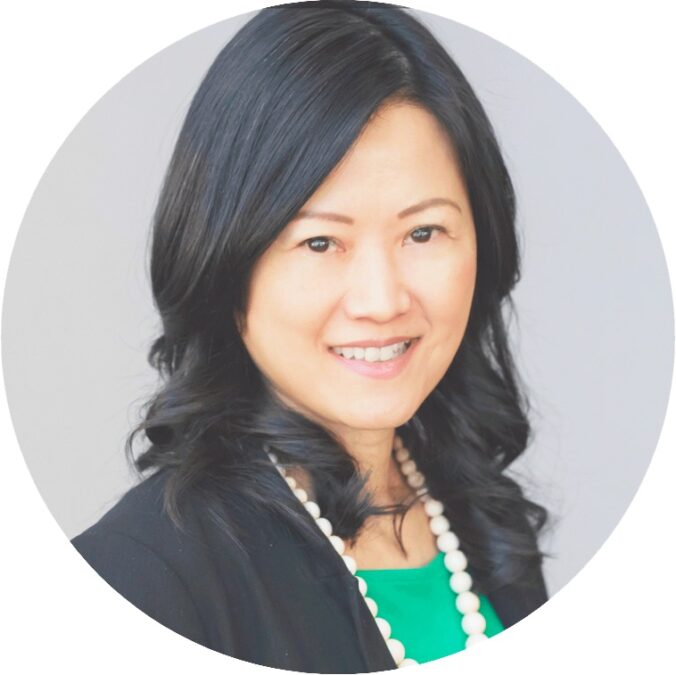 Related:
Forget digital transformation: data transformation is what you need — Stefano Maifreni, founder of Eggcelerate, discusses why organisations must focus on data transformation to maximise long-term value.
The top business benefits of VDI, now and in the future — Dominik Birgelen, CEO of oneclick, discusses the top benefits that virtual desktop infrastructure (VDI) can bring to businesses.