The best DevOps conferences in London
In the first stop, Annie Andrews — head of technology at Curo Talent — provides examples of her best DevOps conferences in the UK; but there are many more "great ones across Europe and the US (and worldwide) if people want to travel further afield," she says.
They below list is positioned in order of date:
• Continuous Lifecycle, May 14-16
• Jax DevOps, May 14-17
• Gartner Application Architecture, Development & Integration Summit, May 20-21: This conference covers many areas, but has some interesting featured sessions on DevOps
• Cloud and DevOps World, 12-13 June: Again, this conference goes beyond DevOps, but the topics are linked
• National DevOps Conference, June 18-19
• DevOps Enterprise Summit, June 25-27
• CloudNative, September 25-27
DevOpsDays
"DevOpsDays conferences are incredible," says Nigel Kersten, VP of ecosystem engineering at Puppet.
DevOpsDays are grass roots events that place all around the world.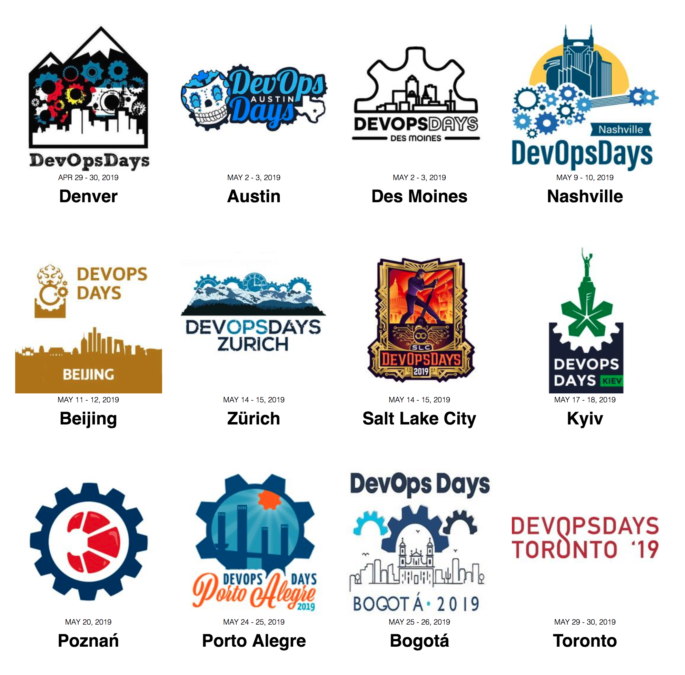 "They're in different cities with different levels of attendance and different kinds of themes," explains Kersten. "And, I think there's something quite amazing about this almost anarchistic loose collection of people all over the world who run coherent events. I think it's been responsible for a lot of the success."
Echoing Andrews' choice of Gartner's conference, Kersten suggests that while specific DevOps events are great, there are conferences out there, such as AWS Summit London (May 8, London), Velocity Executive Summit (TBC) and OSCON (July 15-18, Portland), which all have a lot of great DevOps content within them; even though it's not the main theme.
Tech Events Calendar

A list of all the upcoming tech events, telling you what every event is about and also where and when all the events are. Read here
DevOps Meetups
The Meetups space, especially in Manchester right now and elsewhere, is huge," suggests Mark Quinn, director of engineering at Mojo Mortgages.
https://www.meetup.com/DevOps-Manchester/events/
The variety of these smaller events is what appeals to Quinn and "you'll always get some good content when you go along to them," he says.
Another bonus is that they are free to attend. And, it just comes down to "utilising your own time to self-learn*," he continues.
Similar to the above experts, Quinn also recommends larger conferences that don't focus generally on DevOps, but rather have the principle discussed during breakout sessions.
He refers to KubeCon (May 20-23, Barcelona) as a particular highlight.
*Self-learning was highlighted as an absolute essential for impressing during a DevOps job interview.
Security and DevOps
Security and DevOps now go hand-in-hand — DevSecOps. Because of this and his work in the application security area, Utsav Sanghani — senior product manager at Synopsys — says RSA (July 16-18, San Francisco) is a personal favourite.
Jenkins World (August 12-15, San Francisco) is another conference he refers to, which has people from all over the world come in and talk about the best ways to improve such things as release agility and new continuous integration (CI) processes.
Offerings such as Microsoft Azure DevOps have made tremendous strides in the last couple of years, but "Jenkins is light years ahead of their competitors," according to Sanghani.
Why? "Because of their thinking, their offering and some of the other nice-to-haves that they've added on top of their core offering — it just makes it a very lucrative option if I'm in the market looking for a CI tool," he answers.
Honourable mentions for the best DevOps conferences
• Atlassian Summit (April 9-11, Las Vegas) — this conference is "helpful from a collaborative standpoint, because Atlassian owns Jira and now they have Confluence," says Sanghani. "They have their CI platform Bamboo which is also pretty popular in the APAC, Australia region as well because they're an Australian company.
• Black Hat USA (August 7-8, Las Vegas) and Black Hat Europe (December 2-5 2019, TBC) — similar to his reasons for attending RSA, there's a lot of overlap between security and DevOps happening at Black Hat.
• DockerCon — businesses are looking to containers as a way to package up their binary and move to a more micro-services based containerised architecture. They have conferences all over the world and here, customers and users are taught about DevOps; "how should they participate, while getting better hands-on training around the specific tooling and processes," says Sanghani.
Nominations are OPEN for the Tech Leaders Awards, organised by Information Age and taking place on 12th September 2019 at the Royal Lancaster, London. Categories include CIO of the Year, CTO of the Year, Digital Leader of the Year and Security Leader of the Year. Recognise and reward excellence in the tech industry by submitting a nomination today