CAD and PLM are enabling digital transformation.
This buzzword is creating "a renaissance that's fundamentally changing the way we think about things and think about creation, and creating the products that are revolutionising the world." This was how Mario Armstrong, the American radio and TV host, opened LiveWorx 2019.
But, how can digital transformation — beyond the buzzword — be achieved?
Jim Heppelmann, president and CEO at PTC, helped explore that very question during his opening keynote at LiveWorx.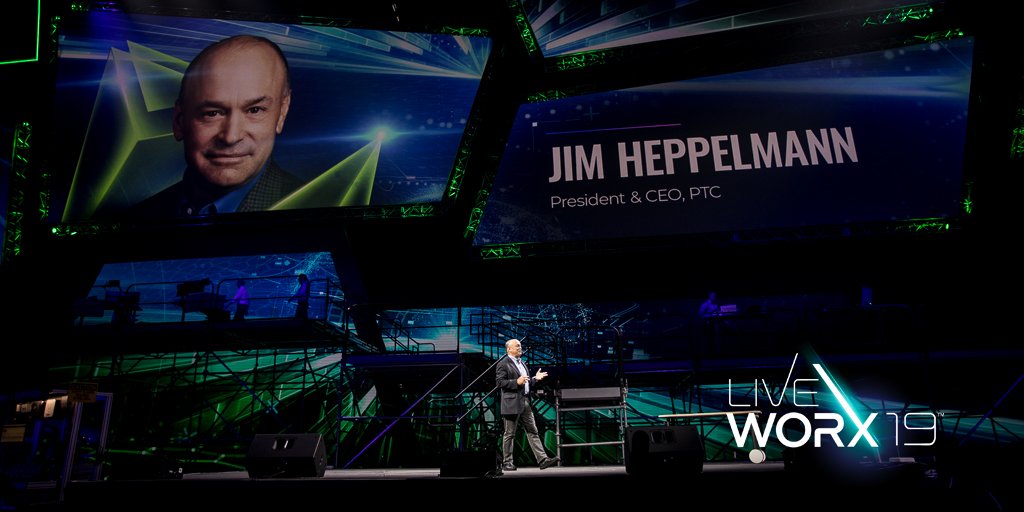 Energy in business
Energy is the capacity to do work — it can't be destroyed but rather, repurposed. "And this high energy event is about increasing your capacity to do work," said Heppelmann.
In business terms, employees can now offload tedious mental work to computers, which frees people up to areas that humans alone can do — strategising, planning and innovating.
"People get work done. Machines offload some of that work. Computers offload brain work, freeing us to work where people alone can do work. LiveWorx is about increasing this potential energy," he said.
Converging the physical, digital and human
Business is competitive, so businesses are always looking for better ways to work — innovation is relevant now more than ever in the industrial world:
• The relationship between physical and digital — smart connected products.
• Connecting digital with human, more productive world — smart connected people.
The intersection of these smart connected products and people is smart connected processes — this is what digital transformation is all about; it makes it actionable and tangible.
The digital thread
There are a number of innovations that enable these smart products, people and processes in the digital world: AI, IoT, computer vision, AR/VR, real-time simulation, cloud, 5G, HPC and blockchain.
These are all tied together with the digital thread and digital twin.
"A digital thread means the information that was originally created for one purpose — say an engineering prototype — gets reused for many different processes. The digital thread weaves its way across the value chain," explained Heppelmann.
"There's no way to destroy value faster — to create problems faster — than to use the wrong version of data," he continued.
Digital twins are digital models that virtually represent their physical counterparts
Volvo Group's Bertrand Félix, the senior research and technology development manager, backed this up and said: "We are convinced through a solid and consistent digital thread … that we could enable the operators to receive the right instruction at the right time, matching the right product."
Driving live AR and VR with digital twins is going to transform factories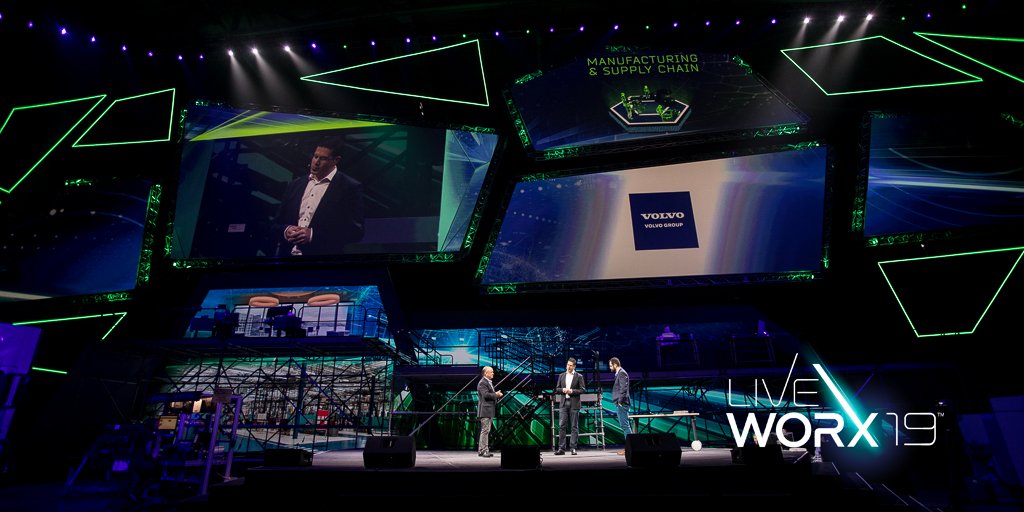 CAD and PLM
CAD (computer-aided design) and PLM (product lifecycle management) are crucial in enabling not only these digital technologies, but the digital thread and twin that ties all of them together.
"No one is going to transform an industrial business without this," confidently stated Heppelmann.
PLM "is the digital product backbone that understands product configurations across these dimensions of time, customer choice and business perspective. You won't transform much without understanding that," he emphasised. "And, we see CAD going through a renaissance period thanks to an onslaught of new technologies" — but the latter, can't scale effectively without the former.
"PLM experts should ask for a raise," joked Heppelmann. "And should have a say in their organisations' tech and digital transformation strategies."
CAD and PLM are PTC's 'bread and butter', and this new era of new technologies is intersecting with the company's heritage.
CAD+PLM+IoT+AI+AR
The power of augmented reality
"When we marry digital with human — which is what AR is all about — we get vastly more productive workers, thanks to the ability of the digital world to monitor, control, and optimise the world of humans," continued Heppelmann.
AR is about virtualising physical infrastructure in the industrial world, with real-time information for safety and productivity. "It should act as a digital mentor."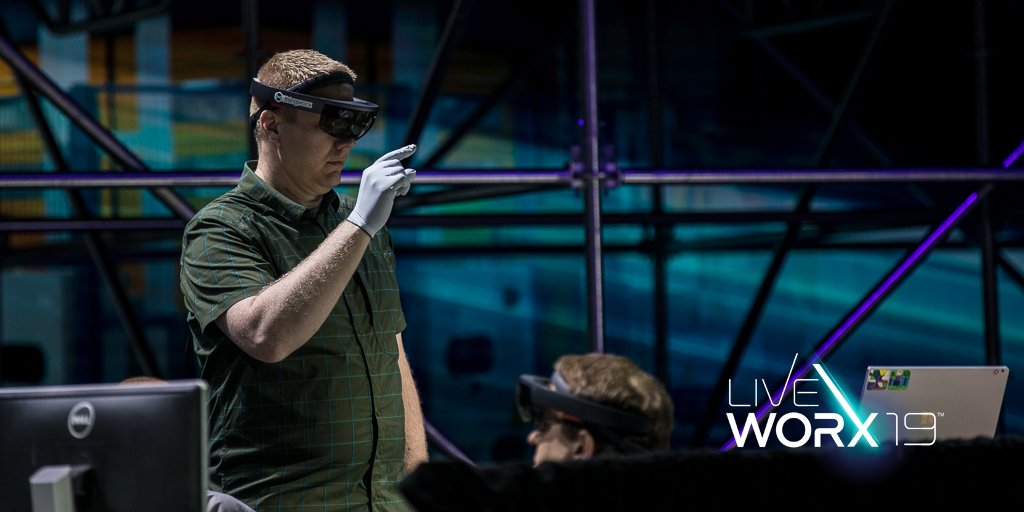 Organisations can scan spaces — for effective virtual reality (VR) and AR — with software, like PTC's partner, Matterport.
AR and IoT count towards 1/3 of PTC's sales
"AR is great, but with VR, I don't need to be in a physical environment to see the data in context. I can transcend distance by projecting myself in a distant location without actually travelling anywhere," said Heppelmann.
.@JimHeppelmann, president and CEO, @PTC: "I want to make it easy to decorate the industrial world with real-time information that your workers need to be safe and as productive as humanly possible. That would be hugely transformational" #DigitalTransformation #LiveWorx pic.twitter.com/HTxdUCvhOJ

— LiveWorx (@LiveWorx) June 11, 2019
Augmenting human skills
"The most competitive factories harness the ingenuity of people and combine it with technological innovation," said Rockwell Automation's CEO, Blake Moret.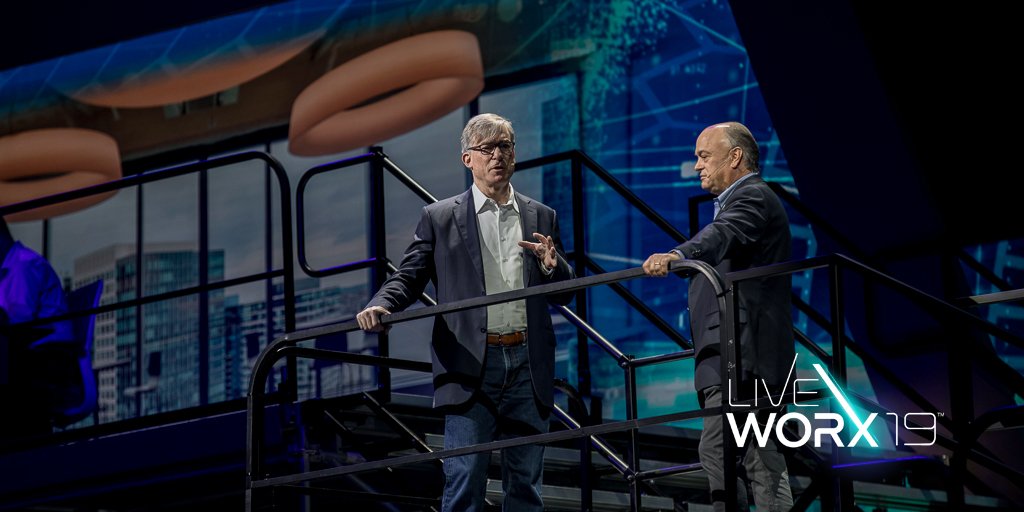 Combining technological innovation with the skills of workers expands human possibilities, and it must be part of business strategy.
Humans do not have the capability to shift through the vast amounts of data that factories or indeed, any businesses create. They need a way to look at the whole environment and know where to run analytics to optimise productivity.
---
Converging the physical, digital and human
IoT can gather and analyse data of physical machines, which will mitigate the problem of unplanned downtime, which drives down equipment availability — in a factory setting, for example. Machine learning can then be used to predict when this problem will next occur, while AR and VR can be used by the human to view the problem up close in a digital environment; on top of the obvious safety and training benefits.
---
Nature and Nurture
Digital twins must have the same DNA and life experience as their physical counterparts — the same nature and nurture.
The DNA comes from PLM/CAD and the nurture aspect comes from the IoT — AI and AR are then used to bridge the two.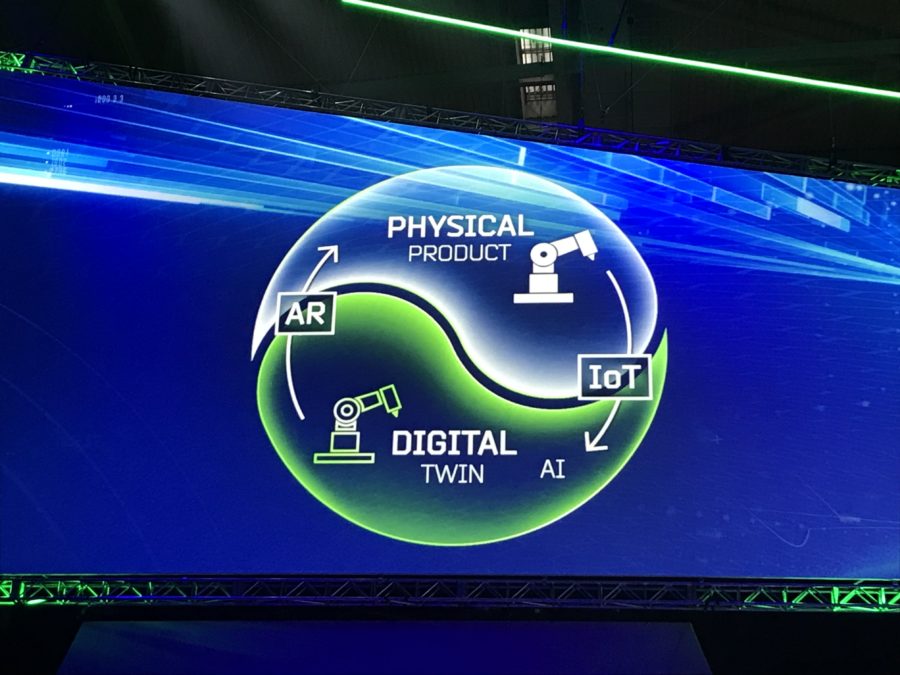 PLM: the key for digital transformation
"Every digital transformation (DX) strategy in the industrial world will need to be defined," summed up Heppelmann.
"CAD can't work at scale without PLM. And IoT is the engine driving the digital twin, but it also needs PLM.
"Humans need AR to deliver the digital information in a more natural way and capture their physical work processes. AR is IoT for people — it too, needs PLM."