Industry experts have, for quite some time now, noted that IT spending has stagnated.
For example, Gartner forecasted that the IT spending growth for 2016 would increase .5%, effectively just an inflationary bump that will ultimately deliver stagnant 0.0% growth.
Despite this, demands on IT teams to deliver new and upgraded solutions continue to ramp up despite their budgets shrinking in real terms.
As new application projects and mandates flood in, they become a part of the operating and maintenance budget for the next period, and when the budget doesn't scale with the demands of the business, funding becomes sparse.
Unfortunately, IT managers everywhere reading those sentences will be nodding along with a wry smile of empathy.
>See also: Best practices for managing remote location IT
They are members of an exclusive club, where crunched budgets and soaring expectations have become the norm. They're faced with only one real option: use the existing funds to keep the lights on for business-critical projects.
This is the only rational decision when business failure is on the line, but it often means that any real IT innovation is stalled indefinitely.
Anything that isn't directed by a line of business or absolutely necessary to support a line of business gets chucked out of the IT plan for the year, and then pushed back again and again as it becomes clear that next year's budget won't be any different.
Without innovation to further cull, the next target is often reducing application initiatives and projects.
Unfortunately, with no money allocated to innovation, these IT teams have to spend additional time and money doing things the old and expensive ways instead of testing and deploying new technologies that would save money in the long haul.
Just when managers have coped with the loss of whatever project they've had to let go to keep budgets in check, they're served a mandate.
These new and not-budgeted application project requirements leave IT teams no choice but to address them.
For example, the Affordable Care Act and "Heartbleed Bug" created a significant development disruption.
>See also: Can your IT systems heal themselves?
Many other projects needed to be delayed by months or years, and addressing these concerns cost additional millions of dollars which no one had planned to spend.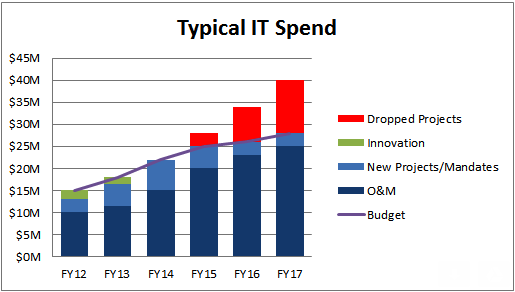 Between over-allocated budgets, bloated antiquated OSS/BSS, and the inevitable and untimely appearance of mandates, IT teams lose any possible agility or capability to react to the demands of the business.
As an industry, there is a need to rethink the approach of budgets for innovation.
If it is approached with a long term perspective instead of an annual one, deploying the right technologies to help manage the OSS/BSS is clearly the right investment.
For example, data virtualisation can help IT teams across all industries deliver more application projects, and deliver those projects in half the time and at higher quality. Spending on that type of innovation clearly has the potential to dramatically decrease O&M.
This creates room for new projects and the flexibility to address mandates that crop up, while ensuring the company doesn't burn budget or customer goodwill on dropped projects.
>See also: Disaster recovery — a best practice approach
So the question is: how much of your budget are you prepared to spend on projects that will never make it out the door?
Instead of limiting innovation, the focus should be on spending strategically on technologies that will allow us to build momentum, despite downward pressure on budgets.
It's the only way to create any meaningful progress and competitive advantage when the hands of IT teams are otherwise tied.
Sourced by Adam Bowen, world wide innovation lead at Delphix
Related Topics