IDC has released its latest IT infrastructure spending figures, finding cloud services will be the fastest growing IT deployment model in 2017 in the process.
According to the new forecast public cloud data centres will account for the majority of this spending (60.7%), and will grow at the fastest rate year over year (13.8%). Off-premises private cloud environments will represent 14.9% of overall spending and will grow 11.9% year over year. On-premises private clouds will account for 62.2% of spending on private cloud IT infrastructure and will grow 9.6% year over year in 2017.
>See also: 10 trends that will influence cloud computing in 2017
Increased spending on cloud IT infrastructure and decreasing investments in non-cloud IT infrastructure will be a common theme for all regions. Worldwide spending on traditional, non-cloud, IT infrastructure will decline 4.6% in 2017 accounting for 58.7% of the overall end-user spending on IT infrastructure products across the three segments, down from 62.6% in 2016.
NB: All figures above exclude double counting between server and storage.
In cloud IT environments, Ethernet switches will be the fastest growing technology segment with 25.8% year-over-year growth in 2017, while spending on servers and enterprise storage will grow 9.1% and 12.0%, respectively. These growth rates include double counting between server and storage to fully represent each of the technology segments. In all three technology segments, spending on IT infrastructure deployed off-premises will grow in 2017 while spending on on-premises environments will decline.
>See also: Enterprise I.T. budgets shifting toward hosting and cloud services
Maarten van Montfoort, vice president Northwest Europe at COMPAREX, suggested that "IDC's figures highlight the continued shift towards cloud, with worldwide outlay on non-cloud IT infrastructure set to fall 4.7% this year, and public cloud infrastructure accounting for the majority of overall IT spend. As more and more organisations look to integrate cloud services to reduce costs and increase flexibility, there will be no 'one size fits all' model, so they must ask some key questions. For example; can legacy, business-critical applications – not built with cloud in mind – be re-architected for the cloud, or should they stay on premise? Would a new SaaS product better fit their needs? In addition, does the IT department have the required skills in-house to support successful migration. Each cloud journey will be different – and these are all important considerations if organisations are to maximise the ROI of cloud."
Over the five-year forecast, IDC expects spending on off-premises cloud IT infrastructure will have a compound annual growth rate (CAGR) of 11.0%, reaching $45.7 billion in 2021. Public cloud data centres will account for 79.8% of this amount with an 11.0% CAGR, while spending on off-premises private cloud infrastructure will increase at an 11.3% CAGR.
>See also: Financial services and the great cloud conundrum
Combined with on-premises private cloud, overall spending on cloud IT infrastructure will have a five-year CAGR of 10.9% and by 2020 will surpass spending on non-cloud IT infrastructure. Spending on on-premises private cloud IT infrastructure will grow at a 10.5% CAGR, while spending on non-cloud IT (on-premises and off-premises combined) will decline at a 3.1% CAGR during the same period.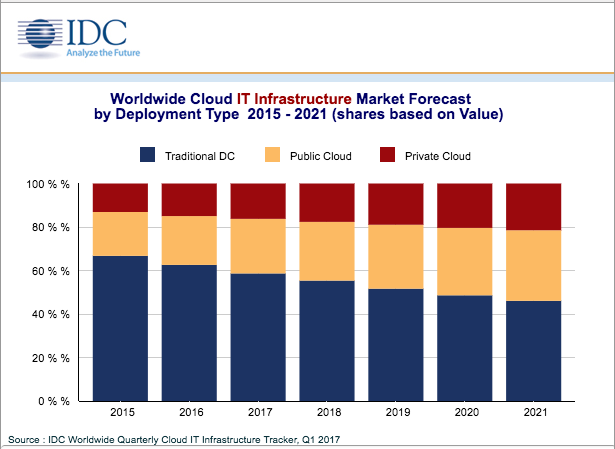 The UK's largest conference for tech leadership, TechLeaders Summit, returns on 14 September with 40+ top execs signed up to speak about the challenges and opportunities surrounding the most disruptive innovations facing the enterprise today. Secure your place at this prestigious summit by registering here