With 50,000+ edge filers deployed on the planet, CTERA Networks' model has been largely adopted and illustrates the perfect alignment of the solution with users' needs and how companies, departments, groups and teams collaborate (whatever the distance between is). This is more relevant now, in a remote working world, than ever before.
The CTERA team has made great progress during the last 12 months both in terms of product developments, but also with key partnerships that promote the company as the preferred solution for several large IT vendors. HPE on HCI and Nimble dHCI, now extended on GreenLake, and Nutanix have selected CTERA global file services. The product is also validated with AWS Outposts.
The latest news shared during the latest virtual IT Press Tour session is the new deal with IBM for the product named COSFA (Cloud Object Storage File Access). CTERA appears to be everywhere and almost seen as a de-facto standard at the moment.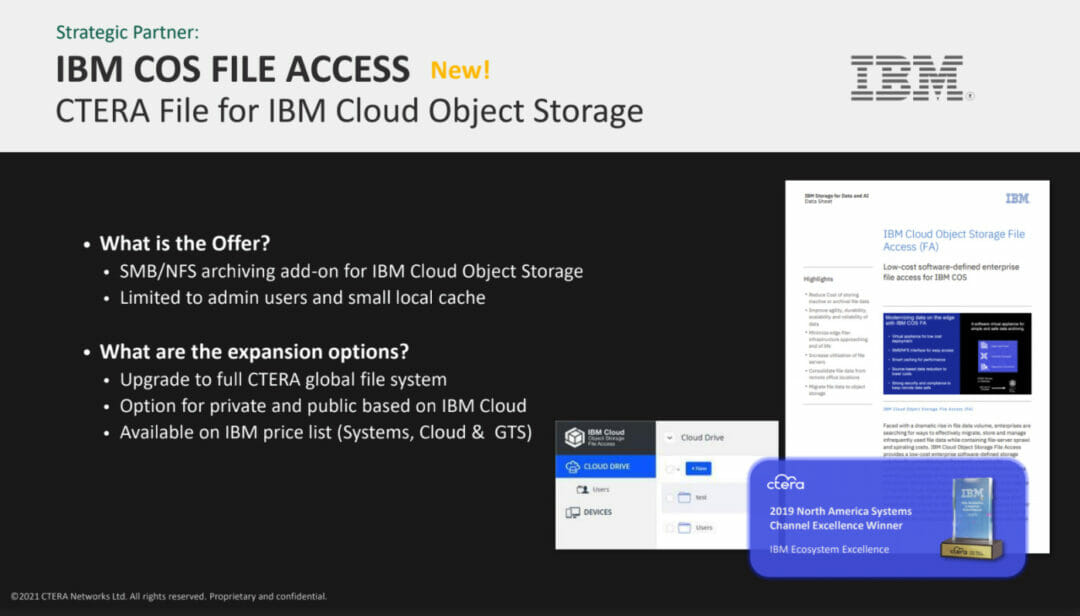 This movement has been accelerated by the pandemic. But, based on several surveys and industry insights, this trend is here to stay with a fast growth of edge utilisation.
At the same time, this new way of working has increased the pressure on quality of services, data protection and security for such usages. And it has become even more challenging at the 'far edge' with small teams of groups or users who reside beyond branch or remote offices. This added dimension eliminates fragile solutions and invites only serious vendors for an edge solution.
Model9 boosts mainframe cloud adoption to reduce IT costs

The Israeli software vendor, Model9, has found a fast growing opportunity, and invites users, to leverage the cloud to control and reduce IT costs. Read here
CTERA and IBM's COSFA
The product idea is to maintain file access locally for all consumers with a global namespace across distances, devices, users and sites.
Content can be also accessed with other methods based on needs and endpoint devices. The fundamental concept is to use caching techniques across edges and central repository, where data is stored on on-premises or on cloud object storage.
The key considerations when selecting a product like this are around security, data lifecycle, data granularity, data protection, applications integration, performance and monitoring.
CTERA has also added a small device, the HC100, a bit larger than a smartphone, for small branches and work from home users. It represents a good example on how a company can leverage the challenges of the current pandemic. It can be utilised with 20 users who have data intensive needs and also for some vertical use cases, such IoT or other data capture applications.
During the latest IT Press Tour, the company also shared some future development directions around containers and we can expect some CSI support in the coming months.