As companies continue to embrace and depend on technology, the CTO role will become the bedrock of an organisation — potentially, becoming the CEO of tomorrow. The current roles and responsibilities of the CTO will become essential skills for every future CEO.
These are strong statements, which might cause concern to the more traditional business leaders. But, it is an increasingly likely reality.
Every company is becoming a technology company, and "you have to be able to speak the [technology] lingo," explains Hector Aguilar, CTO at Okta.
In the future, CEOs, just like CTO's today, will have to understand how technology is going to affect their business and the wider industry — the use of tech produces exponential effects that CEOs really need to understand.
"The more you use technology to power your business, the more you can really make a company very successful," says Aguilar.
"However, I'm not looking for another role at the moment," he quips.
The 4 different types of CTO – which one are you?

A new report by global cloud services company Access Alto has revealed the four different types of Chief Technology Officer (CTO). Read here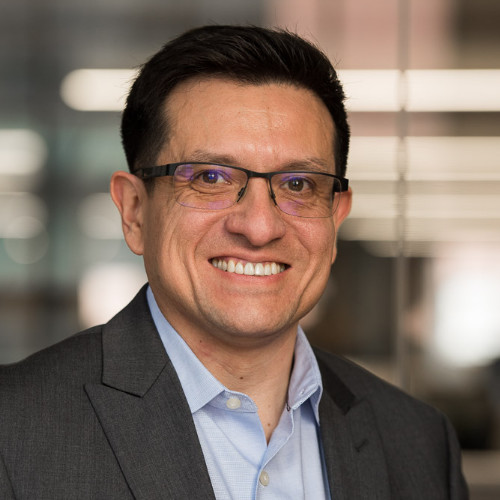 Business-savvy
A requirement of today's CTO role is for these figures to become more business-savvy. This is because the CTO needs to increasingly align technology to the business strategy — the two are now inextricably linked.
Could this transition serve as a natural progression or trial run to the position of CEO?
CEOs have to be business-focused; productivity, strategy, revenue growth and now security must be their priorities. But, it is much easier for technically proficient individuals — the CTOs and CIOs of the world — to learn these business skills (a new requirement of their role, anyway), compared to CEOs becoming technologically-savvy.
"First, I am a technologist," says Aguilar. "Technology is my passion, it's what I've been doing since I was ten-years-old… it's what triggers my endorphins," he says.
It is clear that as the CTO role becomes more business-savvy, these individuals are destined to become the CEOs of tomorrow — who must possess both tech and business skills, which are necessary in leading organisations further into the digital economy.
The CTO role: 'It's about planning and business opportunities'

Greg Hanson, CTO & VP at Informatica, believes that in his role as CTO, he should be more focused on sales than the actual development of products. Read here
Roles and responsibilities
Increasingly the CTO role is about enabling their technical teams, very similar to the CEO's role of enabling the business functions of their organisation.
In smaller organisations, the CTO might get involved in programming, but in larger enterprises this is not usually the case.
As Aguilar explains, "I'm there to technically enable people that are way smarter than me, that write much better code than me — these are the people who execute the technical vision."
These current CTO roles and responsibilities have irresistible parallels to the CEO role.
The CEO is responsible for setting the business vision or strategy, and then hiring the team to execute it. This will of course include a Hector Aguilar, but as technology becomes essential to business function and strategy, it makes sense to have someone well versed in this field leading the company.
"On the management side, it's very important for us to create long-term career paths for employees," says Aguilar. In this context, he is referring to hiring tech professionals for the long term, because of the rapid evolution of technology. "The reality is they have to understand the system. They're building and preparing the new generation, the next evolution of the technology. Thinking short term in this does not work," he says.
Again, for more business-led positions, a similar ethos is usually adopted. This lends to business success.
Every CTO needs to have a holistic vision for their business

In order to succeed with AI, CTOs need to have a holistic vision of the technology — according to Kalyan Kumar, CTO, HCL Technologies. Read here
Customer-focused
Both the CTO role and CEO role must be customer-focused, especially in high-growth companies.
The CTO, just like the CEO, needs to predict what their customers are going to try and do in 12 to 18 months.
A big part of their roles is on predicting future trends, some of those they will get right, and others they will get wrong.
As far as the CTO roles and responsibilities, regarding the customer, are concerned, it's really about three things: making sure that the system is very reliable, anticipating failure modes that will never affect the customer and making sure the system is very secure.
"We must pay attention to everything that is happening, making sure we are monitoring the system to make sure everything is operating well," confirms Aguilar.
Of course, this varies depending on the industry and the type of company.
"Get close to your customers", says Teradata CTO

Anyone who aspires to become a Chief Technology Officer (CTO) in the near future may wonder what the key is to driving a business forward using technology. Read here
A changing landscape
The changing business landscape, catalysed by technology, is redefining industries and roles. The problems of six months ago are unlikely to be the problems of today.
In this evolving landscape, CTOs must place greater emphasis on the business and the CEO must embrace technology — this suggests that businesses will see different types of leaders emerge. There might even be a scenario where rotating roles are the future of the modern c-suite.
However it materialises, the CTO role will increasingly disrupt business and the traditional CEO needs to take note and adapt.