How does the CTO view AI?
As the people who will be leading AI integration, CTOs must be well versed in both the technology's potential and its shortcomings.
Across sectors, but especially in tech, there's a real sense of excitement around AI and CTOs (in other industries like finance, healthcare, marketing and retail) would be foolish to ignore it. In the last five years, there has also been some real progress in this space — the technology is ready to disrupt at scale, claim the AI vendors and third parties.
Or is it? According to Christian Beedgen, CTO and co-founder at Sumo Logic, AI — as the industry knows it — should, in fact, be described as a neural network or deep learning technology. True AI, artificial general intelligence, is not here yet and as such, when organisations promote their AI products, it can be misleading. Indeed, it was recently reported that 40% of Europe's artificial intelligence start-ups do not actually use the technology, but use its hype to attract large investment.
What is artificial intelligence? Defining it in business — a CTO guide

In this guide, seven CTOs and AI experts provide their view on what is artificial intelligence; and how they define the technology in the context of business. Read here

What industries will AI impact the most in the next few years — a CTO guide

In this guide, seven CTOs and AI experts provide their view on what industries will be most impacted by artificial intelligence. Read here

Integrating artificial intelligence: Best practice tips — a CTO guide

In this guide, six CTOs and AI experts provide their best practice tips on integrating AI into internal operations and external facing products. Read here
AI vendor hype
What's the issue? Vendors are almost "beating organisations over the head, saying; 'unless you run your business on our artificial intelligence, you're not going to be able to compete'", says Beedgen.
He continues: "it's not clear to me how all of these things around AI are going to play out in reality, but those who propose adding AI to a business will improve everything across the board… it's essentially, bulls**t."
Beedgen thinks that CTOs have caught onto this. They now know that when they attend a large conference, there will be hundreds of vendors pitching 'the next big thing', when in fact, it's just a bunch of black box marketing. The results of implementing these products and solutions is very much "to be decided".
There's no such thing as magic AI, or a silver bullet, and just because there's lots of new AI/ML/deep learning techniques, it doesn't necessarily mean that these can help organisations on a day-to-day basis run a business better.
Etienne Greeff, CTO and founder of SecureData, shares this view. Here, he references AI's role in cyber: "In cyber security and in application security, there's actually no known application of AI. There's no autonomous agent that automatically defines threats; that does not happen yet, and it's not very close to happening."
But, this doesn't mean the technology should be dismissed altogether. There is still reason to be excited, but expectations must be managed, especially in security and enterprise software domains.
"With my CTO mindset, I do get excited about new technology. And, despite my scepticism around the hype, I am excited about AI" — Beedgen
Kalyan Kumar, CVP and chief technology officer at HCL Technologies, weighs in on the debate and agrees that AI should be on fellow CTOs' radar.
He says: "Businesses should have key AI technologies such as machine learning, deep learning, natural language processing, natural language generation, text analytics, robotics, and vision AI on their radars. AI carries the potential to fundamentally transform business by giving a competitive edge to the organisation.
"Ultimately, however, businesses must remember that AI projects are long-term implementations — there are no shortcuts or plug-and-play options. They, therefore, require careful planning and dedicated focus and vision for each project being implemented. Any AI initiative should be undertaken in phases or milestones. A step-by-step approach is vital if businesses want to reap the rewards of AI, which can include various types of benefits besides just cost savings."
The CTO and AI: think about outcomes
It's clear the umbrella of artificial intelligence has advanced in areas like machine learning, which is already impacting areas such as image recognition, something Beedgen identifies as one of the biggest current viable use cases of AI-based technology.
Any CTO looking at the technology will have to do two things;
1. Define a relatively narrow use case — 'what problem will AI help me solve', they should ask?
2. Focus on making sure there is enough data, and the right kind of data, to support that use case.
CTOs, ultimately, need to think about outcomes, rather than just cost reduction and reducing headcount. Katie Gibbs, head of AI, BJSS, said: "A lot of conversations we're having at the moment are where companies are saying we need to automate in order to reduce headcount by 20%. And actually that's a very short-term view to take, considering that if, internally, employees in the organisation are afraid about the next bit of technology that's coming in because their job is going to get cut, it makes for a very disengaged workforce and a difficult place to work — that comes through in customer experience and user experience on the other side."
AI can absolutely drive value, but to be a success, CTOs need to look at how they can combine the business' employees — who have got all the context of best practices and knowledge of the organisation — with the technology. It's important the results are felt on the ground, by the employees. These individuals are the experts who monitor and manage the AI systems that almost report into them. "This is a really great way to take employees on that AI journey and really invest in the employee value proposition as well — don't just look to replace people, look at investing in your workforce to enable this automated future," suggested Gibbs.
Business critical or hype monster?
It's evident that there is a lot of hype in the AI market, with vendors pushing their 'unique' solution to end-user organisations, desperate not to fall foul of disruption. It seems that we're at the inflated expectations stage on the hype cycle.
But, as more use cases emerge and the technology matures, AI — in a variety of forms (see below) — will become a critical asset to organisations. In the meantime, CTOs must manage their workforce and board's expectations of what the technology can offer, and what impact it will have on their organisation and customers.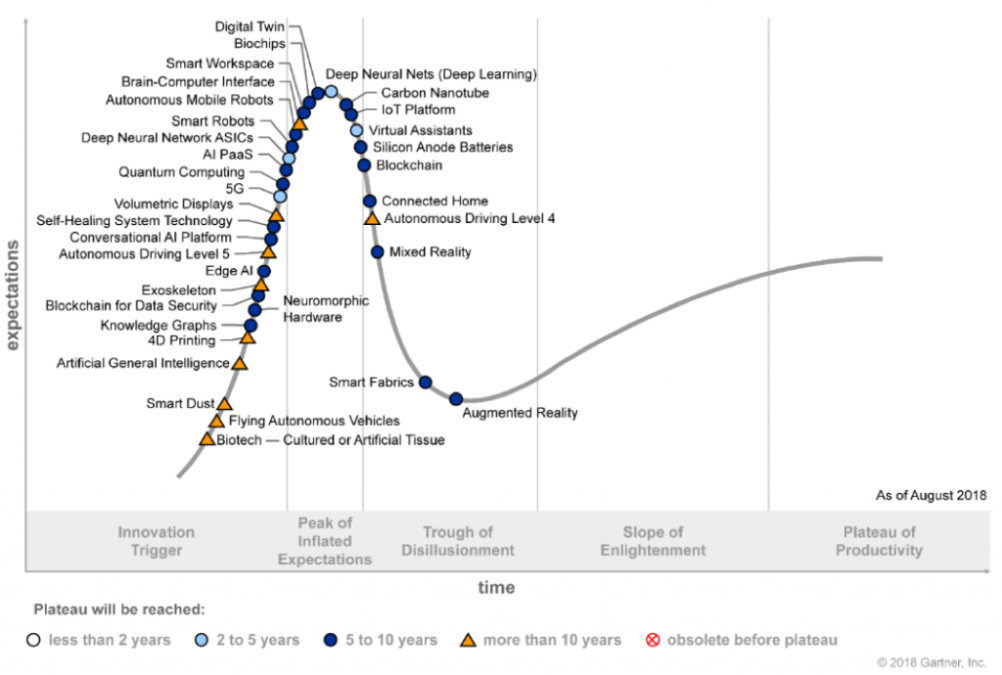 ---
Related articles
A guide to artificial intelligence in enterprise: Is it right for your business?
EU artificial intelligence guidelines will help unlock potential of AI technology
AI and data security: a help or a hindrance?
AI skills: 93% of organisations committed to AI but skills shortage is a challenge
The role of AI in cyber security
Artificial intelligence: What changed in 2018 and what to expect in 2019
---