Web searches to delete Facebook rocketed in March as the UK was among a number of countries to lead a 'digital uprising' against the social media giant, in the wake of the Cambridge Analytica scandal.
According to a new global study of 255 locations across 17 countries by Virtual Private Network (VPN) comparison site Top10VPN.com, search queries from UK users jumped 101% in March compared to the average of previous months. Just shy of 1.1 million UK users have been identified by Facebook as likely impacted by the sizeable data breach which came to light in the middle of March.
>See also: Mark Zuckerberg passes first test after Cambridge Analytica scandal
On a regional level, Londoners gave the biggest indication that they were planning to remove themselves from Facebook with searches for the term 'delete Facebook account' and closely related terms jumping by 139% – followed by Brighton (129%), Bristol (111%) and Sheffield (93%).
Globally, UK users were among a number of countries looking to reject the social media giant – coming behind Canada (175%), United States (132%) and New Zealand (103%) in searching for how to delete their Facebook accounts. Australia (95%), Netherlands (61%), India (50%) and Germany (47%) also saw use of the search term surge.
The following table shows the 10 UK cities with the biggest jump in searches to delete Facebook in March 2018 and the preceding months – a full table can be found below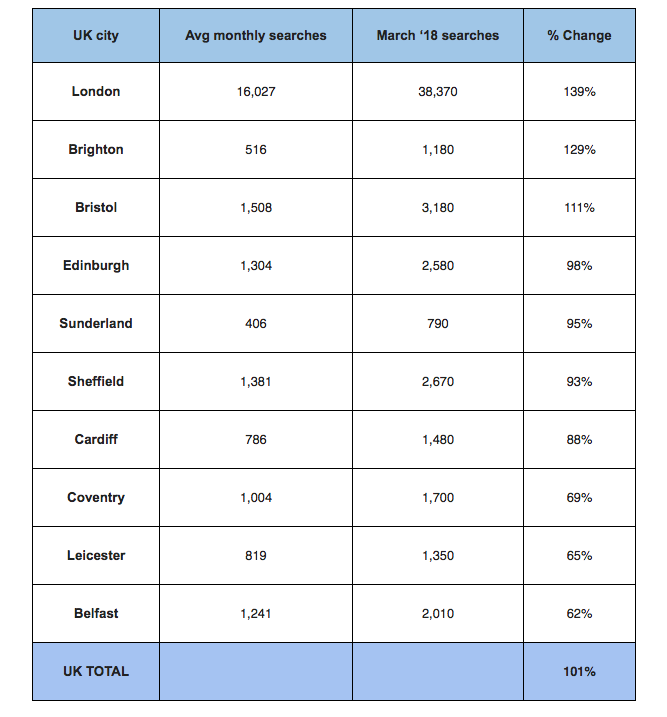 Simon Migliano, head of research at Top10VPN.com, explained that "the Cambridge Analytica data breach has confirmed the long-held suspicions of many social media users that their personal data is being used for various means without their explicit consent."
"The backlash against what many would consider an egregious use of powers was immediate – with thousands of users in impacted countries swiftly looking to distance themselves from data-hungry sites like Facebook. The rocketing of search terms like 'delete Facebook account' is evidence of a digital uprising of sorts against what has become the accepted norm in the last decade."
>See also: What the Cambridge Analytica scandal means for big data
"Certain UK cities were especially quick to distance themselves – the largest surges in search terms notably centred on cities often known for innovation, such as Brighton, Bristol and London."
"For users wishing to dial down their presence online without 'going nuclear' and completely deleting their social media accounts, there are ways to do so. Turn off location finding settings that track your activity, remove any personal information – even if it seems like it's only visible to you – and be wary of using Facebook to log into third parties. For an added layer of privacy, you might want to consider a VPN – which stops Internet Service Providers amassing a hoard of personal information on you."
However…
According to new research published by vpnMentor, 50 of the 280 available VPNs have been sharing user data with Facebook through the Facebook pixel without users knowing.
The Facebook pixel is a remarketing plugin used to help a website optimise its own advertising efforts on the social network. However, by using the pixel, a VPN provider is funneling user data to Facebook, according to vpnMentor.
>See also: 5 ways your VPN can unleash the power of the internet
The implications for user privacy are significant, with one being that Facebook can likely predict which users have bought a VPN: a key privacy concern for the very clientele paying for a VPN.
VPN providers have been quick to act on the findings of the research (accessible here), with 9 providers having removed the Facebook pixel from their sites since publication of the research.
vpnMentor is calling on all users of VPNs named in the findings to contact their VPN providers to alert them to their privacy concerns.
Related Topics