Following a company "refounding", Panzura is looking to disrupt the data management space by offering its multi-cloud data logistics platform, with an app suite being built on for customisation
When it comes to keeping data storage safe and flexible, organisations are facing challenges of vulnerable infrastructure, and a lack of visibility. With data rising exponentially, it's becoming increasingly difficult to efficiently manage it, while keeping it protected from cyber attacks. Traditional network-attached storage (NAS) is proving inefficient, with the majority of data going unused after a year, as well as unstructured assets — estimated to make up over 80 per cent of the world's data — being susceptible to ransomware-ridden breaches.
Panzura is a hybrid, multi-cloud data management vendor looking to solve these common issues bringing migration and management initiatives to a halt. Having created a hybrid cloud model in 2008, the San Jose, California-based startup underwent a rebirth upon appointing Jill Stelfox as CEO in 2020. From here, Panzura bolstered its services, establishing a multi-layered data logistics model for the cloud, securing 35 US patents along the way. Focusing on large-scale enterprise clients and partnering with the big three CSPs — AWS, Azure and GCP — the company caters for financial services; healthcare; life sciences; manufacturing; media; and the public sector.
Along with offering customisable data management to help organisations get the best out of the assets at their disposal, the company strives to handle data protection and compliance, through geographical instances across the world, and deduplication in the background. This helps businesses prepare for when threats such as ransomware attacks occur.
The company discussed its "refounding" journey, and its recent progress in the data management market, during the most recent edition of the IT Press Tour in Silicon Valley.
>See also: Mitigating common network management security issues
Customisable, multi-level data logistics
Alongside global customer support that combines 24/7 expert support with ticket automation for faster response times, Panzura offers three main product areas:
CloudFS: A file system that collaborates with virtual machines and an object store. Data from all locations in the company's network are consolidated, making it simpler for users to decide which assets need to be sent to the cloud.
Data Services: This layer is a SaaS solution that allows for search through the whole data stack in real-time, ensuring governance through monitoring data usage and user behaviour, as well as auditing. Users can be alerted of any unusual behaviour — messages are sent to the user's preferred messaging system, e.g. Slack or Microsoft Teams — with the help of AI and machine learning capabilities.
Smart Apps: A suite of applications on offer to users to further bolster data management that fit their specific needs and business goals.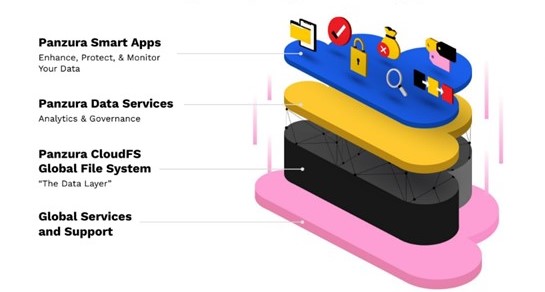 Smart Apps: current availability, and new developments
The Smart Apps suite offered by Panzura currently includes the following applications:
Panzura Company Connect: Allowing for access to third-party collaborators, and providing auditing privileges.
Panzura Edge Access: With this app, users can access their company's file system through edge devices such as their smartphone, tablet or web browser.
Panzura Protect: An alert system for when ransomware attacks are taking place.
>See also: Shifting emphasis towards cloud-first data protection
Additionally, three further applications are being developed, and are set to be added to the Smart Apps suite over the course of next year:
Security and compliance: data asset governance and management with SOC2-certified SaaS solutions (expected January 2023).
Deep content search: Deeper file location capabilities that allow for access to the data within.
Global metadata catalog: A discovery and cataloguing tool for collecting metadata from across the enterprise.
Logistics & provisioning: A tool for tracking access patterns, allowing users to pre-provision the data necessary to meet expected demands.
With businesses no longer able to afford compromises on data management, governance and protection, personalisation such as the developing Smart Apps suite from Panzura can go a long way in ensuring that operations stay focused on specific, long-term business goals.
Related:
Overcoming SSD performance bottlenecks with software-defined RAID — Data startup GRAID Technology offers a software-defined solution that helps enterprises leverage RAID technology at scale.
Best practices for modern enterprise data architecture — Dietmar Rietsch, CEO of Pimcore, identifies best practices for organisations to consider when managing modern enterprise data architecture.