Covid-19 has been a Black Swan event that has changed the way we view the world. Overnight, the pandemic created one of the largest work from home populations in the history of the world, and it's becoming increasingly clear that there's no going back. As businesses adapt to the next normal, technology is going to play an increasingly large role in driving business processes.
CIOs have been front and center of this change. IT departments will play a crucial role as change agents and will increase business ROI. With technological advances such as automation, next-generation analytics, and digital platforms looming on the horizon, what are some of the most important priorities according to CIOs? A survey conducted by Constellation Research and WalkMe, the world's first digital adoption platform, reveals that digital transformation ranks as the highest priority for businesses, just ahead of cybersecurity.
Here are a few other insights the survey revealed.
IT budgets remain unchanged
When the pandemic first began to unravel, another report found that 49% of CIOs revealed that their budgets had declined. Fast forward to today, and 56% of CIOs report that their budgets have returned to pre-COVID levels. The key driver behind this posture has been the need for digital transformation — 77.3% of CIOs surveyed revealed that digital transformation is their biggest priority, with cyber security coming a close second at 75%.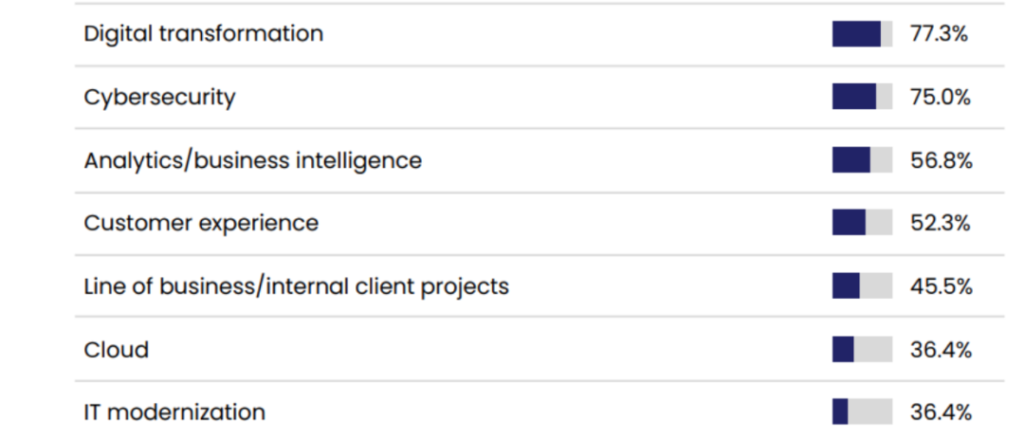 These numbers shouldn't come as a surprise. Remote working has become the new norm. Companies such as Infosys and Mastercard have gone so far as to allow their employees to work remotely until they're comfortable to return to office environments. Securing and servicing a remote workforce requires considerable IT development, and company budgets are reflecting this reality.
Customer experiences and the need for intelligent analytics to drive decisions are also amongst CIOs' top priorities. Almost every business is a data-driven organization these days, and analytics are the keys to powering business decisions. The pandemic has highlighted more than a few instances of businesses managing to use analytics to stay afloat and even thrive. CIOs have been taking note, and it's no surprise that using analytics to improve CX is one of the top priorities.
Technology's role in business success
In response to the greater demands being placed on IT, CIOs are looking to leverage existing technologies to create efficient processes — 73% of CIOs surveyed indicated that robotic process automation and AI are amongst their top priorities. Workflow automation was already making an impact on organisations before the pandemic. The rate at which automation is being adopted has since increased.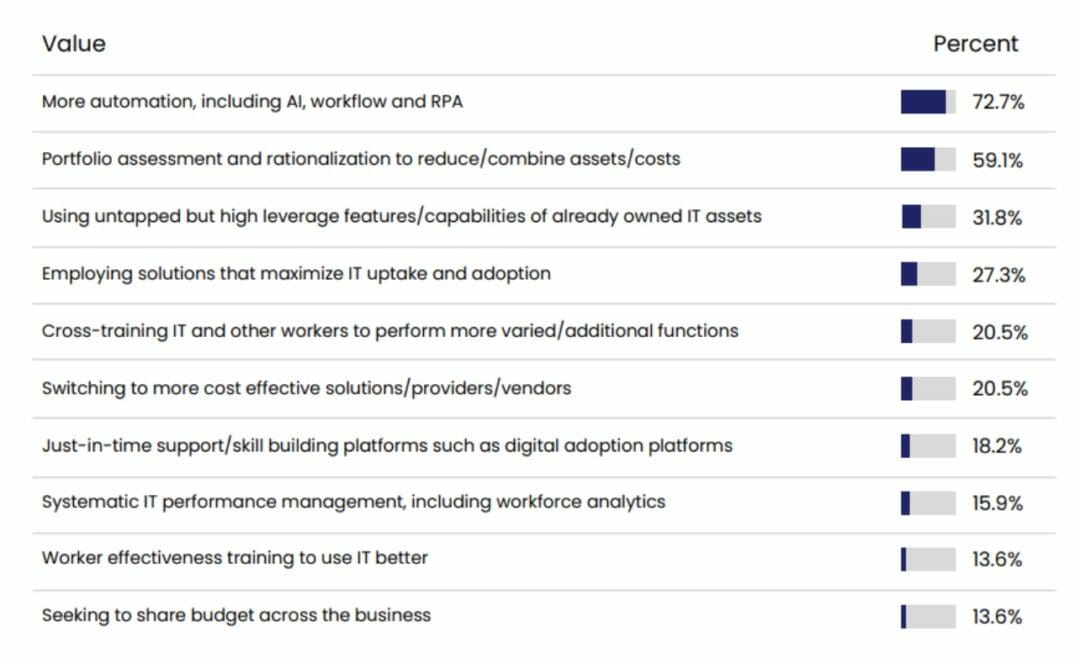 Examining existing IT resources for redundant functionalities and consolidating resources to save costs also ranks high amongst CIOs' priorities. Reorganising their organisations' IT infrastructure accounts for almost every line item in the list of priorities. Retraining workers to allow them to function in increasingly digital environments and creating a stream of talent that can serve just in time workflows is critical.
CIOs expect automation and AI to future-proof their businesses, so expect greater investment into these areas. With technology becoming this important, most CIOs see themselves as innovation drivers in their companies. Due to heavy reliance on tech capabilities, organisations will need CIO inputs on operations and customer experience.
Far from being a standalone department, IT will become a function that underlines everything an organisation does and will become integrated into the fabric of an organisation. As a result, CIOs will have to provide thought leadership and play a key role in the organisation's recovery after the pandemic. A remote workforce will place stress on IT departments, and CIOs will have to prioritise worker productivity and provide enhanced visibility tools to managers across their organisation.
In the initial stages, this will place stress on IT departments, and CIOs need to create workflows that will reduce the stress on IT and allow their organisations to adapt.
Challenges that IT faces
Thanks to pandemic having accelerated the pace of technology adoption, IT departments are struggling to keep up. The primary challenges are a lack of workforce skills, a lack of managerial visibility, and the increasing volume of support demands. Proper employee training will reduce the number of IT support requests, and CIOs recognise this as an area of priority.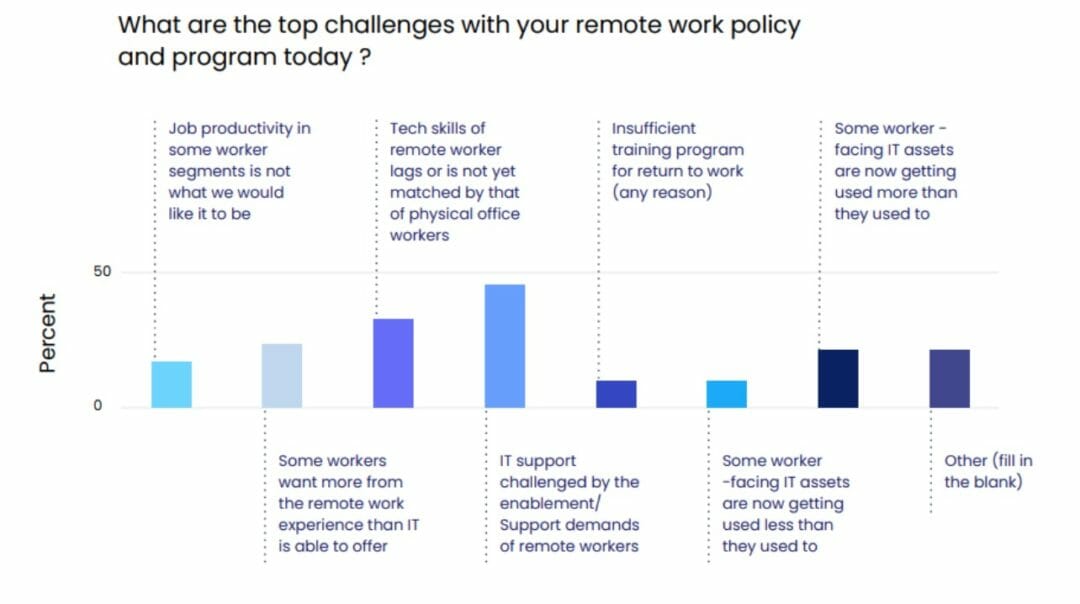 Close to half of CIOs surveyed indicated that the average employee's skills with regards to resolving work issues remotely lag behind their ability to do the same when present in an office. The lack of ability fuels the biggest challenge, which is the lengthy support request queues that IT teams face.
Having been forced into short preparation times due to the unexpected nature of the pandemic, IT teams have also been struggling to fulfill certain worker demands that are beyond the capabilities of current IT systems. As a result, CIOs report that worker productivity is still lagging in certain departments and isn't where they expect it to be.
With workforces being forced into silos, managers are struggling to maintain visibility over worker output and productivity. CIOs recognise ITs ability to power better collaboration tools that can help remote workers become more productive.
CIOs also indicate that automating line worker tasks is a significant challenge currently, closely followed by delivering more self-service IT solutions to employees. Companies are adopting more third-party tools and leveraging their expertise. However, integrating them with legacy systems is challenging. CIOs indicate that designing new systems and applications that augment existing business processes is a challenge.
Powering business recovery
Businesses are going through tough conditions right now, and CIOs recognise the role that IT will play in the recovery process. To enable full-scale recovery CIOs highlight digital transformation through automation, the adoption of powerful tools, more self-service IT, and greater visibility into tool usage as critical. Most CIOs expect at least a 10% boost in ROI from IT enhancements over the next six months.
The survey found that 51% of CIOs believe automation and cultivating a resilient IT organisation will define the success of their efforts, while 49% of CIOs indicate that developing just in time skills in their workforce is also an indicator of success. Developing such skills will help organisations pivot quickly and respond to unexpected events in better ways.
Driving change
CIOs maintain a positive outlook for 2021 and plan on adopting a more human-centric approach to technology. Driving technology adoption and innovation is of paramount importance to boost business ROI and create lasting change.