Involved among the world's largest installations of NetApp, Swiss startup Cleondris is helping customers optimise indexing and ransomware protection
Founded in 2006, Cleondris has been an Alliance Partner of hybrid cloud specialists NetApp for over a decade. In a world that is seeing a surge in partner ecosystems, the Swiss data startup is staying exclusive to NetApp environments, in the aim of retaining trust.
Cleondris provides add-on software for ONTAP that aids backup; data indexing; ransomware protection and disaster recovery. NetApp discovered the need for a new front-end help desk system for desktop users around 2010, leading to the company approaching existing partner Cleondris, to enlist help with meeting this requirement. From here, the Cleondris Appliance was established as an .OVA file compatible with any virtualisation environment.
With 10 members of staff currently on the payroll, with no plans currently in place to scale beyond 30 employees, all focus is on engineering, with the secured business of enterprises using NetApp proving fruitful.
Cleondris CEO Christian Plattner delivered a presentation of current and future developments underway during the most recent edition of the IT Press Tour in Lisbon.
Three products in one flexible platform
The front-end interface provided by Cleondris is designed so that administrators can leverage data and keep all assets protected, without the need to know Linux. The software operates on PostGreSQL 9.6, with core totalling 15MB of storage, and can manage over 10,000 virtual machines.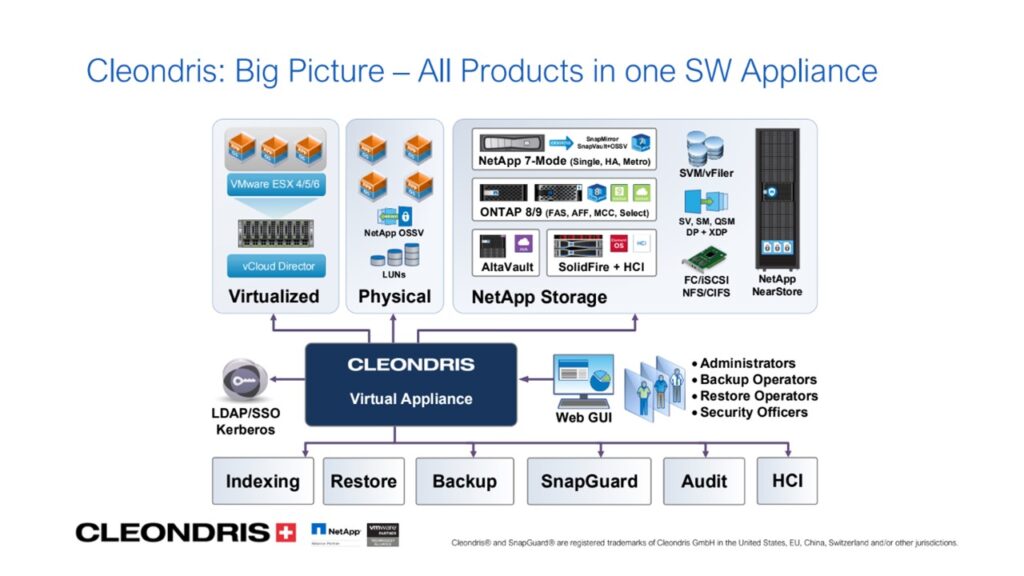 Its flexibility has come from the collaboration of three data products:
Data Manager: The product that Plattner says is driving the most value for the startup, Cleondris Data Manager (CDM) focuses on snapshot-based backup and self-service restore; data indexing, and search. Administrators can easily search indexed file system metadata to ensure no assets are lost. Additionally, there is a capability for VMWare integration, which alongside the NetApp environment can bring a more aggregated view of all assets beyond the storage that VMWare provides.
SnapGuard: With ransomware protection rising up the corporate agenda over the past few years in response to attacks dominating headlines, SnapGuard addresses the need to manage the storage system through NetApp's FPolicy firewall backdoor, combined with differential restore that keeps unaffected assets intact. Administrators and security personnel can also analyse and block any suspicious activity in real time using SnapGuard's Live View capability.
HCC: Described as "the black sheep of the family" by Plattner, HCC was established as a SolidFire (Element OS) add-on dedicated to disaster recovery and data protection. While SolidFire is now seen as obsolete, having been eclipsed by ONTAP, failover —whereby control is shifted from a faulty system to a duplicate — can be facilitated for other storage systems.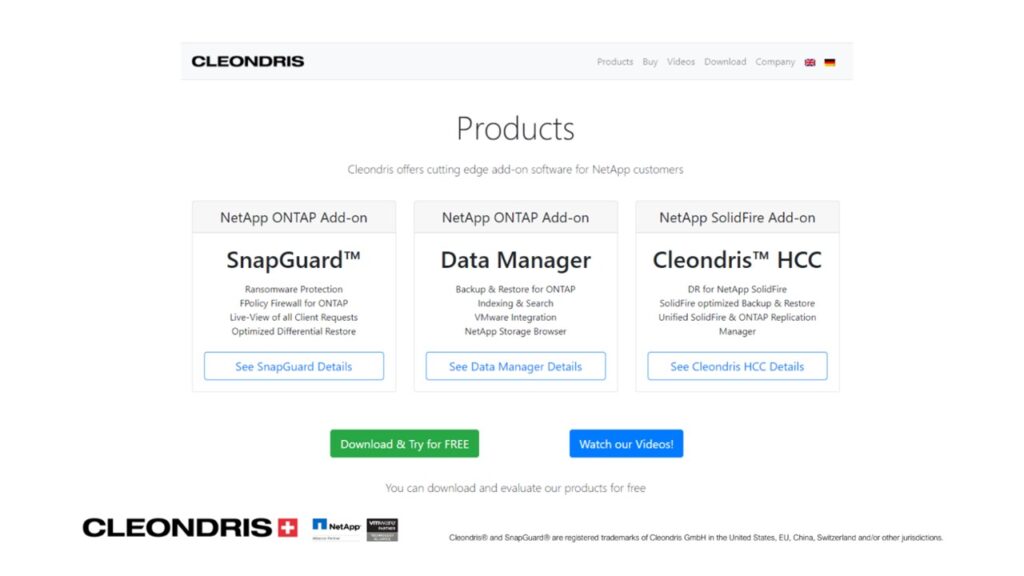 Future plans
To further empower administrators and security staff to better manage and protect the data at their proposal, Cleondris CEO Plattner revealed during the IT Press Tour that a behavioural analysis roadmap is in the works, which would allow for predictive monitoring and faster response to possible threats.
In addition, Cleondris plans to enter the AWS Marketplace — with support for Amazon's Microsoft Windows file server manager FSx already in place — as well as exploring further innovation with cloud containerisation.
Related:
Best practices for modern enterprise data architecture — Here are the best practices for organisations to consider when managing modern enterprise data architecture.
Information Age guide to data + privacy — Data and privacy regulation is becoming increasingly complicated, with the EU set to fine companies up to €20m for misusing people's information. Here are strategies and tools to ensure you stay compliant.