Given that RPA is being adopted so rapidly by enterprises, it's estimated to reach $2.4bn by 2024, some might say it's about time Gartner released their first-ever Magic Quadrant for RPA software.
According to Gartner, while, as a market, RPA is still relatively small, with a total revenue of slightly less than $850m in 2018, it's the fastest-growing software subsegment that it officially tracks, with year-over-year growth of more than 63% in 2018.
What's significant about RPA, said Gartner, is how it's effectively bypassed the traditional IT buyer, appealing directly to business users, with its emphasis on resource reduction, easy efficiency and accessibility of the scripting environments.
"During the years, businesses have paid for an expensive patchwork quilt of applications and systems," said a spokesperson. "Given the rapid evolution of the prevailing business climate, business executives are finding it increasingly difficult to understand why they need to wait for IT to integrate their existing technology solutions. The net result is a tremendous pent-up demand to democratise process automation and data integration. Business executives are lining up to sponsor new RPA initiatives directly within their functions."
Five AI advancements that are making intelligent automation more intelligent, by Sarah Burnett

Sarah Burnett, from Everest Group, one of the top analysts in RPA, explains what intelligent automation is and why it can be a massive benefit to enterprises.
Challenges
Of course, Gartner said that there are different sorts of challenges and common misconceptions to overcome if organisations are to maximise the value they get from RPA. Organisations must recognise that:
Integration features are not "robots" or a "digital/intelligent workforce."
RPA does not easily automate long-running processes
RPA tools are just one element of the integration and DigitalOps automation toolbox
RPA automation creates long-term technical debt, rather than overcoming it.
Scaling RPA: before automating processes, improve them

Most enterprises aren't scaling RPA across their entire organisation, in part, because they don't understand their processes to begin with. Featuring more insights from HFS Research
Take me to the leaders?
Gartner evaluated 18 vendors for the report. Vendors in Magic Quadrants are evaluated on two criteria: the ability to execute and completeness of vision.
Gartner's evaluation criteria for completeness of vision includes market understanding and strategy, sales strategy, offering (product) strategy, business model, vertical/industry strategy, innovation, and geographic strategy. Criteria for a vendor's ability to execute includes evaluating the product or service, overall viability, sales execution/pricing, market responsiveness/record, marketing execution, customer experience, and operations.
Vendors were invited to provide the data for the evaluation criteria via questionnaires and briefings; however, evaluations also include the results of Gartner customer surveys and analyst information from client inquiries
Following a period of strong growth – having recently grown its valuation from $110m to $7bn –RPA vendor UiPath was placed highest and furthest in the Leaders quadrant for both categories. Gartner's RPA Magic Quadrant evaluation was based on UiPath Enterprise RPA platform version 2018.3.1 and UiPath Go.
RPA: we take a look at UiPath, Blue Prism and Automation Anywhere

Robotics process automation, or RPA, is becoming big. And this month, RPA is our main theme. Information Age talks to three of the top players: Blue Prism, UiPath and Automation Anywhere. So here we begin RPA month by comparing and contrasting
"We're excited to see the attention being paid to RPA by leading industry analyst firms," said Daniel Dines, UiPath co-founder and CEO. "There is a real recognition that businesses are investing in RPA to augment and support their workforces with software robots, rapidly accelerating the digital transformation of their entire business, and freeing employees to spend time on more impactful work. UiPath is leading this workforce revolution, driven by our core determination to democratise RPA and deliver on our vision of a robot helping every person."
Blue Prism was also named as a leader.
"We are proud to be recognised as a Leader in Gartner's Magic Quadrant," said Alastair Bathgate, CEO and Co-Founder of Blue Prism. "It's an exciting time to be in the RPA industry. Blue Prism's connected-RPA platform is helping our customers discover ways to deploy a digital workforce that adds new value in increased revenues, speed of service, better quality, cost reduction, tighter compliance, and genuine operational agility. This new wave of connected-RPA is about much more than reducing labour costs."
Followed by Automation Anywhere. According to Gartner, "Automation Anywhere has a strong innovation profile and has demonstrated innovation through the growth of its partner ecosystem. Automation Anywhere uses the ecosystem to fill out broader functionality for its customers, with extended benefits for partners and customers delivered through its Bot Store."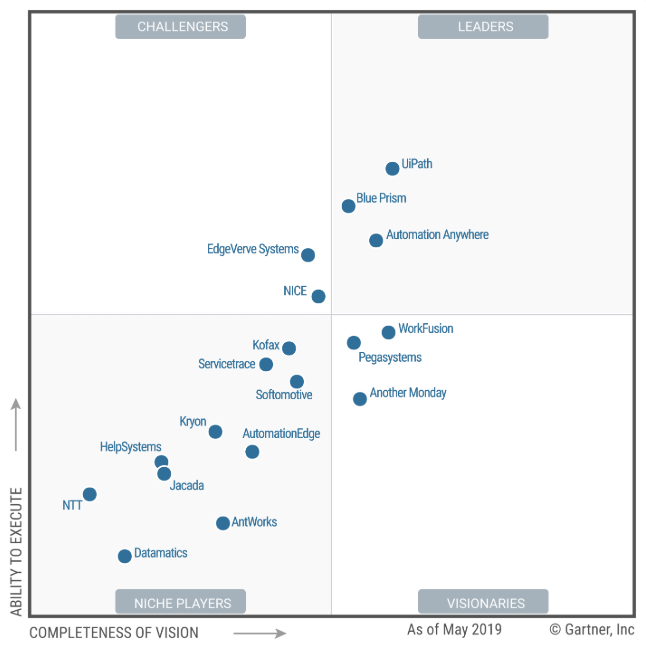 Challengers
Niche players
Visionaries