Gartner has forecasted that global public cloud end-user spending will grow 20.4% to total $494.7 billion in 2022
According to Gartner, end-user investment in public cloud will continue on a similar trajectory to last year, with emerging capabilities such as hyperscale edge and secure access service edge (SASE) disrupting adjacent markets to form new product categories.
Software-as-a-service (SaaS) is set to remain the largest public cloud services market segment, forecasted to reach $176.6 billion in end-user spending in 2022, as as organisations take multiple routes to market such as cloud marketplaces and breaking large applications into composable parts.
Infrastructure-as-a-service (IaaS), meanwhile, is forecast to experience the highest end-user spending growth in 2022 at 30.6%, followed by desktop-as-a-service (DaaS) at 26.6% and platform-as-a-service (PaaS) at 26.1%.
Looking forward to 2023, Gartner projects end-user spending in the space to reach almost $600 billion.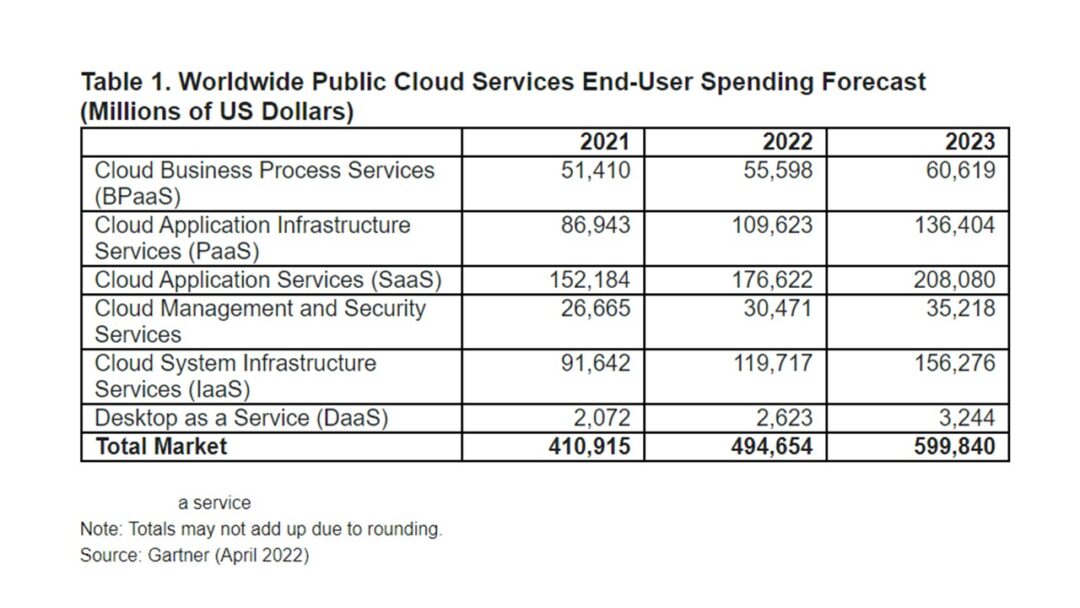 "Cloud is the powerhouse that drives today's digital organisations. CIOs are beyond the era of irrational exuberance of procuring cloud services and are being thoughtful in their choice of public cloud providers to drive specific, desired business and technology outcomes in their digital transformation journey," said Sid Nag, research vice-president at Gartner.
"Cloud native capabilities such as containerisation, database platform-as-a-service (dbPaaS) and AI/machine learning contain richer features than commoditised compute such as IaaS or network-as-a-service. As a result, they are generally more expensive which is fuelling spending growth.
"Driven by maturation of core cloud services, the focus of differentiation is gradually shifting to capabilities that can disrupt digital businesses and operations in organisations directly. Public cloud services have become so integral that providers are now forced to address social and political challenges, such as sustainability and data sovereignty.
"IT leaders who view the cloud as an enabler rather than an end state will be most successful in their digital transformational journeys. The organisations combining cloud with other adjacent, emerging technologies will fare even better."
Related:
Four key considerations when moving from legacy to cloud-native — Erik Sonnerskog, head engineer at zsah, cites four key considerations that organisations should make when moving from legacy to cloud-native.
How to deliver the benefits of the public cloud experience on-premise — In the hybrid cloud era, CIOs are increasingly targeting cloud-like infrastructure in the enterprise, or on-premise.