NHS Digital is at the heart of a necessary healthcare movement within the UK. This movement, the digitisation of NHS services, is the most complex organisational transformation in Europe, if not the world – according to Noel Gordon, Chair of the NHS Digital.
This transformation is happening at an 'extraordinary, cracking pace,' and it hinges on collaborative commitment and collective action.
>See also: Top 7 trends in healthcare app development
Indeed, Gordon explained at NHS Digital's morning session at the UK Health Show last week that this necessary transformation was the responsibilities of leadership, but emphasised that support – from the media, from NHS staff, from the government – is absolutely vital in addressing one of 'the great causes of our time'.
Healthcare digital transformation – why does it matter?
Delivering digital transformation to healthcare is the priority for the NHS Digital, explained Eve Roodhouse, Executive Director at NHS Digital – the next speaker at the session. The session will provide insight on NHS Digital's priorities for enabling the health and care system to provide the best possible services and achieve world class health outcomes.
There are a number of significant pressures facing the NHS – staff pay, bed shortages, winter – so 'why does digital matter?', asked Roodhouse to the audience. Simply, implemented in the right way, the digitisation of the NHS will speed up services, save money and most importantly, support the patient.
Digital and technical capabilities and the fast-evolving market in platforms, software, devices and analytics, are transforming the ability of the medical profession to prevent, diagnose and treat diseases.
>See also: NHS GPs call for digitisation of healthcare
For example, postage is a significant drain on NHS resources – hundreds of thousands of letters are sent every year for a variety of reasons regarding patient welfare, and it is an enormous task to manage. NHSmail – an NHS Digital initiative – could save time and resources. It is a secure email service approved by the Department of Health for sharing patient identifiable and sensitive information – this idea of integrated, technology-driven social care will be vital in connecting pharmacies to NHS IT teams.
This initiative was one of many discussed during the session. See below for an overview of the other digital strategies.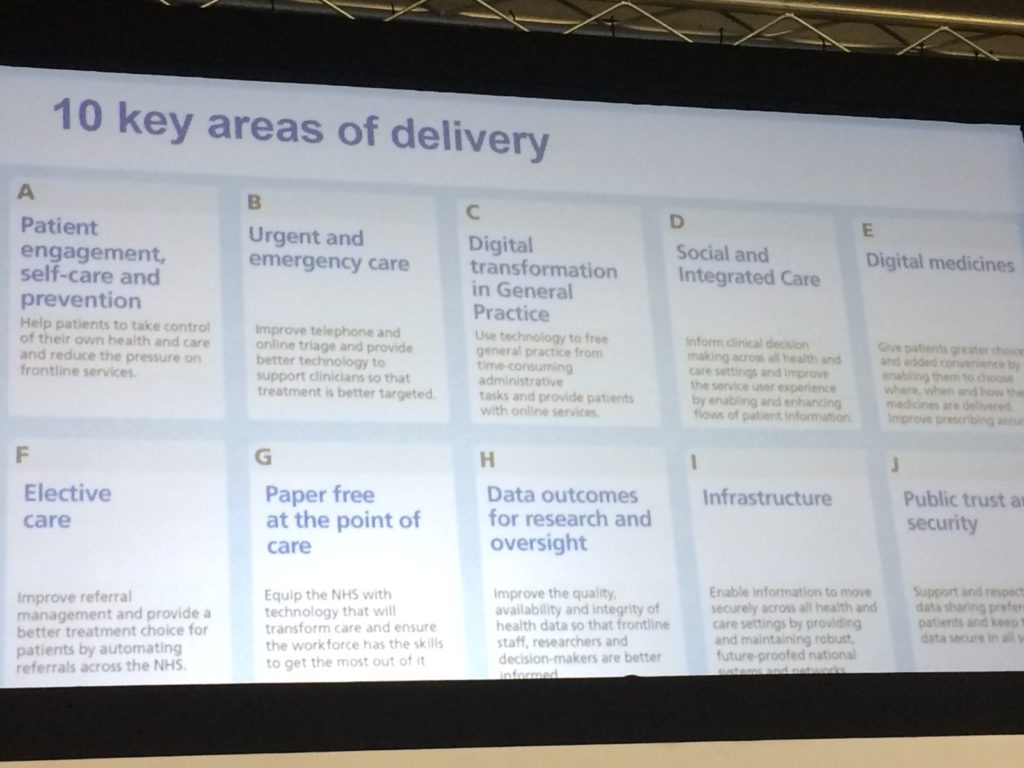 Data sharing
Roodhouse continued that data sharing had a crucial role to play in the effective digitisation of NHS services. In the Gloucestershire NHS Trust, for example, 16,000 patients' records have been digitised, which will ultimately improve the service.
The national aim is to be able to deliver the right patient information the first time, every time, in a new implementation of standards; the accuracy of which is improved in digital form. By October 2018, Roodhouse stated, all outpatient referrals (currently 45,000 a day) will be done electronically.
>See also: AI: from hype to reality in healthcare
One size does not fit all
It is important to realise, said Roodhouse, that one size does not fit all regarding a digital strategy for different local NHS Trusts, and in this instance the national must serve local interests. There needs to be a two-way conversation between local and national to ensure digital transformation of the UK healthcare system.
At Hadleigh Children's Hospital the collective knowledge shared between these conversations is used to digitally transform. Knowledge sharing is key to implementing best digital practice.