How can organisations create a pathway for female tech talent? It's a challenge that is being addressed by some companies.
Below, Claire Spalding — head of technology at YOOX NET-A-PORTER GROUP — explains how her organisations is helping champion and inspire female tech talent.
1. How can we get more women into technology roles?
I'm proud of what we've achieved at YOOX NET-A-PORTER GROUP — today almost 30% of our technology team are women — however there is still a long way to go.
That's why we believe it is crucial to get girls thinking about tech from a young age, long before they ever really think about their career path. That means teaching young people of all backgrounds the necessary skills that would allow them to think of technology jobs as something they could do – we do this through a series of digital education initiatives and programmes we run with Imperial College London and Fondazione Golinelli in Bologna
And as they grow up, it is important for them to understand how technology skills can be converted into real jobs. I think having strong role models is also really important, and of course we need more female role models in technology, but I also believe that just by having the skillset, a young girl could look at any successful person — male or female — and think: "I can do that too".
As they progress from their schools into apprenticeships or university and the world starts becoming real, it's important to say to them "technology powers everything and it is really easy to switch industries once you're in". A career in technology will open plenty opportunities in a growing number of industries for them.
Our CEO, Federico Marchetti, is passionate about this, he's part of the Male Champions of Change, an organisation which is uniting male leaders of different industries to drive change across organisations and we are starting to implement some of its initiatives internally. Just this week, in a new commitment to driving gender equality within our technology team, we announced the launch of our new internal Sponsorship Programme in which senior leaders are sponsoring talented women in our technology team, as a new pilot. As a sponsor on the programme, I'm taking personal responsibility to advocate and provide new development opportunities for my sponsee, and I'm also excited to learn from her views and experiences. And our hope is that we can roll this out even further, as we promote gender equality across the business.
Firstly, we need to change the mindset that women progressing into senior roles in technology and other industries is a "female problem". Everyone needs to become part of the solution and men have a key role to play on driving and achieving change on gender equality issues in organisations and communities, especially in organisations and sectors where there is a high ratio of males in leadership.
Secondly, I'm a big believer that flexibility at work should be encouraged for everyone and we're fortunate to have a strong smart working policy at YOOX NET-A-PORTER aiming to create a more inclusive workplace for everyone. Given that we all spend the majority of time at work or working, it seems pretty obvious that maintaining rigid work structures is going to perpetuate imbalances in society. An environment that allows both men and women to leave early to meet family commitments, or to take parental leave, and judges them on their output, not the time they put in at work, is one I believe we should all work towards.
Finally, I think it is crucial we provide everyone access to mentoring and leadership programmes empowering people with the right confidence and skills to take that next step up in their career when the chance arises. I am really excited to be part of a new sponsorship programme which is a great opportunity for those involved to learn directly from senior leaders, develop new skills and expand their network.
I strongly believe if you want to make a change you need to focus not just on the women in the workplace, you need to get everyone engaged. That is when things really change.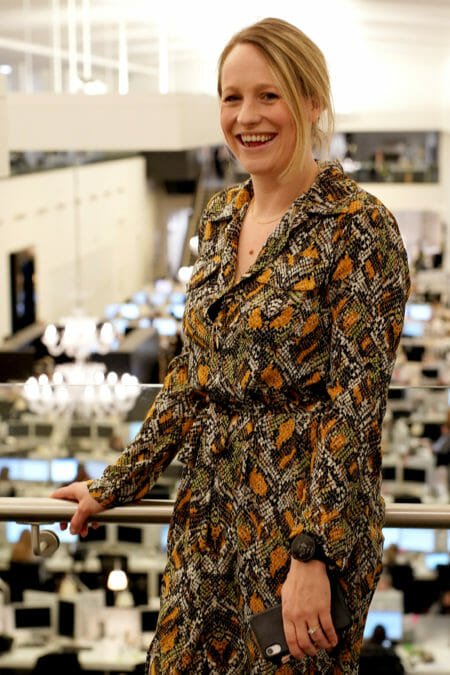 2. The world is changing quickly, how are the challenges facing women in the workplace different today than before?
Things are much better than they were. I've worked in technology for almost 15 years now and you can see the industry is opening up to not just women, but people from all backgrounds and walks of life.
However, some challenges remain. Technology moves so fast so if you were to take an extended break – maternity leave, for example – then re-joining the workforce can be really challenging as many of the skills involved can change in just a year and typically most projects will have been completed. Some of my female peers in the industry have said it can feel like joining a new company.
That's why good processes are vital. For the new YOOX NET-A-PORTER mothers, we have regular check-ins at the office so that they can stay up to date with the team and the projects – it helps them re-enter the workplace in a stress-free way. Having a strong company culture helps too – when women and men re-join us after extended leave – having a friendly and familiar environment really helps them adapt.
Diversity in technology: The playbook of best practice

What are the best practices for improving the levels of gender diversity within technology, or any company for that matter? Read here
3. What does inclusion and diversity in the workplace means for you and how is YOOX NET-A-PORTER GROUP driving an inclusive and diverse culture/working environment?
Diversity is a key enabler to the long-term success of our business — we believe that a diverse team is more likely to solve the challenges we face than a homogeneous group, so it is essential to build better products. We also find that diversity also creates a more open culture where people feel comfortable to question, challenge and improve the way things are done.
In fact, diversity and inclusion are so important to us at YOOX NET-A-PORTER that we even have a dedicated Diversity & Inclusion Team. In our part of the business, this team has helped take our Women in Tech grassroots community to new levels, building regular forums to foster discussion and learning. They've also been instrumental at bringing in things like our flexible working policy and introducing new diversity focused training like #IamRemarkable workshops — so really work at all levels of the company.
Beyond the day-to-day, YOOX NET-A-PORTER is also focused on looking ahead to ensure the next generation of talent, from varying backgrounds, are equipped with and aware of the skills that working in our industry requires. The company is particularly focused on skills training for young girls as part of our many projects around gender equality in the workplace.
Diversity in tech is essential for business success: How to achieve it?

SAP's Shuchi Sharma discusses with Information Age the importance of embracing diversity in tech, and how organisations can achieve it. Read here
4. Do you believe gender-inequality will be a long-term problem in technology?
I'm optimistic, but it's important that we do not get "diversity fatigue" and think that we have done enough.
There is still room for improvement at each stage — from recruitment, to employee engagement and retention. Change takes time so the industry must continue to push hard for the developments we want to see, seize the opportunities that will allow us to make another step change, and try not to get disheartened if things don't move as quickly as we may have hoped.
5. What are you most proud of?
Being nominated for the Women in IT Awards London IT Team of the Year 2020! Although we did not win the award this year, I am really proud of my team and seeing how individuals have grown through the opportunities I was able to give them. I believe with the right support and encouragement anyone can grow in their career — as long as we're creating the culture and environment in which they can do that!