For many, knowledge management (KM) and customer experience (CX) are two remotely related terms. KM is concerned with data handling, while CX latter is about customer satisfaction, as the popular preconception goes. However, it is not difficult to spot the cause-and-effect relationship between the two.
Knowledge management can serve as a tool to engage customers better and create better experiences. This is possible through the development of data-driven systems that boost customer service efficiency and enable automation. Businesses can benefit from the wealth of information they collect intentionally or unwittingly.
Capturing customers during the inquiry/research stage
A consumer survey by Software Advice reveals some interesting details. The study found that 73% of consumers do an online search when they want to learn more about a company or its products. Also, more than 60% spend at least five minutes doing an online search before they contact the company for answers.
Are consumer product companies pricing correctly post-Covid?

David Hawkings, senior vice-president EMEA at Antuit.ai, discusses post-Covid pricing of consumer products, and how AI can provide a solution. Read here
Instead of leaving it to prospective customers to find the information they need in other sites, it's only logical for companies to readily provide accurate and timely information on their respective websites, social media pages, or other forms of digital presence. The research or inquiry stage is a perfect time to enhance the customer journey. In particular, potential customers should easily discover information that will ultimately lead to their conversion.
It would be difficult to attract customers during their research stage without presenting well-organised information. If customers still end up seeking information from other sources, no engagement will take place. That's why effective knowledge management is helpful in improving conversions. A meticulously curated and searchable frequently asked questions database, for instance, makes it easy for customers to learn about the products they are interested in and proceed to making more inquiries and eventually buying.
Better customer experiences
A report led by KMS Lighthouse, a leading knowledge management solution which offers AI-based predictive search results, has compiled the thoughts of customer experience leaders from various industries. "Good knowledge management solutions deliver the data you need to understand which CX strategies are working and which ones could do with some improvement," the report resolves.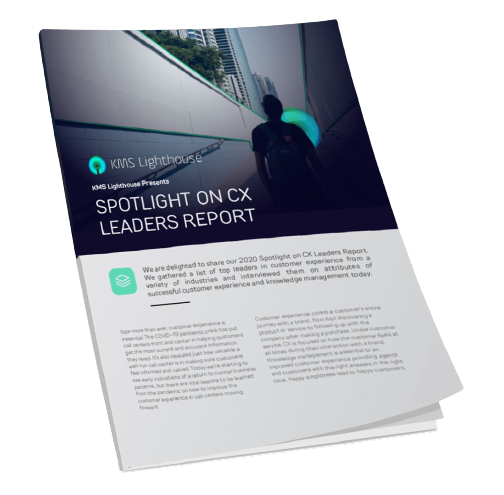 "Knowledge management is the heart of everything we do in the CX realm," says Jerry Campbell, head of customer experience and social engagement at 7-Eleven. He argues that KM makes it possible to achieve consistent messaging from every channel. It can also power AI chatbots and self-serving channels for businesses to provide effortless customer experience and increase customer loyalty.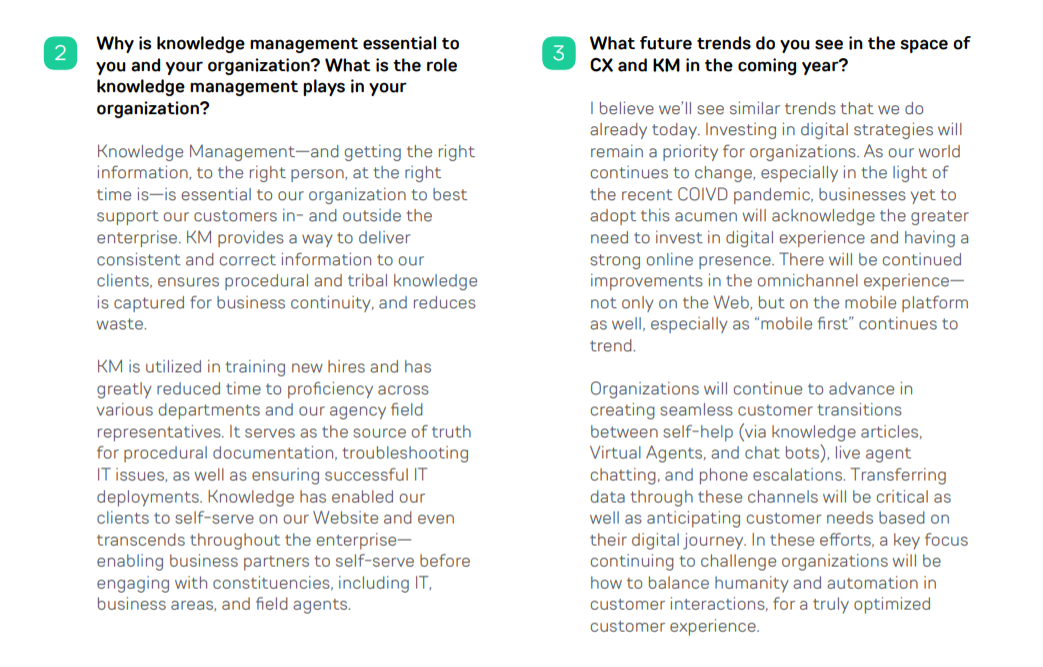 Joanna Deffner, IT enablement supervisor at COUNTRY Financial, shares similar ideas. "KM provides a way to deliver consistent and correct information to our clients, ensures procedural and tribal knowledge is captured for business continuity and reduces waste," she explains. Deffner adds that knowledge management allows COUNTRY Financial clients to self-serve on the company's website, something that helps drive engagement.
Shirley Quinn, IT enablement supervisor and director of retail and wealth contact centre at Coast Capital Savings Federal Credit Union, also affirms the importance of knowledge management. She believes that it "improves customer satisfaction with first touch resolution" and "improves the consistency in delivery across channels." Quinn sees the potential of knowledge management in powering customer service automation not only to achieve better customer service but also to improve the cost of interactions.
The value of AI to all retailers great and small

Alex MacPherson, director of solution consultancy & account management at Manhattan Associates, discusses the value of AI for retailers. Read here
Moreover, the KMS Lighthouse study finds that the need for effective management is reflective of the changing expectations of customers and the risks that come with reduced interactions.
"In a world where reps handle increasingly complex queries, where customer self-service is not suitable, or where an organisation requires the rep to add value through the interaction, easy access to the right knowledge is paramount," says Aidan Dale, associate director for transformation, planning, and customer relations at BGL.
Automating customer service
This idea may sound counterintuitive for some as interactions barely exist when processes are automated. However, automation does help engage potential and current customers by providing an experience that encourages further inquiries that lead to conversions.
When businesses get tons of inquiries about their products or services, it is inevitable that some customers might not be given personal attention by human customer service personnel. Even when companies open up multiple contact channels (email, text, telephone, chat, and social media), there will be instances when the customer service team is overwhelmed by the volume of inquiries.
The logical and effective solution to this problem is automation. Many companies are now employing chatbots capable of answering customer questions. With these bots, customers are no longer interacting with a human customer service representative. They are only led to do so for complex questions, complaints, or concerns that require human evaluation.
How can leaders prepare for the business impact of automation and AI?

Chris Underwood, managing director at Adastrum Consulting, discusses how business leaders can prepare for the impact of automation and AI. Read here
Businesses also put up searchable and machine learning-driven knowledge bases. These "smart" information banks incorporate predictive analytics that can provide suggestions to users to make it easy for them to find what they are looking for.
A study by Businesswire reveals that more than 60% of consumers prefer digital self-serve tools such as websites, mobile applications, chat, and voice response systems for simple inquiries, which affirms the findings by KMS Lighthouse.
A separate but relevant study by Arise, a contact centre tech provider, found that more than 60% of customers are only willing to wait for two minutes at most, while 13% say that no hold time is acceptable. It would be unwise not to take advantage of knowledge management and automation to expedite or boost the efficiency of customer service.
The takeaway
The beauty of knowledge management is that it is helpful in both automated and human-attended customer service. It contributes to improving customer experiences by collecting and organising relevant information to facilitate analysis and strategising, aiding automation, and making information more easily accessible to customer service personnel. KM solutions can deliver significant improvements in the way companies deal with their customers and the way customers engage with brands or businesses.