A recent study of 350 IT decision makers from the UK, US, France and Germany by memory and storage providers Crucial found that 46% of IT decision-makers said that the amount of memory they had installed was insufficient to meet their current workload demands, let alone keep up with rapidly growing future workloads.
The online survey, which was one of the first of its kind that looked at deep virtualisation memory trends, took in the opinions of IT professionals running 30 or more physical servers and working in industries from manufacturing and finance, to legal, retail, healthcare, government and more.
>See also: The evolution of virtualisation
Virtualisation has given organisations the ability to move from the constrained form of physical servers to efficient and accessible virtual servers.
This switch from physical servers to virtual servers has allowed for businesses to cut down on costs, reduce their carbon footprint and provide optimal quality of service for customers.
A good example of how important virtualisation has become can be seen with the recent partnership between VMWare and Amazon. Customers will now be able to use VMWare's virtualisation software on virtual server power that's rented from Amazon AWS.
Virtualisation is now mature and companies are pushing the technology to its limits, with the most common workloads currently being virtualised databases (71%), file sharing (60%), email (58%), web hosting (54%) and big data (47%).
Due to the increasing demand of these virtualisation workloads, businesses often need greater memory density to facilitate unpredictable and challenging workload constraints.
>See also: Virtualised environments accelerate integration
On average, IT professionals are running about 29 virtual machines per physical server.
When asked what would happen if there was a need to run more virtual machines, 66% of IT professionals said they would need more memory and 42% would require more servers.
Nearly three in five (58%) IT professionals said that less than 60% of their physical servers are maxed out with memory.
Globally, the majority of IT decision makers are allocating 64GB of memory or more for the hungriest applications such as big data, databases, content hosting, email, file sharing, content creation and active directory.
>See also: 5 years in information security – what has changed?
With a significant amount of memory, the apps are able to work more efficiently.
The below table highlights the percentage of IT pros that are allocating 64GB and more to their applications.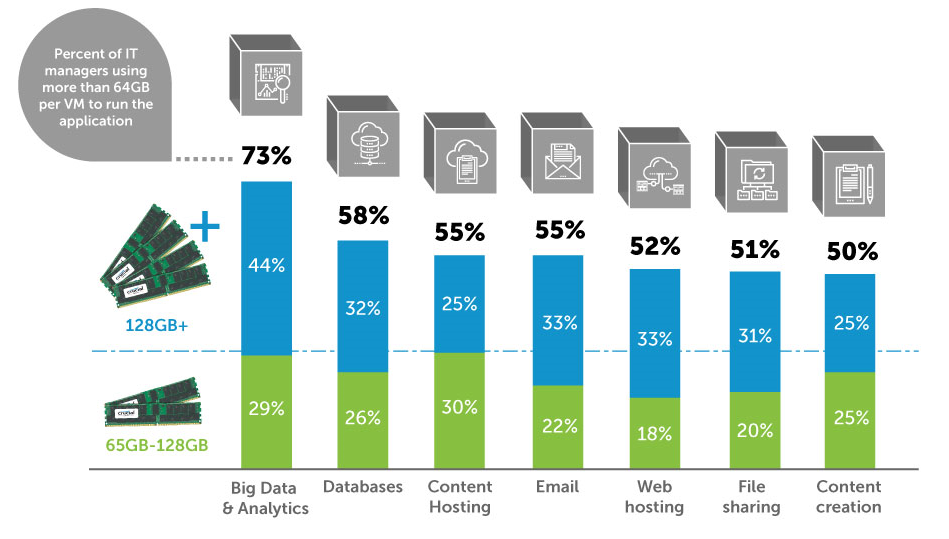 Sourced by Michael Moreland, Crucial Server DRAM product manager