Information Age recently attended the 45th edition of the IT Press Tour in Paris, to learn how six data storage and management startups are disrupting their markets — here is what they bring to the table
This article will delve into six startups that featured on the 45th edition of the IT Press Tour in Paris. Taking place on the 6th and 7th September 2022, the conference featured presentations from companies on various points of journeys, looking to revolutionise data storage and management.
Read on to find out more about Biomemory Labs, DataCore, Nodeum, PoINT Software & Systems, Storadera and StorPool.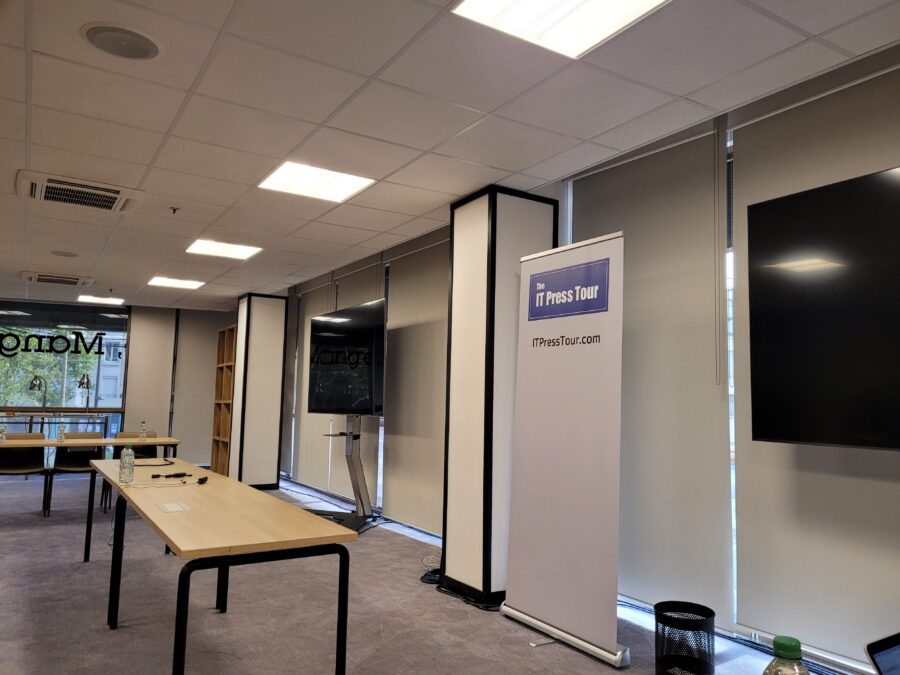 Biomemory Labs
France-based startup Biomemory Labs provides data storage via DNA drives. Looking to combine minimal environmental impact with durable, unlimited infrastructure, the company's product is claimed to store data with a million times' more density than SSD or magnetic tape drives. Its proof of concept in 2021, carried out alongside institutional and industrial partners, involved the preservation of the Declaration of the Rights of Man and of the Citizen (1789) and the Declaration of the Rights of Woman and of the Female Citizen (1791). This was officially registered at the French National Archives in November 2021.
With today's traditional storage hardware such as hard disk drives, magnetic tapes and optical memory being found to not exceed a shelf life of seven years on average, the patented drives created by Biomemory provide an alternative for the future of storage. Its product is also much less bulky than other mainstream storage systems. This, combined with its aforementioned long life and energy efficiency — the drives can stay stable at room temperature, unlike data centres, which need to be kept cool — result in a greatly reduced environmental footprint.
Operation areas currently being explored include health and scientific research; industrial markets such as IoT and machine technology; finance data analysis. The startup's main aim is to make DNA data storage, which if correctly implemented can stay stable for thousands of years, a viable option for businesses.
DataCore
US-based DataCore offers data protection for backup processes, with an active archive available to business customers in the hardware that best suits them. Founded in 1998 with a focus on hardware visualisation, the company now looks to unify storage with a software-defined layer for any hardware. As of 2021, the company has achieved 13 consecutive years of profit — a major factor in this being a shift to a subscription model — and $90bn in investment from software-focused backers Insight Partners.
DataCore One, established in 2019, offers a unified model for primary and secondary storage, all in one platform. Bringing together predictive analytics, insights, management interfaces and optimisation for block, file and object strorage, it can be used to perform data management from high performance databases and applications, to low cost backup and archiving.
Going forward, DataCore is looking to embark on a journey to the edge, taking their software-defined storage mission underpinned by hardware chosen by users to the next level. Its new offering, DataCore.Next, allows organisations to go to and from core, cloud and edge environments. The startup also aims to build on its work in Kubernetes, an area of tech that is now being explored by 96 per cent of organisations.
Nodeum
Nodeum is a Belgian startup that dedicates its services to hybrid data storage "at a petabyte scale", supported by automation APIs and workflow orchestration. Bringing a hybrid storage solution and looking to eradicate time spent by users searching for particular information, the main markets of focus for Nodeum are genomics research; universities; geospatial; and media broadcasting. Its partnership ecosystem, bringing flexible data movement to operations, includes Huawei and Oracle.
Nodeum's platform consists of capabilities for data migration, archiving and protection. While automated data migration between various storage systems comes with auditing for individual assets for compliance, archiving lowers the capacity of usually expensive primary storage, and its offline backup archive ensures business continuity. Additionally, its open API prevents vendor lock-in.
Going forward, Nodeum looks to build on its data storage architecture by adding a BASH Command Line interfaces for REST communications, and full integration with Authentication and Authorisation Infrastructure (AAI). Expected for release in January 2023, this will be aimed at banking and HPC spaces, along with the sectors Nodeum already serves.
PoINT Software & Systems
German-native company PoINT Software & Systems focuses on storage for archiving, compatible with NAS; object storage; public cloud; tape libraries; and optical libraries. With roots as part of Philips before spinning out as an independent software vendor (ISV) in 1994, the company's customer base has included SiXT, PostFinance, and Bayern Invest.
PoINT Storage Manager, launched in 2007, can combine multiple copies of data assets, in the cloud or on-premise. Users can leverage file tiering and archiving wherever the data resides. The offering brings transparency in the form of archived files being visible through primary storage, and is suitable for access via file system stubbing and web links, as well as browser web clients among other methods.
Additionally, PoINT's portfolio includes its Archival Gateway, which was released in 2018 to leverage the strengths of object storage for tape hardware. Particularly suitable for Amazon S3 and coming with a native S3 API, the gateway comes with erasure coding, 256 tape drives and 8 tape libraries. Unlike competing products, this offering doesn't require a hard disk cache or buffer. Going forward, the company is also expected to launch software-defined unified object storage for the gateway later in 2022.
Storadera
Storadera is a startup that offers storage for creating archiving and backup processes. Based in Estonia, its offerings can be integrated with backup software that the customer already uses. Offering proprietary storage and service layer software, the company, which began operating in October 2021, looks to facilitate "cloud storage for any new use case". Operating with one data centre in Estonia, Storadera plans to establish two more in the Netherlands and the UK in the next six months.
Storadera's product offers a choice of CapEx or Opex infrastructure depending on location of the data, and the startup rents CoLo space from Tier 1 service providers. Currently, the focus is primarily on backup and archiving. Other use cases being explored include CCTV processes, tier extentions for managed service providers (MSPs). Users can stay compliant with main industry standards including ISO271K and SOC 2.
The company looks to differentiate itself from the big three cloud service providers (CSPs) — AWS, Azure and GCP — through transparent, predictable pricing without hidden costs; the user pays for what they use, with no minimum usage required. Storadera also prides itself on the majority of its workforce being developers, meaning that customers can benefit from easier access to engineering experts for troubleshooting. In the future, Storadera plans to add security capabilities on top of S3; file syncing; and a storage gateway.
StorPool
Bulgarian startup StorPool was established in 2011, focusing its expertise on storage for large-scale, mission-critical cloud workloads. While initially focused on primary storage, it caters for multiple tiers, as well as backup. The aim for the startup is to lead the primary storage space, helping organisations that rely heavily on block storage, such as banks. Its customer base includes Atos, Nasdaq Dubai and VPSServer.
Linearly scalable, StorPool's product replaces and upgrades all-flash array (AFA), as well as high-end SANs among other storage types. Its software-defined storage transforms standard servers and networks into high-end storage systems, coming with its own storage stack, which includes an on-disk format and protocol.
Looking long-term, StorPool aims to redefine software-defined storage, an area usually associated with object storage, but is capable of managing block storage also. Referred to as 'sofware-defined primary storage platform 2.0' by the startup, customers can utilise scale-out architecture with no prerequisites, other than an Intel or AMD CPU, a network interface card (NIC) and NVMe/SSD/HDD drive. Its recently released StorPool v20 is software only — not requiring a particular kind of hardware — and offers added support for provisioning volumes using NVMe over Fabrics and the TCP Transport layer.
Related:
How software-defined storage (SDS) enables continuity of operations — This article explores how software-defined storage (SDS) can enable operation continuity throughout the enterprise.
8 Israeli start-ups disrupting how you think about data — At the 43rd edition of the IT Press Tour in Tel Aviv, Information Age met up with eight Israel-based startups that are disrupting IT infrastructure and data management.