How has the IT infrastructure landscape changed, and how is this change impacting organisations?
In my experience, the biggest change in the last three to five years is the adoption rate of the hyperscale cloud providers, like AWS and Azure. Their success in providing very high quality infrastructure solutions has been reflected in the number companies using services like those to take advantage of agility and financial flexibility.
What I would have said three to five years ago was that it would be great for if a business is born in the cloud, but the last turn up rate of production systems and companies that have been around for awhile is that adoption rates are accelerating as clients begin to think about how they transform their business, especially how to interact better with their customers – this whole digital revolution trend.
>See also: 3 considerations for a smooth cloud adoption
That adoption rate has really accelerated. But, in my view it is still early days. It's a $100+ billion market, and while the hyperscale cloud numbers have grown very rapidly, it's only high single digit percentage of the total market. There is a lot of room to grow, but the acceleration and the adoption rate across almost all industries for those looking to implement a cloud strategy, and do what they need to do to be more flexible, more nimble, take cost from infrastructure and put it back into applications and what's transforming their business.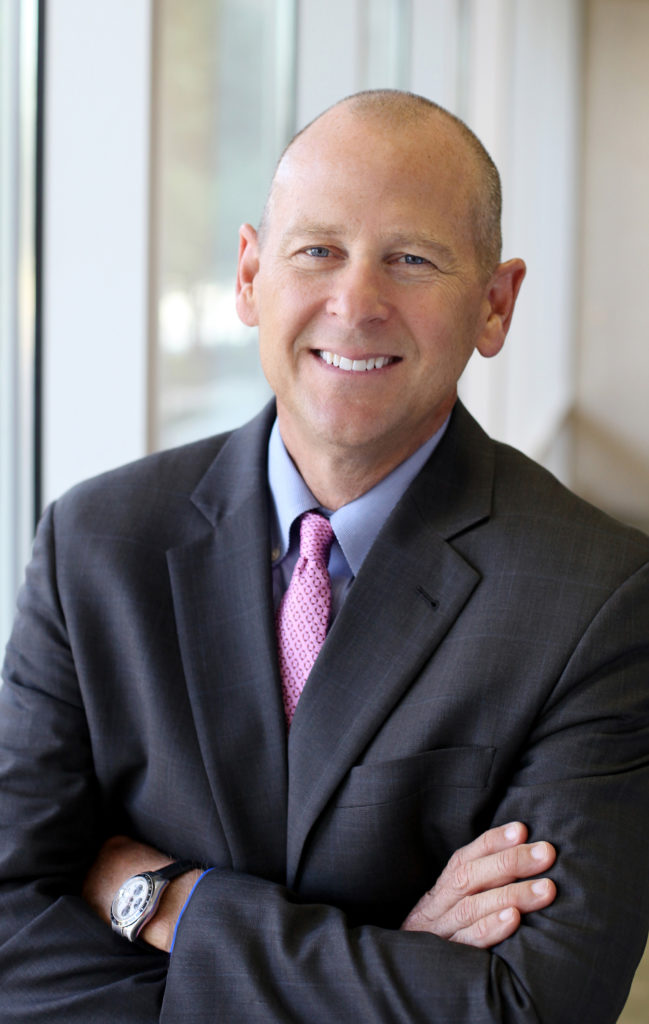 Are there any challenges that you have encountered with helping a company move to the cloud?
Absolutely. You have this adoption rate that forms the background, but you have clients today that have never outsourced anything. Ensono is working with a 75 year old insurance enterprise in the US that had never outsourced a single piece of infrastructure, except they had bought some colocation for a second data centre.
You have clients that see what is going on around them, so they're starting their journey. Sometimes that journey focuses on outsourcing, and in this case, the outsourcing partner helps the organisation with their journey to the cloud. Companies realise they can't just 'lift and shift' applications from legacy environments, whether distributed and/or mainframe, and then move them to the cloud. There needs to be a period of time for companies wanting to transition.
>See also: Hackers won't stop cloud adoption, say 80% of businesses
Some industries like financial services, like insurance and other large transaction processing utilities, the mainframe environment are going to live for ten years. What Ensono provides is a unique opportunity for us to help them manage those very legacy environments on mainframe all the way to helping them manage applications that are going to live on AWS or Azure.
So, is the mainframe on its way out?
No, I think some businesses that have very small bits of applications look at it from the view that it is more economical, and more appealing from a developer standpoint, to move applications to a distributed environment, where teams are going to be more comfortable transforming.
But we have other clients, especially ones that are processing large systems of record (insurance, financial services, utilities, healthcare etc.) Those large organisations in those industries, based on our clients, don't have plans to migrate from the mainframe. What we were able to do is provide them with a safety net of yes we know how to run it, but we can run it more efficiently with some software savings, as well as taking some of the risks of ageing workforce off the table, because as a service provider we need to have those next generation skill sets.
>See also: Hybrid cloud adoption dominates
Are there any security implications from moving applications or workloads to the public cloud? If so, is that something that Ensono helps its clients overcome?
I think anytime that you are outsourcing infrastructure in general, there are security concerns that our clients go through with us. And we are very focused on delivering secure applications, whether it sits on a mainframe or whether it sits on our Ensono cloud. Enabling the right security profile with the public cloud is essential.
One of the values we provide as a managed service provider, is to provide governance on top of the service. AWS and Azure have great sets of infrastructure and great tools, but what some of clients find is that it is not always easy to enable the tools to provide governance over their offering, whether it's compliance, security or financial governance on top of the infrastructure. That's really our role – to help our clients manage that environment, so that it is secure, that it is tested, and that the governance around different countries and different laws is up to standards.
The final bit that we find even increasingly more is that the public cloud provides very nice financial benefits if used correctly. Or, if taken advantage of. If not, if you don't have that governance on top, many times a public cloud environment could be more expensive or as expensive as a private cloud.
>See also: How and why is your industry adopting cloud?
So, enabling those capabilities is something that is part of our managed services, whether it sits on our private cloud environment or whether it sits on an AWS or Azure environment.
What does Ensono's role in all this?
As an introduction, we are headquartered in Chicago. We are a IT infrastructure provider, our offering is a hybrid mainframe to public cloud story. We service enterprises with mission critical workloads, so managing those applications/workloads on solutions from legacy mainframe to the progressive public cloud. Our aim is to help our clients as they make this journey to the cloud, and get more agile and cost effective with running their infrastructure.
Can you tell me about your recent acquisition of Inframon, and how has that impacted your position in the UK market?
We have done two acquisitions, one about a year ago of Attenda. Attenda provided for us a really great platform and capability. First in expanding our geographic capability to the UK and to Europe. Second, it got us an outstanding management platform – what we call EnsonoMO, which sits on top of all of our infrastructure to provide a more efficient running of our software-enabled operating model. Third, the cultural fit of the two organisations was outstanding.
>See also: 'UK lags behind on cloud adoption'
In addition to that, in June of this year, we bought Inframon. They're a very focused Microsoft-enabler. A significant amount of their revenue was in the Azure stack, and one of the gaps in our product portfolio was that we had legacy, we had mainframe, private cloud and AWS as part of our solution, but the lack of Azure was a gap in our capability. With Inframon we really filled that gap. A number of our clients, especially some of our larger organisations, who have deep relationships with Microsoft, were telling us that without an Azure capability we were going to lose opportunities and existing workloads and applications.
The UK's largest conference for tech leadership, Tech Leaders Summit, returns on 14 September with 40+ top execs signed up to speak about the challenges and opportunities surrounding the most disruptive innovations facing the enterprise today. Secure your place at this prestigious summit by registering here