Days after the announcement of UK's Future Fund, a few of the most prominent VC investors in Europe and the US came together to share perspectives on the current market and the future of innovation, while giving their advice to founders during an online "Ecosystem" webinar, organised by Tzvete Doncheva, a startup mentor who previously led the ecosystem initatives at a London-based proptech venture capital firm.
The panel found big regional differences in the way funds have responded to the new reality, resulting from the Covid-19 lockdown. At a European level, while running slower and focusing on portfolio companies, the speakers confirmed their firms continue to look for new investment opportunities.
"The impact of the crisis on our pace is not on whether we freeze the process or continue as it was. We take into consideration the additional amount of dry powder of the fund to be allocated to existing portfolio companies to weather the storm as the [corona] virus reserves to determine the euros left for new investments," said Jean-Marc Patouillaud, managing prtner at Partech, a global investment platform for tech and digital companies, led by ex-entrepreneurs and operators of the industry spread across offices in San Francisco, Paris, Berlin and Dakar.
Heinrich Gröller, a partner at Speedinvest, an early-stage venture capital fund with more than €400m to invest in visionary tech startups across Europe, added: "The top notch founders will still get their funding. It will however be much more difficult for second-tier founders who would have got funded two months ago when there was a total hype."
VC advice to entrepreneurs, tech startups and SMEs looking to survive the coronavirus-led economic slump

Venture capital investors provide their advice to tech startups on what they should do to survive the economic slump caused by coronavirus. Read here
The situation in the US differs
In the US, the situation is different.
"Everyone is busy triaging their portfolio. I think there will be a lot of slowdown and a lot less deals to be done in Q2 and Q3 2020. A lot of the VC firms in Silicon Valley are not instrumented for remote work, even when it comes to partner meetings — there is a big adjustment period. Even though a lot of deals are announced right now, almost all of them were done in the last three to six months," suggested Marvin Liao, an angel investor and a former partner at 500 Startups, a global seed venture capital firm and startup accelerator based in Silicon Valley.
How does the current crisis compare to previous economic downturns?
"This feels way more similar to 2001-02 than it does to 2008-09, when the numbers in deal flow were still very continuous," continued Liao.
Patouillaud added: "Looking back to 2000, it was like the world after a nuclear bombing. All vcs shut down investments for almost three years (from 2000 to 2002), the valuations were degraded by 80%. The reaction of the entrepreneurs is much more resilient and mature now in comparison to the 2001 entrepreneurs."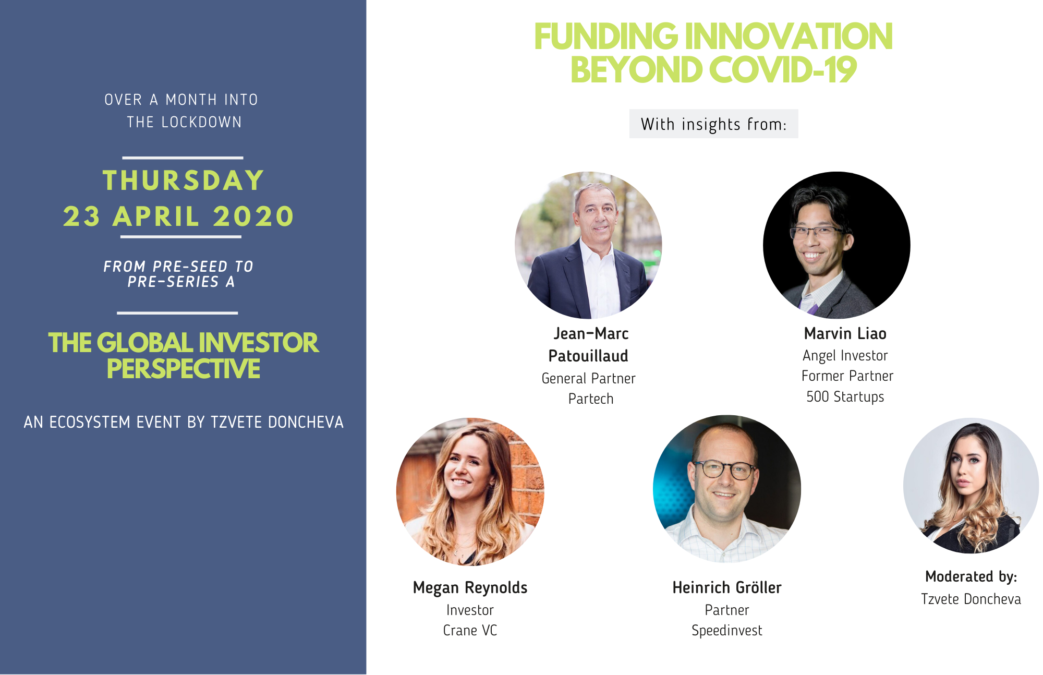 An innovation opportunity
Creative and resilient founders manage to turn a crisis into an opportunity. Sectors where Covid-19 has sped up the recognition of the need for innovation include gaming, edtech, healthech and logistics tech.
"In construction tech or logistics, the corona [virus] crisis is pushing the industry in using digital tools. It's a path that would have been taken anyway but now the pace will be accelerated substantially," said Gröller.
Behaviour shifts
On behaviour shifts, Megan Reynolds, an investor at Crane VC, a $90 million fund focused on European Enterprise Software and Deep-Tech investments pre-Series A, believes the spend on mission critical software, such as cyber, automation and IT infrastructure, will likely be resilient, if not increase.
"The main behaviour shift we're hearing from our enterprise CXO network is that they're freezing and cutting budgets for any software contracts seen as 'nice to have'", she said.
Government funding concerns
While countries across the globe have introduced new public funding schemes, the support may not reach entrepreneurs in time.
During the panel, the investors stressed that bureaucracy, a lack of clear eligibility criteria and slow response time in allocating resources as areas of possible concern.
"The allocation is way too slow and the bureaucracy is way too high. Time is of essence, given some start-ups have lost nearly 100% turnover in a second," explained Gröller.
Liao agreed and said: "A lot of the programs were not very well-thought through because they were done in two or three weeks."
Commenting on the UK's Future Fund, Reynolds added: "It's a great first step but until we know more about the UK's Future Fund and the exact eligibility of companies, we are not factoring it into our plans."
The impact of the coronavirus on the UK tech sector: disruption ahead?

What will be the overall impact of the coronavirus on the UK tech sector? Will the sector shrink? Will innovation be hindered? Or will it fact, thrive? Read here
The number one tip for founders
The number one tip for founders though is to ensure they have sufficient runway and are able to manage cash flow efficiently.
"Cash is king – keep an eye on your runway. Close cooperation with your investors is key," advised Gröller.
Moving forward
Founders should "prepare for a different 2021 than the one [they had] in mind. The crisis will leave scars and everything will have to be re-forecasted because the situation will not go back to normal in all verticals. With the exception of e-commerce and marketplaces," said Patouillaud.
He continued: "On the other hand, people will view the planet differently. Their sedentary and rather resilient experience will have a negative impact on business travels and a positive one on simple facts of life, a more sustainable behaviour with regards to energy, leisure and food."
Collaboration
In challenging times, collaboration in the wider tech ecosystem is important to support future innovation.
This was the inspiration behind the "Ecosystem" webinar series — an opportunity for founders, corporations, investors and public sector actors to connect and learn from each other in the age of social distancing.
The webinar also featured two special guests — Chia Jeng Yang (principal, Saison Capital and co-founder, Shaper Impact Capital) who offered insights on the recent developments in the tech ecosystem in Asia and Kinga Stanislawska (managing partner, Experior Venture Fund and a member of the European Innovation Council Advisory Board) who shared more on how the EIC is supporting innovation just prior to the launch of the #EUvsVirus Hackathon.