As much of world is starting to leave lockdown, remote working is still very much a part of everyday life, with the majority of companies, that are able to, opting to let employees continue to work from home for the foreseeable future. As a result, there has been a shift in work practices for many companies, with collaboration tools now becoming vital. Video conferencing, audio calls and instant messaging have all played key roles in keeping projects afloat across organisations. In light of this, Last Word Research and Information Age teamed up to find out how employees have used technology solutions to work remotely during lockdown.
Last Word Research launched a global online survey to the Information Age audience, with respondents made up of product developers, tech support, cyber security, business development, sales and marketing to name but a few. This survey was conducted in July and August 2020, with the aim of finding which technology was the most helpful, and which has caused more issues than they're worth.
Why collaboration is the key to true business intelligence

Mat Singer, head of sales enablement at Upland Software, discusses the role collaboration plays in gaining true business intelligence. Read here
Unsurprisingly, all of our respondents reported that a strong internet connection is essential for working from home, however not everyone was so lucky. In fact, more than one in ten reported that their internet connection was problematic, although still better than nothing, while a handful stated that their connection was outright useless.
When it came to video conferencing and instant messaging replacing in-person communication at work however, the picture is much more optimistic. Over 90% said that the move to online communication had been positive, with only a few reporting issues. What is interesting however, is which video conferencing platforms where favoured by our respondents.
Video conferencing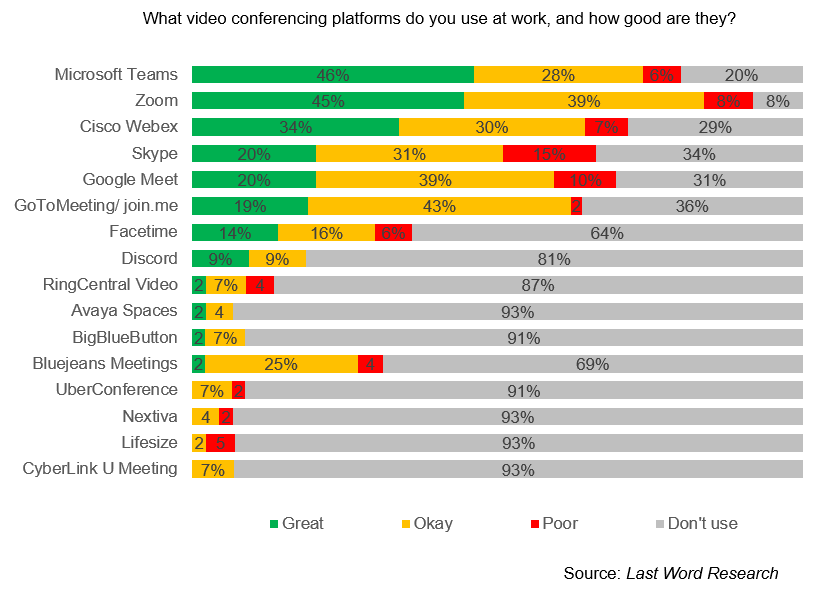 As the above chart shows, Microsoft Teams and Zoom take the top spots. What is more interesting about this data, however, is how poorly ranked Skype is. Perhaps one of the more well-known brands, Skype received the harshest feedback, with 15% of respondents ranking it in the lowest position, making it the least popular platform by far, followed by Google Meet (10%).
Top 10 tips for effective video conferencing

Most organisations will be reliant on video conferencing to maintain a normal working environment during the current coronavirus pandemic. Read here
Of course, it isn't just the platform's name and how well known it is which influences a company's decision about which app to use. Connection consistency and sound quality are essential in making this choice, while added extras such as blurred or virtual back grounds and seeing lots of faces at once, while considered nice to have by the majority of our respondents, they are by no means vital in picking which platform they will use.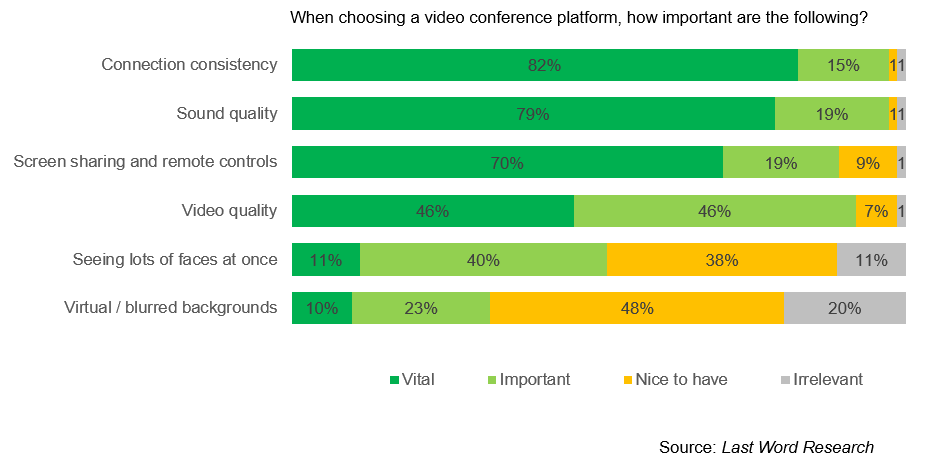 Instant messaging
Our respondents also ranked their preferred instant messaging platforms, and again it was little surprise who took the top spot. Microsoft Teams and WhatsApp both ranked neck and neck with just under half of respondents scoring them with top marks, while Slack came in third place, with just over a third of respondents giving it their top score.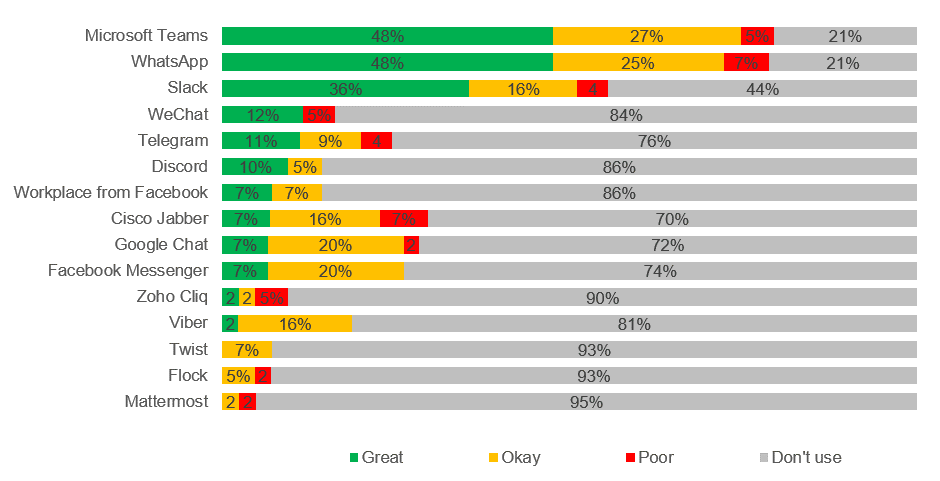 "The use of video conferencing and instant messaging solutions for collaboration during lockdown seems to be mostly favourable," said Aaron Hurst, reporter at Information Age.
"Two of the most used video call platforms in Teams and Zoom are also the most favoured among our audience, however, neither of those applications gained approval rates above 50%.
"A similar story has been revealed in the usage of instant messaging platforms, with Teams and WhatsApp, while leading competition in approval, only being cited as great by 48% of respondents.
"These findings show that there is still a way to go before these virtual methods can truly manifest itself as an adequate replacement for in-person collaboration for all employees."
Please click here to download a copy of the full Lockdown Solutions report. If you have any questions about this article, or the data included please contact lottie.mcgurk@lastwordmedia.com, and for more information on the larger project conducted by Information Age, please contact Aaron Hurst at aaron.hurst@bonhillplc.com.