The low-code, or rapid application development platform (RAD), is growing in popularity among busy IT teams. The reality is that organisations of all sizes must find new ways to increase efficiencies, and manual coding is simply too expensive and time consuming. IT managers need to find solutions to problems quickly – and platforms like this enable them to create integrations and automate basic processes in minutes. All of which saves time and money, and frees them up for higher-value strategic work.
>See also: Low-code technology: an emerging term that needs more definition
Low-code development platforms like Linx are designed to help businesses integrate and automate processes without writing reams of code. The goal is to eliminate the time-consuming drudgery of rewriting code each time you wish to do something relatively simple like publish a web service, extract data, schedule an automated task, parse CSV files etc.
The answer to your IT headache
Linx is designed to reduce the burden on frazzled IT managers, who have enough to worry about. Most teams are overwhelmed and under-resourced. Mounting pressure to deliver solutions to ever-changing business needs, and the hassle of integrating legacy systems with newer cloud applications is an IT manager's nightmare. And the biggest limitation they face? Yup, it's that everything is dependent on completing mountains of manual work.
>See also: Businesses are struggling to prioritise enterprise apps
If this sounds familiar, you aren't alone. A recent study of 4200 IT managers found that:
• 66% of companies fall behind schedule when deploying new IT capabilities.
• 49% plan to increase their investment in custom development.
• 61% are adopting new IT philosophies and strategies to meet this need.

How do low-code development platforms compare to the traditional approach?
We put the two approaches side by side so that you can compare them easily. Note that low-code tools are not designed to build large applications, but to accelerate smaller tasks such as creating, exposing and consuming web services, or connecting legacy systems and SaaS apps.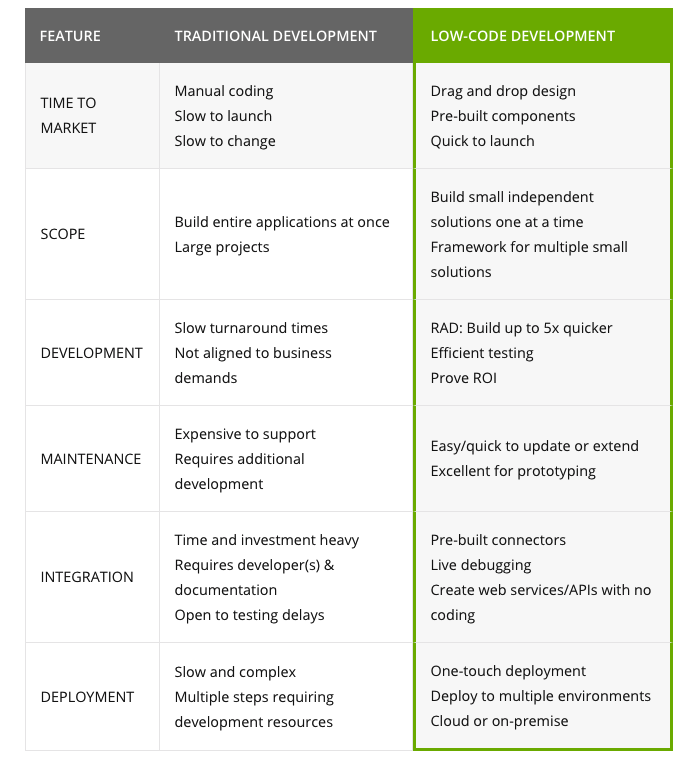 Win – Win – Win
There is no mistaking that the millennial outlook of "I want it now!" has moved into business and digital speed has never been more important. Add to the now prerequisite for a successful product: engaging, responsive to customers across different channels, and adaptable to existing services based on shifting competitive drivers, businesses face huge demands for developers and development power to get this done.
>See also: App development meet digital transformation
Low-code platforms offer trained IT pro's to supplement a lack of experience or capacity whilst professional coders use it to expedite design and deployment. And don't forget the new breed of Citizen Developer, the analyst or business unit owner who can use the tool to do it themselves, relieving backlogs – or removing entire projects – from on an overworked IT team.
Now who wouldn't want that?
Sourced by Anthony Morris at Linx Software