In 2013, President Obama launched the BRAIN Initiative as a large-scale effort to equip researchers with insights necessary for treating a wide variety of brain disorders like Alzheimer's, schizophrenia, autism, epilepsy, and traumatic brain injury. The World Health Organisation estimates that devastating brain disorders affect more than one billion people worldwide.
The NIH component of the BRAIN Initiative is guided by the long-term scientific plan BRAIN 2025: A Scientific Vision, which emphasises an early investment in basic neuroscience research.
Over the past two years, researchers funded by the NIH BRAIN Initiative have produced several breakthroughs and published over 125 academic research articles.
>See also: World first: robotic eye surgery
For many decades now, electricity has been applied to the body to elicit clinical responses and combat various diseases in the form of pacemakers, hearing aids, and implantable neurostimulators.
This therapeutic science has now become known as "bioelectronics", and in recent years, it has experienced exponential enhancement of the hardware and firmware associated with medical devices.
Industry leaders and entrepreneurial newcomers are now driving towards solutions that include medical devices capable of collecting information from the body and software that can interpret and modulate therapeutic parameters based on this feedback.
By closing the loop with these system components, patients with chronic diseases can be restored to a normal state with minimal interruption to their quality-of-life; and now, this closed-loop technology is being developed to augment healthy individuals beyond normal levels.
MedTech
Using "smart" technology that connects to your smartphone to evaluate current status and stream pertinent information to your doctor, decreases the burden of managing and monitoring a patient's disease, both for the patient and for the healthcare professionals. The world is on the frontier of these technological discoveries in medicine.
These technologies present a number of opportunities to redefine the healthcare industry: MedTech.
Imagine a smart pill that once you swallow, it can use cameras and sensors to measure the pH levels, pressure, temp, and overall health of your GI tract. It could also use the fluid in your stomach to power an external patch that can detect a patient's heart rate, body temp, time of ingestion, and other health data.
Smart devices, the size of an average pocket watch that once implanted into your chest, will be able to connect to a patient's diseased brain or nervous system to resolve most all of the associated symptoms. It will be able to collect data on the individual patient's disease progression and therapy response and need.
>See also: How AI can help to optimise healthcare processes
All of these smart devices can be linked to an Internet of Medical Things (IoMT) smart hospital.
If a person is brought in unconscious the connected devices can communicate all pertinent information about that patient immediately to the hospital system, so that they can receive the best care possible, as quickly as possible.
All of these devices are collecting information that gives doctors and nurses the most individually-optimised understanding of a patient's overall condition, thus allowing better management of these interrelated biological systems in the body.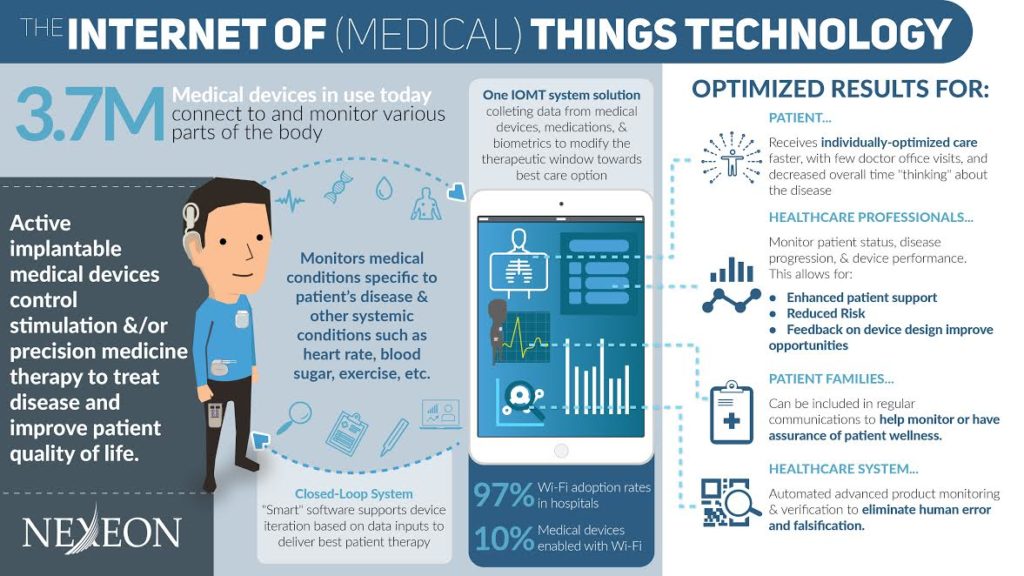 Bioelectronics
Will Rosellini, chairman and CEO of Nexeon MedSystems Inc. contributed to this field of bioelectronics as both an entrepreneur and neuroscience researcher.
Rosellini previously founded Microtransponder (MTI), which is developing a vagus nerve stimulation device for the treatment of stroke and tinnitus. He also founded and led Sarif Biomedical LLC, a stereotactic microsurgery company, and Lexington Technology Group LLC, to successful exits.
"My passion for automating the nervous system began 15 years ago when I understood the potential power behind stimulating the brain and nerves," explained Rosellini. Early on in his neuroscience endeavours, Rosellini and the team at MTI spent years collaborating with neuroscientists from the University of Texas at Dallas discovering paired vagal nerve stimulation (VNS) as a viable therapy for the treatment of tinnitus and stroke.
After reaching certain inflection points and launching a number of clinical trials, Rosellini left MTI to join his current team at Nexeon to develop a suite of bioelectronics devices.
These devices feature technology that eliminate the burden on patients to consistently monitor or adapt to their symptoms and significantly reduce the postoperative time requirement for physicians by decreasing iterations on system input variables to deliver targeted therapy.
>See also: MHealth: how apps are helping the healthcare sector
Leading the charge to revolutionise the delivery of medicine, Nexeon founder and current chief innovation officer Dr. Mark Bates strategically elected to partner with Rosellini serving as CEO and chairman for this next chapter of the company.
"My experience [as a physician and MedTech innovator] coupled with Rossellini's ingenuity in neurostimulation," said Bates, "Has provided a launchpad for innovative products that will really address patients' biggest unmet needs while streamlining the care delivery system."
"I am confident that we will continue to move in a direction where implanted devices are as sophisticated as a smartphone," Rosellini stated, "And the corresponding applications on this platform will be readily available and easy to implement. Patients will be restored to normal; healthy people will be able to maintain their independence and quality-of-life for much longer; and soldiers will be able to augment their abilities before going into battle."
A growing industry
GlaxoSmithKline (GSK) and Google have also joined this burgeoning space of bioelectronics this year with a $712 million joint venture in the name of Galvani Bioelectronics headquartered in the UK.
GSK has an ongoing, multi-year manufacturing agreement with Nexeon to supply Galvani with devices for its internal R&D programs. Galvani anticipates launching its first treatment applications for regulatory approval in 2023.