The shift of software, infrastructure, and platforms to the cloud is gaining momentum. However, as this trend continues, a new breed of security services is required to address the rapidly changing landscape.
Cloud is big business today. In Forrester's report it estimates that in 2016, global cloud services revenue totalled $114 billion, up from $68 billion just two years ago, implying 30% annual growth. Looking ahead, Forrester predicts that the public cloud services market will reach $236 billion by 2020. As mentioned, this rapid shift to the cloud raises new issues and challenges for security and risk professionals.
>See also: 10 tips for securing AWS public cloud environments
In the report, Jennifer Adams and Andras Cser provide a 5-year view of growth in the global security solutions market, predicting that it will grow from $1 billion in 2016 to $3.5 billion in 2021 (see estimated spending by segment below). They also examine major security concerns, such as ineffective traditional perimeter-based security models, the complexity of monitoring data across coexisting cloud options, and a lack of cross-platform security support.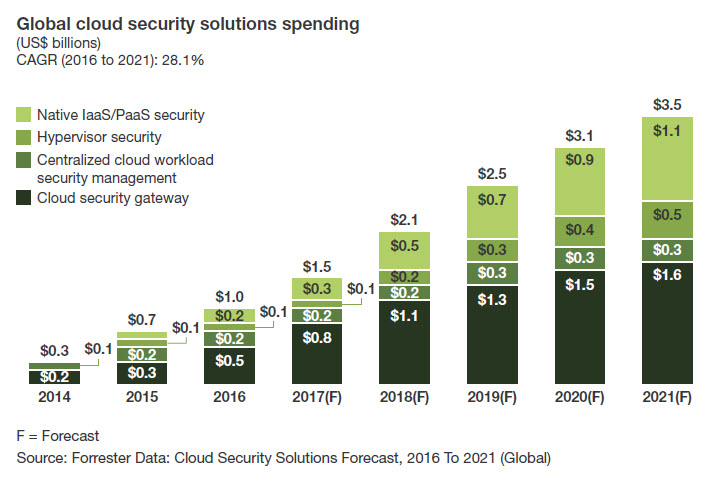 Traditional security tools fall short
Traditional perimeter-based security tools can't effectively monitor data moving to and from the cloud and between cloud platforms, suggested Forrester in the report. This can lead to a failure to identify fraudulent use of data in the cloud, unauthorised downloads, and malware in the cloud.
>See also: Are companies right to finally trust public cloud?
Cloud security solutions is the necessary adaptation. It provides tools to keep cloud data and applications secure, especially when data moves between cloud workloads and apps. Most companies will look to commercial off-the-shelf (COTS) solutions for their cloud security needs, according to Forrester.
Cloud security solutions market will grow
Forrester expects the global cloud security solutions market to grow 28.1% annually over the 2016-to-2021 period, from $1.0 billion in 2016 to $3.5 billion in 2021 – as demonstrated in the graph above. It did this by examining the growth of four cloud security solutions segments: CSGs, centralised CCSM, hypervisor security, and native IaaS/PaaS security.
>See also: How the cloud will shape infrastructure this year
US and financial services will continue to fuel growth
Today, most cloud security solutions users are in the US and Europe. Forrester estimates that the US accounted for 66% of the market in 2016, and its share will decrease to 55% by 2021. Asia will show considerable growth, but it will be driven by native IaaS/PaaS offerings.
The UK's largest conference for tech leadership, TechLeaders Summit, returns on 14 September with 40+ top execs signed up to speak about the challenges and opportunities surrounding the most disruptive innovations facing the enterprise today. Secure your place at this prestigious summit by registering here