In a world where building digital trust is an imperative for most companies, PwC's Digital Trust Insights survey reveals that business leaders are increasingly ensuring that their cyber security teams are always involved in the management of any risks stemming from their organisation's business transformation or digital initiatives.
According to the survey, which draws on data from 3,000 business leaders in 81 territories, respondents agree that cyber security teams must interact with senior leaders to fully understand a company's risk appetite around core business practices.
"If the lifeblood of the digital economy is data, its heart is digital trust—the level of confidence in people, processes, and technology to build a secure digital world," said a spokesperson from PwC. "Companies, regulators, and consumers need new mechanisms to build that confidence as they address emerging challenges in business, risk management, and compliance."
Will data ethics and regulation drive innovation in AI?

As customer expectations for trust and transparency grow, a comprehensive data ethics framework will be essential for driving innovation in AI
It's telling that the United Nations is convening a forum on the internet's role in widening distrust among people. While an essay in The Economist predicted 2018 "will be remembered as the year that privacy law finally started catching up to the Internet." Imagine what it would mean for businesses to begin a new legacy of building digital trust in 2019.
The spokesperson added: "At PwC, we believe next year will be pivotal as organisations start laying that foundation. Companies that show the connected world how to lead in safety, security, reliability, privacy and data ethics will be the titans of tomorrow. It is a journey worth taking."
In the report, PwC also uncovered 10 areas which are in need of improvement around people, processes and technology. They are:
People
#1. Engage security experts at the start of digital transformations — While 91% of survey respondents at companies executing digital transformation initiatives said they include security and privacy protocols, only 53% said that proactive risk management measures are baked into the project "fully from the start."
#2. Upgrade your talent and leadership team — Fewer than half of respondents are very confident that their company has identified the executives responsible for cyber security and privacy adequately. Furthermore, only a third said the structure of their organisation's workforce is sufficient in meeting the most recent and emerging cyber security requirements.
#3. Raise workforce awareness and accountability — Just 34% of respondents said their company has an employee security awareness training program.
Process
#4. Improve communications and engagement with the board of directors — While 80% of respondents said their board has been provided with a cyber risk management strategy, only 27% said they are "very comfortable" the board is getting adequate reporting on metrics on cyber and privacy risk management.
#5. Tie security to business goals — Despite business leaders aggressively adopting new technologies, on 23% said they plan to invest in aligning business objectives with their information security strategy.
#6. Build lasting trust around data — As the volume of data continues to soar, PwC's report suggests more companies could be at risk of ethical boundaries as they pursue new ways to monetise it. Among businesses worth $100 million or more, only about half said that they are making large investments in data governance, in creating transparency in the use and storage of data and toward increasing the control individuals have over their data.
Does your company have an AI ethicsdilemma?

Do companies that are new to AI tools need to be asking themselves: 'Do I have to 'care' about ethics?' 
#7. Boost cyber resilience — Only about half of medium and large businesses in key sectors said that they are building resilience to cyber attacks and other disruptive events to a large extent. And fewer than half of them said that they are very comfortable their company has adequately tested its resistance to cyber attacks.
#8. Know thy enemies — While concerns over cyber criminals have spiked in consumer markets in recent times, only 31% of respondents worldwide said that they are very comfortable their company has identified those parties who might attack its digital assets.
#9. Be proactive in compliance — Respondents said the top digital compliance and ethics challenges worldwide include staying aware of the latest regulatory developments, 41%; complying with current regulations, 37%; and preparing for future regulations, 34%.
Technology
#10. Keep pace with innovation — While 81% of respondents said that IoT is critical to their businesses plans for growth, only 39% said they are very confident they are building sufficient "digital trust" controls into their IoT adoption. Furthermore, only 30% list IoT security among the safeguards they plan to invest in this year.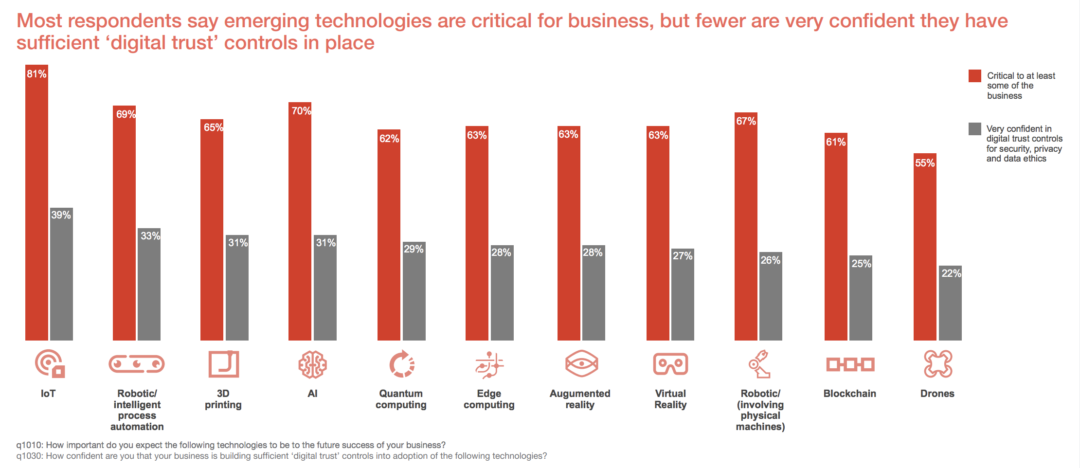 Further details of PwC's Digital Trust Insights survey can be found here
Nominations are OPEN for the Tech Leaders Awards, organised by Information Age and taking place on 12th September 2019 at the Royal Lancaster, London. Categories include CIO of the Year, CTO of the Year, Digital Leader of the Year and Security Leader of the Year. Recognise and reward excellence in the tech industry by submitting a nomination today