Paff Evara, co-founder of Take Up Space, spoke to Information Age about how proper Web3 accessibility for underrepresented groups can be achieved
Take Up Space is a global collective that provides education, mentorship, community, and funding to create diverse leaders in Web3. They focus on supporting members from underrepresented groups, particularly BIPOC and LGBTQ+, leveraging NFTs to crowdfund their initiatives.
In this article, Take Up Space co-founder Paff Evara discusses how the community operates, the importance of online inclusivity, and what more tech sector organisations can do to help in this endeavour. Here, they expand on insights provided at a recent panel that took place at the Women in IT Summit UK.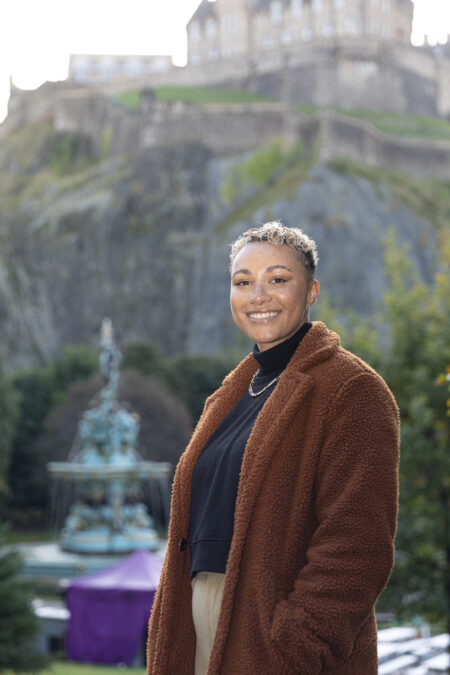 Could you shed some light on your journey into the tech industry: what was your entry point into the sector, and what inspired you to want to work in this space?
It was an unconventional journey — it only dawned on me recently that I'm actually working in tech! I studied a bachelor of business back in Australia, majoring in marketing, and upon graduation I started out as an account manager at a digital marketing agency. From here, I started to grow in my career in terms of specialising in paid advertising, as well as data and automation, which ended up being my first foray into tech.
I then moved to Scotland — where my partner is based — and worked in another digital marketing agency, where after a few months I got to lead the agency and grow out the team there. Throughout that process, which lasted about a year, I started discovering my 'why' parallel to a linear progression in digital. This was all about self-discovery; I started using Tiktok to share my experiences as a queer person of colour, aiming mainly at BIPOC and LGBTQ+ individuals.
Towards the end of 2021, reflecting on my journey up to that point, I had the idea of creating an intersectional leadership course centred around BIPOC and LGBTQ+ individuals. I wanted to create something that would have helped me when starting out. This would end up being the first iteration of Take Up Space, which started out in Web2, before shifting focus to Web3 in January 2022. My partner, Hannah Peacock, had been in the crypto space since 2016 and had discovered NFTs, so saw some great use cases for social impact groups. We looked at combining NFT technology with empowerment of underrepresented people, so we could crowdfund at scale. Within days, Take Up Space pivoted from a Web2 online course, to a global Web3 collective with NFTs as the vehicle.
What are the most prominent Web3 capabilities that are aiding the nurturing of – and access to – truly diverse online communities?
The possibilities of Web3 really come from the decentralisation. When we look at history, under-served and repressed communities have intentionally been left out of financial, generational wealth opportunities, and Web3 provides a level playing field due to cutting out the middle man.
All of the systems that would be excluding these underrepresented people, if managed right, shouldn't exist in a Web3 world, but this is up to those who are shaping Web3. If we don't have diverse people building with intention from the start, Web3 is just going to replicate Web2 with the same modes of oppression. I see a lot of potential, but also quite a few asterisks to consider.
Take Up Space is looking at making Web3 infrastructure accessible by design, through the Changemaker NFT. How does this work?
The primary utility of our Changemaker NFT is that intersectional curriculum of training; access to funding and grants; and access to voting rights on how we use funds, on a community wallet.
We know that not everyone can afford an NFT — even with Ethereum currently being down! It's currently about £90 to mint a Changemaker NFT, which is still a lot of money for a lot of people, so we created a different way to 'Contribute to Earn' our social token, which can also unlock that utility. Whether the user is a writer, a creator or a hobbyist, they can earn our social token ($TUS), and by achieving this they can then benefit from the platform.
Then, there is a third pathway for those who want to 'Learn to Earn', involving a similar methodology in terms of earning social tokens, without needing any specific skills. You just need to attend our free training sessions workshops.
Because we're not a non-profit organisation, we still need to crowdfund — which is why the NFTs are still in play — but these are the ways in which we've thought about accessibility by design.
What do you think organisations and individual consumers can do to be considerate of inclusion and accessibility in their use of Web3 in coming years?
You really need to be intentional in your methodology. It's one thing to say you've created a product and that everyone's welcome, but another to create a product with people in mind. The best way to do that is to speak to people from all different backgrounds, including women of colour; people with hearing disabilities; and neurodivergent people. You need to understand their lived experience, and alter your product design and community to be accessible and inclusive of them.
Then, you need to empower those people, and ideally hire a diverse team, because while it's great to have that product, you're not going to see those blind spots with a homogenous team. That co-creation and inclusivity across the leadership team are really important for walking the walk after building a great product.
The Women in IT Summit and Awards USA, commence on the 14th September 2022. To register your attendance at the event for free, please click here.
Related:
Q&A: the importance of online content moderation for a diverse user base — Dex Hunter-Torricke, head of communications & public engagement at the Meta Oversight Board, spoke to Information Age about how the body goes about maintaining fair content moderation for diverse communities.
What is the market opportunity for NFTs? — Phil Bird, founder of Perfect Channel, explores the market opportunity for non-fungible tokens (NFTs), including the use cases that could occur.