During the most recent IT Press Tour in Tel Aviv, Model9 discussed how it is reimagining mainframe data management in the cloud
According to research from IBM, 80% of the world's business data is held in mainframes, such is the importance of managing assets in this realm to drive the most value possible. What's more, Gartner projects that 35% of data centre mainframe storage capacity for backup and archive will be in the cloud by 2025. While platforms such as the recently released IBM z16 mainframe are bolstered by data management technologies such as AI, a shift to hybrid cloud remains in high demand due to the possibility of heightened scalability, flexibility and security. But with ransomware and other cyber attacks rife and evolving, strong encryption, backup and recovery needs to be in place.
Model9 is a startup looking to help its customers innovate with mainframe data, while keeping costs down and keeping all assets secure from cyber attacks. During the 43rd edition of the IT Press Tour in Tel Aviv, the results of a recent survey carried out by the startup were presented, revealing that the top three reasons customers wanted a hybrid cloud model were:
a single point of data management (71%);
access from any location (51%);
replication from on-premise to cloud (48%).
Model9's suite features three key products for mainframe data management in the cloud: Gravity, providing actionable insights through facilitation of AI/ML and analytics; Shield, its cyber threat protection solution; and Manager, for cloud-native management, backup and recovery. Together, these products allow customers to replace costly proprietary tools with an all-in-one cloud-based data management software.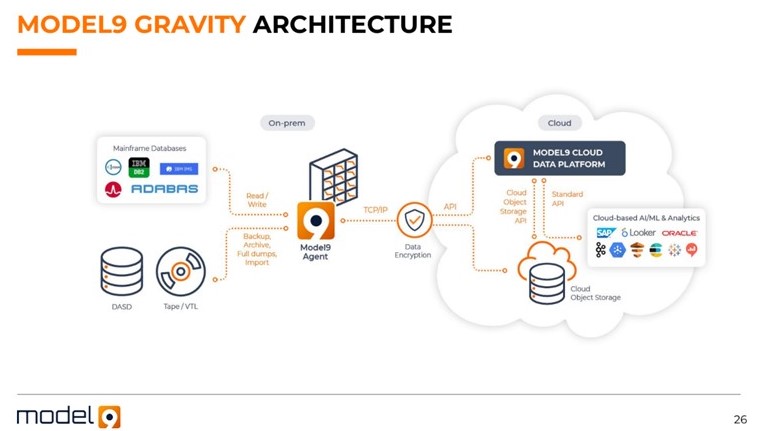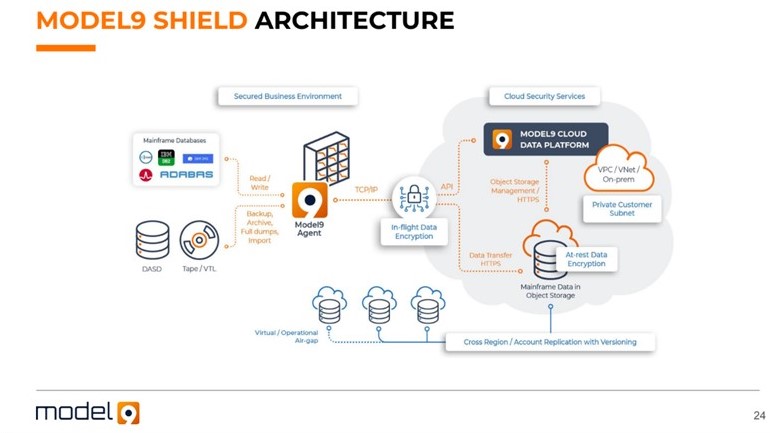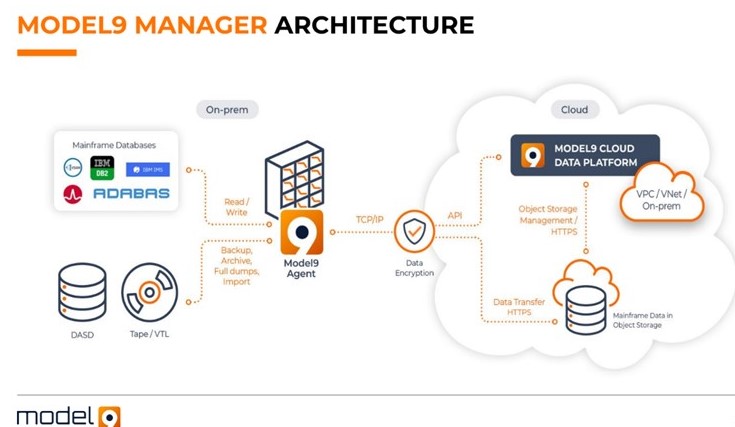 Model 9's story
Founded in 2016, Model9 is backed by Intel Capital, StageOne, North First and Glenrock Israel, and brings much needed expertise from the mainframe and cloud realms. With organisations constantly struggling to continue driving value from applications when migrating to the cloud, the data management startup adopted a data-led approach, which can reduce implementation costs, while being capable of accelerating deployment from years to months.
With the mainframe continuing to be the bedrock for most data-driven enterprise operations, the team at Model9 soon discovered that a hybrid cloud approach, allowing users to go between mainframes and cloud infrastructure, was the best of both worlds. With the mainframe as the core transactional system, the cloud can consume data from that mainframe, and facilitate data management at scale, as well as maintaining cost effectiveness.
Meanwhile, to keep data secure, end-to-end compression and TCP/IP encryption is in place, while immutable and air-gapped copies can be created in the cloud. All in all, it's clear to see that this is a mission that will continue holding importance in the coming years.
Related:
8 Israeli start-ups disrupting how you think about data — At the most recent edition of the IT Press Tour in Tel Aviv, Information Age met up with eight startups that are disrupting IT infrastructure and data management.
How to ignite a mainframe transformation with three key mindset changes — Stuart Ashby, DevOps specialist EMEA at Compuware, provides three key mindset changes organisations can make to ignite a mainframe transformation.