During his talk, Padmanabhan said that technology is a make-or-break situation when it comes to market success, so companies are using software intelligence tools such as those offered by CAST to aid digital transformation strategies.
This is where management consultancy firms such as Bain & Company come in, talking executives through possible solutions to ensure that they are the right fit for the company.
However, just 8% of businesses were found to be truly digitally transformed in Bain & Company's global executive study, and the pitfalls that caused this minimal advancement wasn't found to be a lack of investment.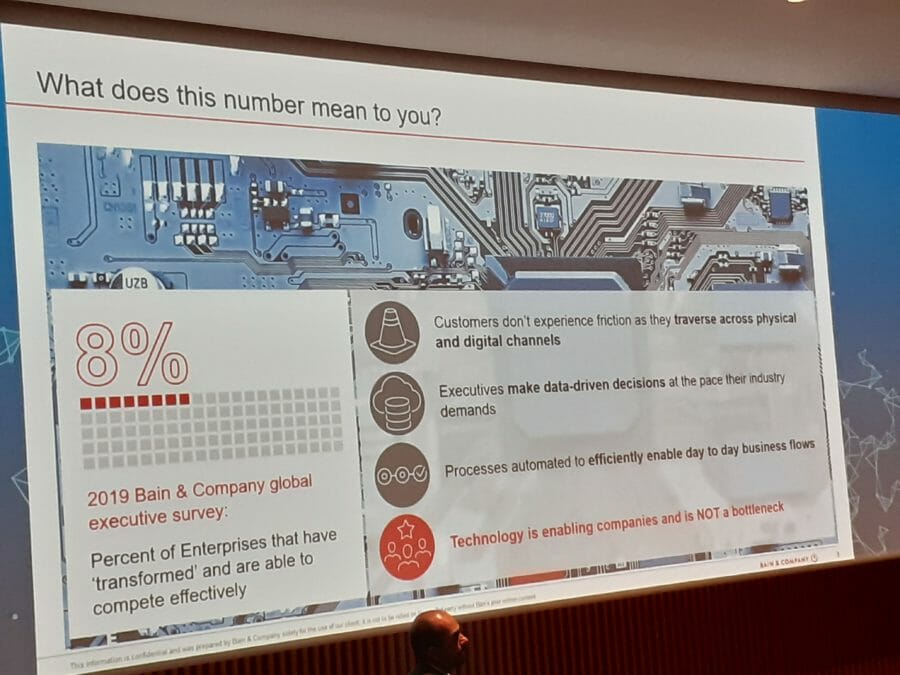 The main factors found by Bain? Technology constraints, and skill constraints.
"There's a lot of work that businesses will need to do, in terms of processes, products and people," the Bain & Company partner said.
Client examples
A case study that Padmanabhan shared with the audience at CAST's Software Intelligence Forum told a story of what he referred to as one of the 8% of companies that are truly transformed.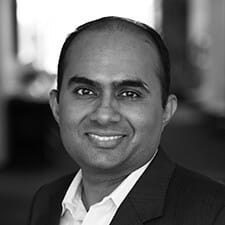 A global speciality insurer, the company used CAST's capabilities and Bain & Company's guidance to drive the modernisation of its architecture. This was done via a revamped business model vision and simplifying products.
Another major change under Bain & Company's supervision was the shift in the role of the CIO to one similar to today's COO.
A second example that this time demonstrated work-in-progress as opposed to a completed mission referred to a consumer bank that has seen its application disposition approach shift to one that's more fact-based.
Also improved was its yield of intelligence regarding software health and technical debt prioritisation, which was aided by CAST.
Additionally, insights around talent gaps and engineering have been delivered to the company.
Lack of skills the main challenge in recruiting information security talent

The information security 'talent gap' is increasing the risk of successful cyber attacks, according to the latest Infosecurity Europe poll. Read here
Executive challenges
When asked what challenges he commonly sees CTOs and CIOs come across, Padmanabhan explained: "The biggest challenges are in how they take an organisation that is built on today's business model, which is supported by a set of software and hardware people that's also running the business.
"But now as the business model is changing, or there are threats that they need to respond to and they want to use technology to do that, they wonder 'How can I support my existing business, keep the lights on, and at the same time transform the business?', and that's a challenge by itself.
What challenges do engineering-orientated CTO's encounter?

Following on from new GetYourGuide CTO Udi Nir embarking on "an exciting new challenge for me as an engineer", Information Age investigated what challenges CTO's with engineering backgrounds have encountered and still encounter today. Read here
"Then the next level would be 'How do I change and evolve my people skills, how do I change some of my applications without putting the existing business at risk, and how do I ensure that I have cyber security and compliance?'
"All those things are very important, and there is change that needs to happen within technology, but there is also change that needs to happen outside of technology, within the other functions that use technology. So they look to us as a company that can do both."
A key philosophy that Bain & Company integrate into their services involves the idea of "less jargon, more value", which comes about through patiently and transparently getting employees on board with strategies and allowing them space and time to change while keeping values in mind.
But for this to happen, CTOs and CIOs will need to feel comfortable about their digital transformation strategy and understand everything that it will involve.
"You are not digitally transformed if your execs can't leverage and make data-driven decisions," said Padmanabhan.