Machine learning specialists command the highest salaries among developers in the UK and Ireland, averaging £56,851.
This figure is 24% higher than the mean wage for developers in the British Isles and nearly £15,000 more than a mobile developer, according to a global survey of 64,000 developers by Stack Overflow.
>See also: Machine learning set to unlock the power of big data
Regardless of what language developers specialise in, they can continue to expect a generous pay packet. The UK national average salary for 2016/17 was £28,000, while on average developers earn approximately £44,000.
According to the research, 94% of developers are at least partially self-taught and just 43% of software engineers in the UK and Ireland have a Bachelor's degree.
>See also: Machine learning offers hope in the fight against cybercrime
These statistics would suggest that the rise of free online classes and coding crash courses are increasingly being used to offer a fast track to a more lucrative career.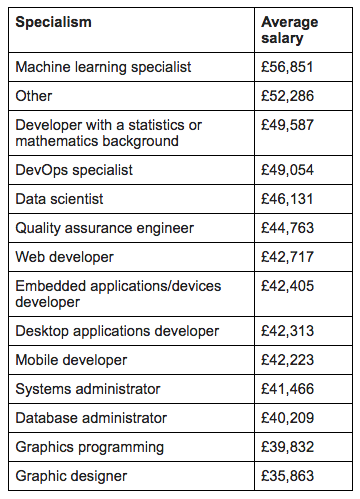 "Today's developers can earn almost twice the national average salary despite many of them being self-taught, with only a few years of coding under their belts," says Kevin Troy, director of insights at Stack Overflow.
Related: 2020 IT Salary Guide – What's your position worth?
"This data should incentivise more young people to take up the rewarding challenge of software development."Three quarters of the survey's respondents in the UK and Ireland identified as a web developer, making it the most common developer type. By contrast, only 2.4% of respondents identified as a machine learning specialist, Such scarcity, coupled with high demand from employers, contributes to their higher earnings.
The UK's largest conference for tech leadership, Tech Leaders Summit, returns in September with 40+ top execs signed up to speak about the challenges and opportunities surrounding the most disruptive innovations facing the enterprise today. Secure your place at this prestigious summit by registering here