Connected devices are growing in popularity. Smartwatches, of all the wearables, have been the biggest constant in this market and this prevalence looks set to continue.
Today, global analyst firm CCS Insight – in recognition of this – have updated its smart wearables forecast.
This includes a comprehensive update on the outlook for the smartwatch market, estimating that 43 million smartwatches will be shipped in 2017, with sales doubling over the next four years to 86 million units in 2021. Sales of connected kids watches hit 16 million units in China in 2016 alone.
The latest forecast reflects extensive discussions with key players in the watch industry, as well as major component suppliers, with a goal of providing the most accurate outlook possible.
>See also: The future of wearables
George Jijiashvili, wearables analyst at CCS Insight, commented on the forecast: "The Apple Watch has been the trailblazer for this category. Its success prompted traditional watchmakers to enter the smartwatch market. Fossil, Guess Watches and TAG Heuer were among the first to embrace the opportunity."
CCS Insight also noted that performance fitness watches from companies such as Garmin, TomTom, Polar and Suunto are seeing steady growth while continuing to deliver consistent sales volumes over the past few years.
Jijiashvili added that, it is "clear that companies like Apple and Samsung have recognised the success of performance fitness watches and have implemented more and more fitness features into their own smartwatches to broaden their appeal". He continued, "There's currently an air of cautious optimism among smartwatch makers, especially as sales of fitness bands appear to have stalled".
In contrast to earlier forecasts, CCS Insight has significantly downgraded its expectations for more-basic "smart analogue" watches.
"We had initially anticipated that smart analogue watches would be the major source of sales volumes in the coming years, but the watches available over the past 18 months have failed to live up to expectations," said Jijiashvili.
CCS Insight also reported that smartwatches designed to allow parents to track their children, which is primarily a Chinese phenomenon at present, are now the biggest smartwatch segment in volume terms.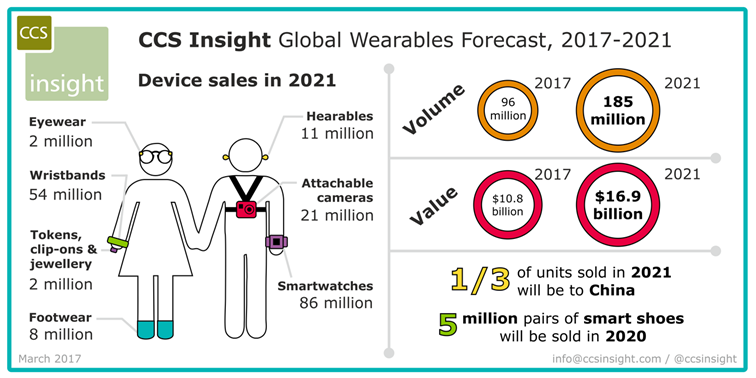 Jijiashvili suggested that CCS Insight have "witnessed explosive growth in the kids watch segment in China and estimate that 16 million units were sold in 2016 alone. Companies such as BBK, Huawei, LeEco, ZTE and others have shipped significant numbers, and we expect growth to continue, with shipments rising to over 25 million by 2021".
>See also: Making use of emotional, biometric and wearable data
With an eye on future developments, CCS Insight predicts Apple will release a cellular-enabled version of the Apple Watch in 2017. This is reflected in the analyst firm's latest forecast, which projects that 9% of full-touch smartwatches will be cellular-enabled in 2017, growing to 12% by 2021. The forecast factors in a growing proportion of replacement purchases in the smartwatch market, which will boost sales volumes in later years.
CCS Insight's forecasts for smartwatches form part of the company's broader wearables forecast, which encompasses fitness bands, smart clothing (including footwear), hearables and wearable cameras. This vibrant market is expected to grow in value from just over $10 billion in 2017 to almost $17 billion by 2021.
Related Topics