The Supporting Agile Enterprises stream at Information Age's Tech Leaders Summit covered a number of topics, including digital transformation, moving from a startup to a scaleup, retaining a millennial workforce and the importance of digital accessibility.
The digital transformation panel
It was determined by the panel, made up of Georgina Owens–SVP IT Services, DAZN–John Pillar–CTO, Digital Ventures and Innovation, RBS–Finbarr Joy–Technology Leader, Superbet–Robert Darling, CCO and COO, Eko–and Rufus Grig, Chief Technology & Strategy Officer at Maintel Europe Ltd, that the term was overused and education was needed to understand exactly what is digital transformation. "Digitisation is not transformation and it's not just an IT issue," said the panel's moderator, Christopher Conroy, Data Consultant — Head of Data Science.
In defining the buzzword, Owens said that digital transformation "is about adapting to what the customer wants quickly enough", while Pillar explained that leadership buy-in is essential for success. Grig also suggested that digital transformation was internal as well as external, "it just depends on the use case," he said.
Darling and Joy were quick to point out that organisations should not customise off the shelf products – essentially stating that end users should focus on what they're good at and leave the cloud or security deployments to the Microsoft's of the world. This is key in any digital transformation: don't go for it alone.
As the panel concluded, each panelist agreed that end user organisations should not go for large scale changes and instead focus on an agile, nimble and multi-faceted approach that prioritised "small speedboats [wins]."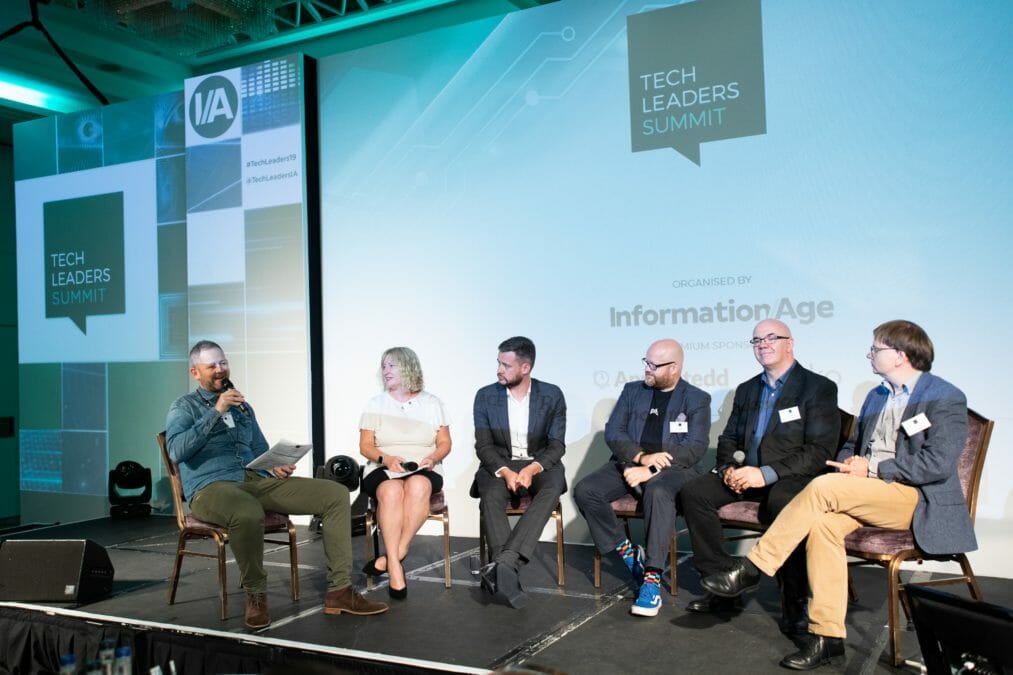 Technology is the engine of change, says Tech Leaders Summit CTO panel

At Information Age's Tech Leaders Summit, six CTOs discussed the importance of technology and how it's the main driver for change in an increasingly unfamiliar world. Read here
Moving from a startup to a scaleup
Following the digital transformation panel, Leah Hutcheon — CEO at Appointedd — described her business journey with eight lessons of moving from a startup to a scaleup (often harder than the jump from a small business to a large one):
1. Not everyone is your customer.
2. You don't have to see the whole staircase. "Build one step after the other, make micro decisions," she said.
3. Face your customers — "listen to customer and allow them to tell you who they want you to be," continued Hutcheon.
4. Make meaning not just money — be driven by your values."
5. Get up close and collaborate — "real magic happens when you're in the room with your customers," she said.
6. Take big swings.
7. Beautiful minds are free of fear.
8. You are creating our world. "Technologists are creating the world and shaping every day interactions," she concluded. "We have a huge opportunity and responsibility."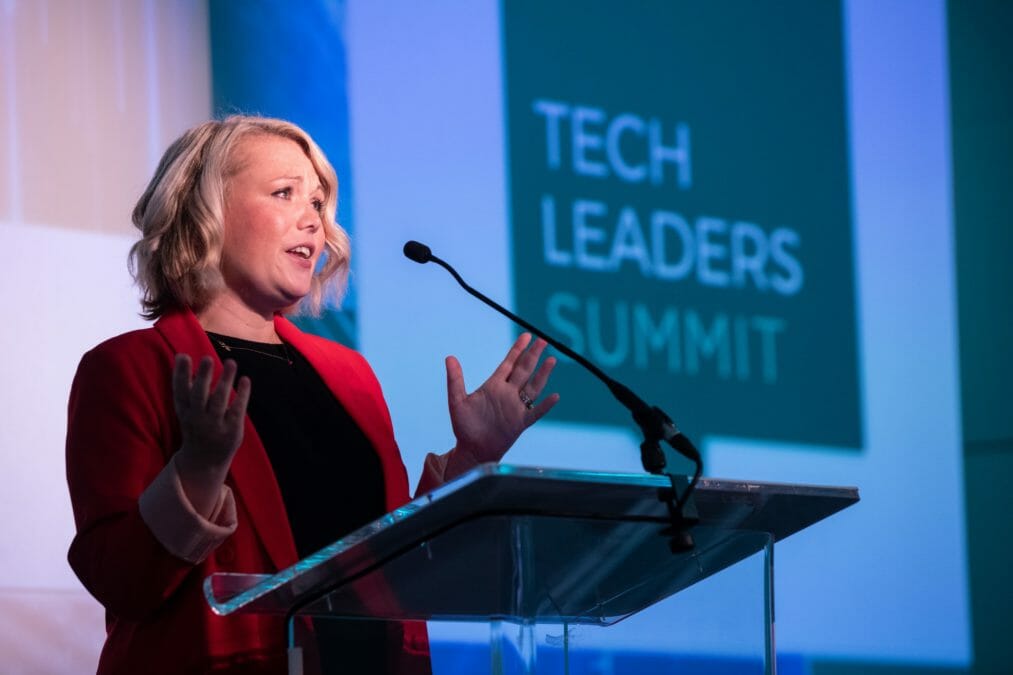 The future of innovation is collaboration — Tech Leaders Summit keynote 2019

Amanda Brock, chair of open source and IP advisory group at the United Nations Technology Innovation Labs, explained that the future of innovation is collaboration during her opening keynote at Information Age's Tech Leaders Summit. Read here
Retaining your millennial workforce
The millennials are the next big intake of workers and organisations have got to engage them. Otherwise, staff turnover rates will be high, costly and ultimately, slow down your business.
Robert Darling, chief commercial officer at Eko, provided four main areas that companies could improve to retain their millennial workforce, by meeting their digital expectations.
1. Communication
The lack of communication and the lack of engagement is a major factor in the high staff turnover rates of frontline work environments. "What we generally find is that only about 20% of the frontline staff think they get the right level of openness and communication from their managers — so, fixing the communication problem is key," advised Darling.
2. Operations
Statistics show only around 30% of frontline staff get "the modern, digitally-enabled operational support that they need — there's a big lack of tools and operational enablement for frontline staff," he said.
Engaging the millennials and managing your staff turnover rate

How can organisations reduce their high staff turnover rate? It's simple… by engaging the millennial generation and managing their digital expectations. Read here
3. Training
"What we find is a really big desire of staff in the frontline environment to access training, e-learning for example, and have the opportunity to gain more skills and progress in their role," continued Darling.
4. Flexibility
And the final area is flexibility: "We have an economy where frontline staff, millennials, are forced to come in, but they want the flexibility and have a better type of work/life balance."
These are the four big areas that need to be addressed to help engage the millennials. "Ultimately, how we build our product and the features that we have help CIOs in these areas to deal with their staff problems," said Darling.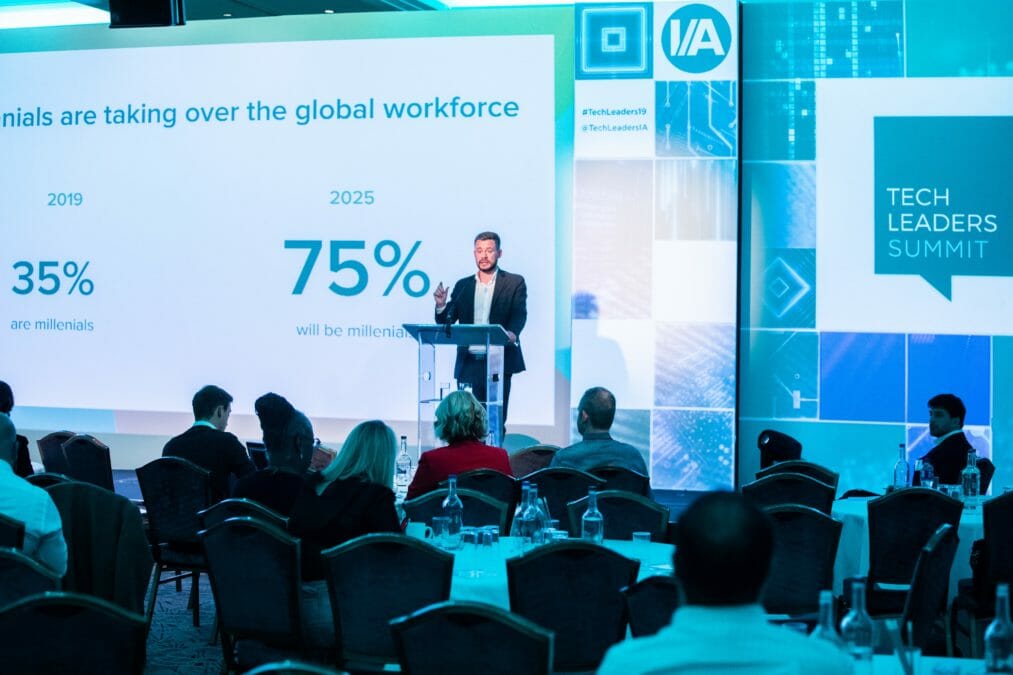 Digital accessibility
The final presentation from the Supporting Agile Enterprises stream focused on digital accessibility; specifically: how to deliver the business benefits of inclusive design and digital accessibility.
At the moment, the "majority of organisations aren't where they want to be," said Jonathan Hassell, CEO, Hassell Inclusion. "But, there is a desire to improve and enable everyone to have a great experience." To put this into context, Microsoft's CEO, Satya Nadella, said that inclusive design will go mainstream and is a priority for the computer software giant.
In this vein, Hassell explained how organisations can move accessibility into the mainstream:
1. Expand awareness – avoid losing or win?
2. Relate the business benefits: "Accessibility means you can minimise the costs of customer service by enabling everyone to use it online," he said.
3. Embed strategy – "make it like a stick of rock and embed it through your whole organisation. Make sure it is in the governance," Hassell continued.
4. Enable process – "Fix the problem in the process, not the product to prevent it reoccurring. Must be done efficiently."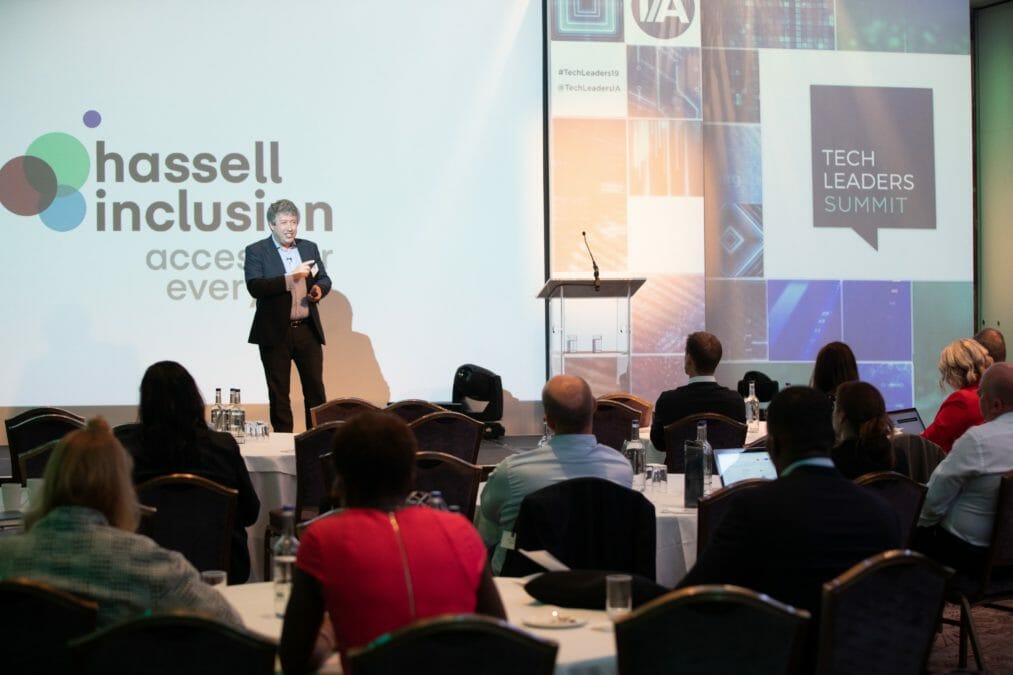 And following these steps, to make digital accessibility a success:
1. Measure the effect. Hassell said: "It's not the work you do, it's the effect it has that matters… If you don't measure you're effects, you'll stop doing it. Show ROI, otherwise work will be undone."
2. Continually evolve. "We work in tech because we like change," concluded Hassell. "Keep up with tech change and understand how do I make it work for everybody — when you really care and listen to people's needs it requires you to think differently. Fundamental innovation steps were created because inventors thought about who doesn't like the world as it is now."
---
Related articles
A CTO guide to digital transformation in financial services
The blockchain guide for CTOs and tech leaders: suitability, adoption, regulation, hype and future predictions
R. Michael Anderson reveals the key to (tech) leadership
Tech Leaders Summit: Helping CTOs and tech leaders drive innovation
---