"Technology is the engine of change," opened the CTO panel's moderator, Sandeep Roychowdhury, founder and director at SMEinnovation, during Information Age's Tech Leaders Summit.
To navigate this "dark forest," as Roychowdhury put it, industry leaders are diversifying. IBM, for example.
Sharon Moore, CTO for Public Sector at IBM, explained that while IBM is a leader in cloud and infrastructure, "there was public opinion that we were behind with regards to public cloud, and I believe the Red Hat acquisition has assisted with removing that perception," she said.
IBM has used collaboration to stake a claim in this environment and in Moore's view it's clear that "multi is the way forward.
"Businesses must manage across multiple cloud providers. And, because vendor lock-in issue, Red Hat's fabric helps businesses move from one environment to another."
Cloud wasn't the only topic on the agenda.
The future of innovation is collaboration — Tech Leaders Summit keynote 2019

Amanda Brock, chair of open source and IP advisory group at the United Nations Technology Innovation Labs, explained that the future of innovation is collaboration during her opening keynote at Information Age's Tech Leaders Summit. Read here
The CTO of Ofcom, Mansoor Hanif, said that he expected 5G to be hugely transformational. "Connectivity is eating the world, not software," he said. "Digital transformation depends on everything being connected. And the UK could be only large scale western economy where every operator launches 5G." But he warned the audience that 5G will have an incremental business impact.
RegTech was also identified by Jennifer Anderson, CTO at Incuto, as another area that has seen a huge amount of investment in recent years. So much so, that "50% of RegTech's annual growth has happened in the last five years and the industry is now valued at £2.3 billion, with a turnover of 750 million," according to Anderson. She said this level of growth is significant and will "improve the social and economic outlook" for millions of people.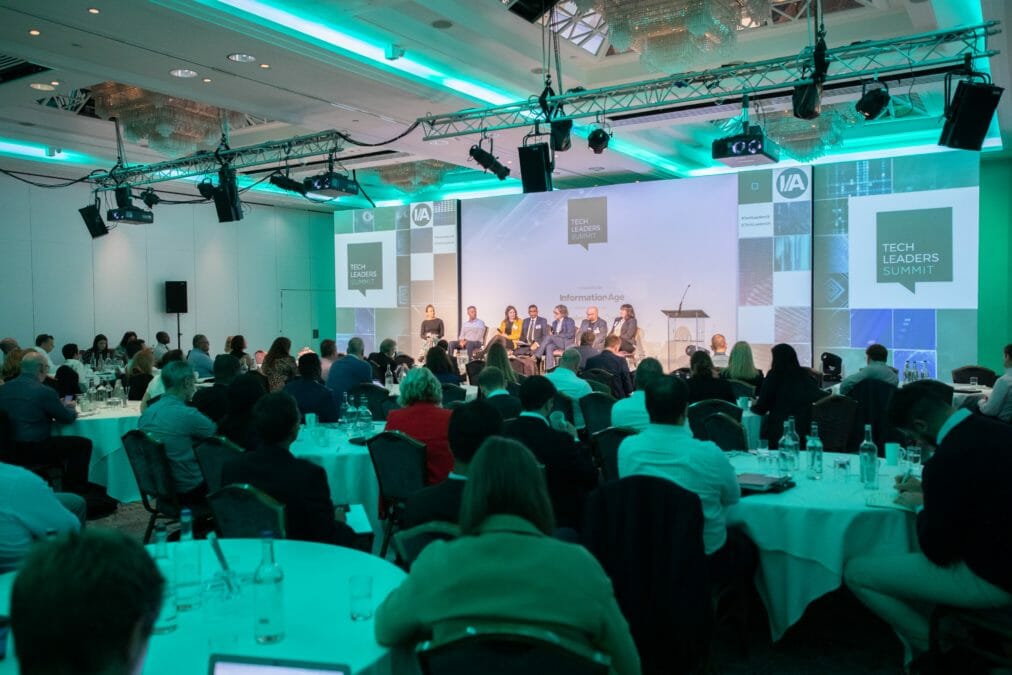 Indeed, tech should not just be leveraged by the largest, most powerful organisations. What about the SMEs? The CTO of Digital Ventures and Innovation at RBS, John Pillar, asked this question; how can we help them? "RBS," he said, "has accelerators and is investing in startups and we want a seat at the FinTech table."
Of course, it wouldn't be a CTO discussion without the topic of AI being breached. "The UK wants to be global leader in AI and the governance of AI ethics," said Pillar. "How can machines, people and algorithms work together," he asked?
Hanif responded and agreed that this interaction is necessary, because true AI is some way off. He explained that there is "too much hype with what you can do with AI and analytics. Instead, people need to understand the culture of the organisation and leaders need to bring people together to work to the same outcome — whether that outcome requires AI or not is irrelevant.
"The focus should be on building an end-to-end system that is of benefit to the organisation and its customers, rather than an emphasis on programming."
Supporting agile enterprises at Tech Leaders Summit 2019

The Supporting Agile Enterprises stream at Information Age's Tech Leaders Summit covered a number of topics, including digital transformation, moving from a startup to a scaleup, retaining a millennial workforce and the importance of digital accessibility. Read here
CTO predictions
Before the panel concluded, Roychowdhury asked each CTO to provide a tech prediction.
Anna Dick, CTO at Hiring Hub, kicked things off and said the "tech trend will depend on the industry, although there will be a general focus on data and AI".
Hanif said the focus will be on "algorithms [how he referred to AI], ethical, transparency and security of AI".
Anderson felt that being able to "predict certain behaviours and react to them" will be increasingly important, while Moore explained IBM wanted to work "with the 80% of enterprise that's not in the cloud".
Pillar reemphasised Hanif's point on 5G and said the emphasis should be on "the expansion of connectivity and availability.
Finally, Joe McFadden — CTO at HealthUnlocked — said he expected a "convergence of trends and connectivity underpins that. ML and data should be part of every businesses plans and I also think AR has a role to play."
---
Related articles
The 4 different types of CTO — which one are you?
Engaging the millennials and managing your staff turnover rate
The blockchain guide for CTOs and tech leaders: suitability, adoption, regulation, hype and future predictions
R. Michael Anderson reveals the key to (tech) leadership
Tech Leaders Summit: Helping CTOs and tech leaders drive innovation
---