Robotic process automation, or RPA, has a significant role to play in the transformation of the real estate industry. The technology will allow real estate companies to automate arduous, manual tasks and allow real estate professionals to spend more time on assignments that add value to the business.
This article will explore why the real estate industry should adopt RPA, the benefits, the challenges, the impact for those companies that don't adopt robotics and two case studies to enforce the point.
The real estate industry: inefficiency in back-office processes
Currently, real estate organisations — like many in traditional industries — face a challenge when it comes to driving efficiencies in back-office processes. Some activities, such as document management, invoice processing and the extraction of data from these documents, requires a lot of time and focus.
These tasks are, of course, extremely important, but they consume a considerable amount of time and labor to complete those.
Lately, according to Ranjit PV, Vice President, Technology at Retransform, real estate companies are now "consistently looking for ways to improve these inefficiencies, at the same time reducing the cost and also improving the turnaround time for these activities."
One of the best ways to achieve this is through the adoption of RPA or robotics.
RPA allows organisations "to easily automate such tedious and repetitive tasks that consume a considerable amount of time and human capital," adds PV.
Retransform founder Q&A: Driving digital transformation in real estate

Technology has important role to play for real estate companies looking to improve their operations to drive bottom line benefits, according to the founder of Retransform. Read here
In-house, outsource or the 24/7 digital worker
Historically, traditional industries would have to make a decision whether to either outsource a technology solution like RPA to a service provider or deploy it in-house.
However, now according to PV, there is a third option.
"Real estate companies looking to adopt RPA have an alternate option — the virtual assistant or a virtual employee do these activities of onboarding a new tech solution," he says.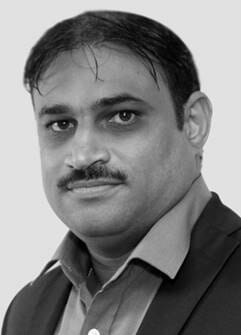 The benefits of RPA
There are many benefits to adopting RPA in the real estate industry.
Adopting the technology will increase the efficiency of many tasks, because they will be done much faster in a digital environment.
This automation of repetitive tasks and the improved turnaround time on tasks, due to the bots working 24/7, will lead to cost savings.
Accuracy on tasks like data entry will also significantly improve, because once the bot has been programmed there are no distractions or failings.
The final benefit and perhaps the most important, is the time saved for employees by automating manual tasks. Employees could be moved into other areas where a human touch is required, more innovative areas or a revenue generating activity.
"The adoption of RPA frees up human resource assessment. And from a compliance perspective, once you define the boundaries, the bots will work within these and ensure your business is compliant," adds PV.
Case studies
Demonstrating the benefits of RPA in the real estate sector, specifically, PV provided two case studies.
1. Logistics real estate
The client is a global leader in logistics real estate with a focus on high-barrier, high-growth markets. A publicly traded real estate investment trust (REIT), client offers its customers and investors the most modern and geographically diverse platform of distribution space in the world. The client is known for its unparalleled customer service and commitment to sustainable development.
Use case
The client uses Salesforce to manage their business opportunities and Yardi Voyager to manage their leases. The opportunities (new leases and renewal leases) were first entered within Salesforce, and once they were closed, the leases were then manually entered into Yardi Voyager. This process was time-consuming and was prone to human error. Moreover, entering one lease into Yardi Voyager took 50 minutes to be completed.
To overcome these challenges, the client was seeking a solution that met the following criteria:
Automate creating the leases in Yardi Voyager by capturing the closed business opportunity from Salesforce.
Track any errors during the process with screenshots and notifications.
Notifications on successful creation of lease in Yardi Voyager.
Maintain audit trail for the end-to-end process
Solution provided
With Retransform's extensive experience in the Real Estate domain and expertise in RPA, the team helped develop a viable solution to automate the manual process of entering leases into Yardi Voyager using the information already available in Salesforce.
To meet the client's requirement, Retransform designed and developed a comprehensive RPA solution that included the BOT fetching the closed opportunities from Salesforce and creating / amending these leases within Yardi Voyager.
Benefits
The manual processing time for creating a lease into Yardi Voyager was over 50 minutes per lease. The BOT could complete the same in under 10 minutes. This resulted in providing considerable time savings, accuracy of data being entered and resource-saving to the client.
2. Commercial real estate
The client is an industry leader and one of the largest commercial real estate and finance organisations. With over five decades of experience, they specialise in creating, developing, and supporting member companies that provide commercial real estate-related services and alternative investment funds, including limited partnerships, institutional funds, and non-listed and listed REITs.
Use case
The client was migrating their ERP system from JD Edwards to Yardi. There volume of data (~ 500 GB) that was to be migrated was massive. After the migration, there was a need to validate the accuracy of the migrated data. This involved comparing the source system (JDE) data with the destination system (Yardi). This validation exercise, if done manually, would have taken a team couple of months to complete the assignment.
Client needed an automated solution to validate the accuracy of data for the following entities:
Properties
Leases
Units
GL Balances: Subsidiary & Sub ledger segments
GL Balances: Combine Budget
GL: Segment-wise
GL Book Wise
GL: Company Level
Sales Record
Solution provided
To meet the client's requirement, Retransform designed and developed an RPA solution that included development of multiple BOT's which would run 24/7. These BOT's will compare the JDE data with Yardi for accuracy. The JDE report templates were mapped and pre-defined with Yardi's unique identifiers.
The BOT extracted the data from JDE reports, searched for the corresponding records in Yardi, and compared each data point. At the end of the process, the BOT generated a reconciliation report highlighting all the discrepancies found with the data points during the validation process.
Benefits
The manual processing time for validating the data could have taken over 2 months. The BOT could complete the same in two weeks, providing considerable time and resource-saving to the client. Additionally, the BOT quickly highlighted all the discrepancies, which were manually corrected before the application went LIVE.
Using a Fintech model to future-proof your real estate assets

Lynn Peters, vice-president of global operations at Retransform, spoke to Information Age about how a Fintech model can future-proof real estate assets. Read here
The challenges
Despite the obvious benefits, as demonstrated above, there are a number of challenges in adopting a relatively new technology like RPA into a traditional industry.
There are late adopters when it comes to emerging technology, because in a sector like real estate the focus is on buying, selling and leasing out space — there is little focus on the technical side of things from a board level perspective and throughout an organisation, unless you are in the IT team.
The term robotic process, automation intimidates people working in the real estate sector, and there are some other major deterrents in adopting these new technologies.
"One is change management," says PV. "Organisations need to have a champion who can drive the change of adopting something like RPA throughout the entire organisation.
"Another challenge focuses on identifying the right process to activate, because there are certain rules which you need to follow when you're implementing RPA."
To overcome this challenge, PV suggests implementing RPA in a modular fashion.
"Start small and automate low-hanging fruits. Once the rest of the business understands the benefits in these quick wins and sees the incremental improvements, wider adoption of the technology will be more seamless and experience less resistance," he says.
There is no doubt that despite there are challenges, RPA is gaining momentum and it's getting a significant foothold in the real estate sector, primarily because the idea is to deal with improving process, and the business users are able to relate to this.
RPA — competitive advantage in the real estate industry
Real estate companies that don't adopt RPA, and similar technologies, will struggle to compete with other companies that do adopt the tech. By implementing RPA, the forward thinkers will be more efficient than their competitors.
"RPA is primarily a very low risk, non-invasive technology. Organisations' don't have to make a big change to their systems, and this improves a company's efficiency, the quality of work, the turnaround time, the customer satisfaction and lot more. There's a lot a lot to gain by deploying RPA, but minimal risk."