RPA technology's potential to drive seismic change across the world's workplace has created a rapidly expanding market. Currently, over 40 companies offer some form of RPA and all possess a vastly different heritage – which means that not all RPA solutions are created equal. Selecting the wrong solution is often the cause of failed projects, the introduction of 'shadow IT', or worse. Therefore, in this increasingly confusing and saturated market, we feel that it's important to define why our RPA is designed to be 'enterprise strength' and why it's very different from the rest.
The heritage of enterprise RPA
Since enterprise RPA software was developed over 17 years ago, it now successfully operates in large scale, demanding, enterprise environments – enabling strategic, business-led, change. In fact, enterprise RPA software is playing an increasingly significant role in transforming the efficiency and productivity of workplace operations of large organisations – across the globe.
The notion of RPA was formed after an automation solution was designed for the banking sector, to address the inefficiencies of "human middleware". This is where human workers perform repetitive tasks, in place of interoperability and integration between enterprise-wide IT systems.
Traditional IT methods couldn't easily address this operational challenge, as they were focusing on big ticket items, so a more agile, business-led, automation solution was required. Of course, being a banking environment, any automation activity needed to be done in a highly secure and regulated way. This meant it had to be executed in a data centre environment – while being controlled by a bank's IT department too. The answer was enterprise RPA – a software that carries out tasks in the same way humans do — via an easy-to-control, automated, "digital worker".
Misconceptions about the term RPA: would removing a letter from the acronym help?

The term RPA can cause confusion and may even aggravate some of the workforce that don't fully understand the concept, Sooraj Shah asks whether there's a way to prevent this from happening
What makes enterprise RPA software unique is its ability to navigate applications and processes in a highly flexible way – without needing to rely on the IT department to write code and build integrations and applications. Business users simply create automated processes in a "vision-like" designer, which are then used by the digital worker to automate a task – using the same applications. This differs from some 'RPA labelled' solutions in the market that still require a high degree of programming knowledge to achieve the same goal. Digital workers are also designed to be adaptable and resilient – whether that's coping with different screens, layouts or fonts, application versions, system settings, permissions, and even languages.
The next evolution – connected-RPA
An 'enterprise strength', digital workforce should be interconnected too – so it has built-in, central control and queue management functions. This enables digital workers to communicate with one another to collaborate, share workloads and operate as a highly productive team. The digital worker is also able to consume intelligent automation skills through a broad ecosystem of complementary technologies. This further enhances a digital worker's capabilities, with an ability to adapt and learn from humans – or from other systems.
Understanding the maturing role of AI in RPA

When RPA initiatives fail to reach fruition, there's a natural assumption that this is because the robots aren't smart enough; however, it's not the job of a robot to be smart: it's AI's
This evolution has led to a new era of 'connected-RPA'- where more intelligent automation capabilities and tighter integration of people, enables collaborative innovation across the enterprise. Connected-RPA is allowing organisations to increasingly liberate the creativity of digitally savvy, entrepreneurial, business users – who really understand their business. This is achieved by giving these users the ability to easily access and exploit leading-edge cloud, AI, cognitive, and other capabilities, through drag and drop, intelligent automation skills. This enables them to innovate and keep pace with ever-changing technology shifts, market demand and threats from competitors.
Having both human and digital workers working together, while seamlessly interacting with existing and new applications, creates a powerful, intelligent, collaborative and unified workforce – which is the essence of connected-RPA.
Ensuring connected-RPA is enterprise sustainable
Although connected-RPA is business-led, to maintain long-term success it must always operate in an IT-endorsed and controlled environment. RPA offerings that advocate a business-led approach to automation without the same degree of IT control can present security and auditing risks – especially as organisations attempt to scale these tools to achieve more ambitious business goals.
For example, connected-RPA provides the assurance of a centrally managed audit trail – which avoids compromising compliance, inviting audit failures or introducing potential "back doors". In some other RPA-labelled solutions, it's often left to the developer of the automation to program in the audit trail. This can introduce unacceptable levels of risk to a modern enterprise, or open up the prospect of repudiation of the approach by an auditor.
Connected-RPA software is therefore built on core principles of business-led design, security, auditability and scalability.
For connected-RPA to deliver longer-term value at scale, automation should also be carefully planned, modelled and designed, with appropriate governance. To achieve this, astringent Robotic Operating Model (ROM®) is used, so all automated processes achieve design standards, are completely transparent and are centrally pooled to maximise the potential for re-use.
RPA: the key players, and what's unique about them

We sat down with some of the key players in RPA: Automation Anywhere, NICE, UiPath, Blue Prism, Kofax, and Another Monday; to ask: 'what's special about you'? 
This collaborative facet is also an important part of connected-RPA, as it introduces the widest pool of non-technical, business users who contribute their automation so they can be managed and reused by the whole business – optimising productivity gains. The attraction of alternative "record and replay" automation approaches may be hard to resist, but they will often not meet the enterprise-scale tests of resilience and adaptability.
Connected-RPA can provide 'attended' style automation too – with "human in the loop" or "human-assisted" processes. With this mode of operation, the digital worker is run in a secure data centre, or cloud platform and interacts through work queues with the human user. This approach ensures a more scalable, secure and unified, digital and human workforce – versus an "on desktop," attended mode. Ultimately, this approach liberates users to complete higher value tasks – while the digital worker operates in the background – multitasking, rather than single-tasking.
Final thoughts
Ultimately, while all RPA products will deliver some value at a small scale, connected-RPA is becoming the gold standard for global organisations who are seeking a strategic approach to enabling capacity at scale and an answer to the future of work.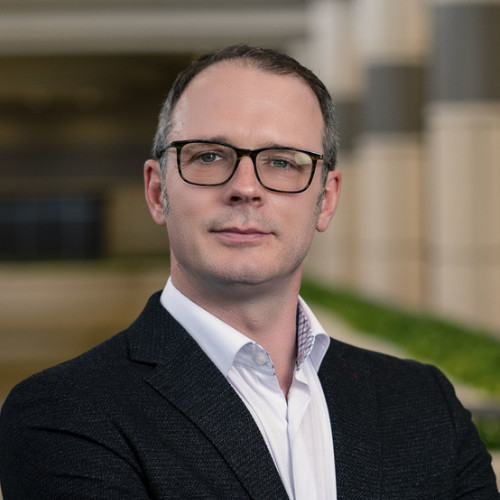 Written by Colin Redbond, head of technology strategy and architecture at Blue Prism