A new report has found that despite six in ten (61%) accountants saying that the finance and accounting profession is at a technological tipping point, six in ten (64%) still know someone who is using old methods such as paper ledgers and desktop spreadsheets as their primary accounting tools.
The research from cloud accounting software company Xero found there is a high expectation that accountants should be up-to-date with the latest accounting technology, with only a small number (6%) of SMB owners citing that it's not important.
Despite this, eight in ten (78%) accountants who work in accounting and bookkeeping firms still work off computer spreadsheets and a fifth (18%) still use a paper ledger, used as far back as the 13th century, to manage accounts.
>See also: Digital in the enterprise
To encourage accountants and small businesses to 'keep up' and get their accounting systems online, Xero has launched its report and commissioned renowned renaissance artist China Jordan to recreate the Portrait of Luca Pacioli; the man known as the 'Father of Accounting and Bookkeeping'. The update brings Pacioli, who was the first to publish a detailed description of the double entry system, into the modern age by updating his ledger with modern-day technology.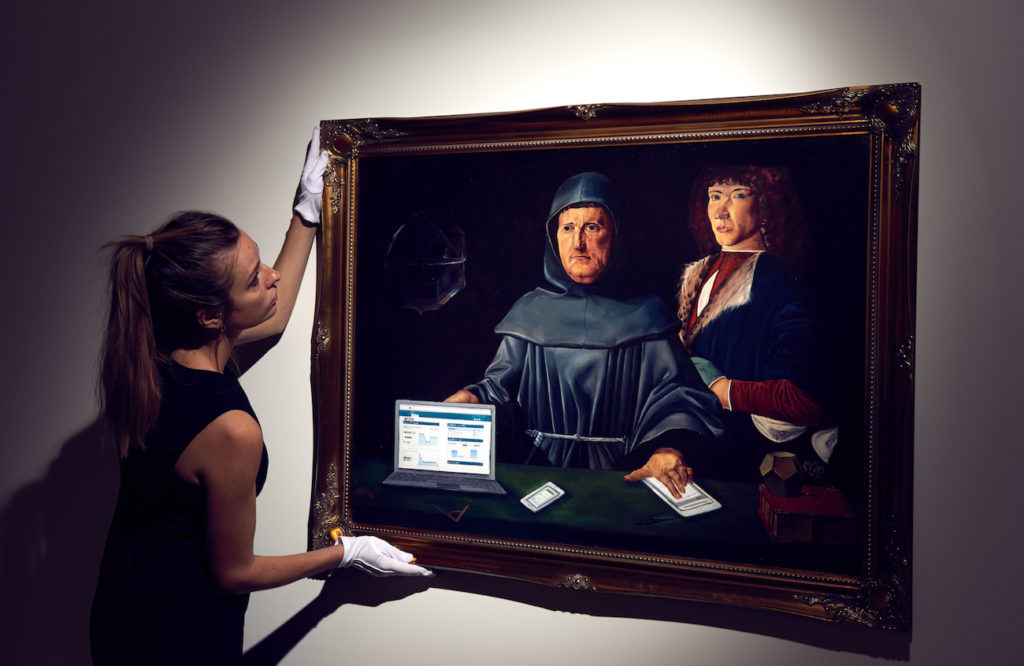 The report highlights the necessity of embracing the digital or die, and found that half (48%) of respondents are worried about the speed of change impacting the accounting industry and being left behind – rising from 22% in 2016. This is amplified by the fact that more than a third (35%) do not think there is enough education or training available to ensure that UK accountants will be able to keep up with the pace of digital change and upcoming legislation.
With change on the horizon, only 17% of accountants say they are very prepared for upcoming legislation, such as Making Tax Digital, the government's plan to make tax returns digital and quarterly.
>See also: The UK is the digital capital of Europe: Tech Nation 2017
A further quarter (25%) of accountants were not aware of Making Tax Digital at all – a concern, as a quarter of SMB owners (25%) believe that it's their accountant's responsibility to keep them updated with the latest legislation.
Damon Anderson, director of Partner at Xero, commented: "Over the next few years, small businesses and their accountants will need to embrace digital or run the risk of quickly being extinct. Our report shows that one in ten small business owners and a fifth of accountants in firms still use paper ledgers – a tool that dates back to the year 1299 – with many losing hours to menial administrative tasks. It's time to work smarter."
"The UK accounting industry is entering a new digital age, driven by unprecedented changes in accounting technology and a perfect storm of regulation from MTD, PSD2 to GDPR. We want to encourage practices to take the first step in ensuring they remain relevant by embracing the latest technology."
Shaun Robertson, director, Qualifications from The Institute of Chartered Accountants in England and Wales (ICAEW) added: "Some accountancy professionals fear being 'left behind' by the speed of change, which is why it's so important to learn about the benefits, opportunities and challenges of new technologies. In some cases, technology such as AI may supersede human efforts, however, it does not replicate human skills and intelligence. We need to recognise the strengths and limitations of different forms of technology, and build better understanding of the best ways for humans to benefit from computers."
>See also: As the digital and physical worlds collide it's time for a security refresh
When asked about the perceived benefits of going online, Xero's report found:
• Cloud based accounting could save accountants 117.5 hours a year on average (15 days) by eliminating the time spent on administrative tasks – approximately £3,153.70 per year, per staff member.
• A quarter (23%) say it could save them more than half a day per week (4 hours).