Widespread commercial drone-use is not far off.
Earlier this year Google was given permission by the US to test its delivery drones on 6 different sites, while the idea of an Amazon delivery drone has been established for quite some time.
Singapore post has also experimented with delivering mail from mainland Singapore to Pulau Ubin.
These 3 drone services – among others – have experimented with drones that can land at both ends of the journey.
However, they have been beaten to the commercial drone finish line.
Last week it was revealed that the world's first regular commercial drone delivery service began operations in Rwanda.
Zipline is the US start-up running the project. The company is made up of engineers who formerly worked at Space X, Google, Lockheed Martin and other tech companies.
It uses fixed-wing drones, designed like miniature planes, that fly automatically to destinations throughout Rwanda.
Once at the delivery areas location, the small packages being carried are released and, attached to a parachute, gently land at the delivery point.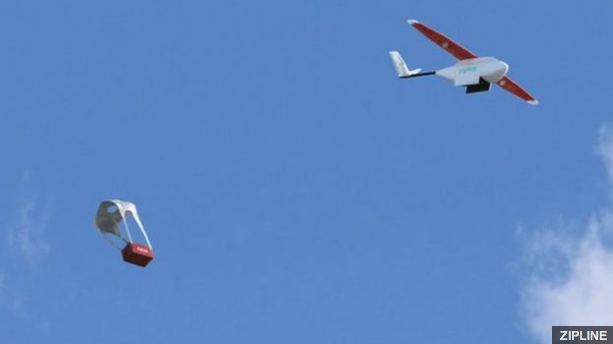 This method is unlike efforts attempted by other drone delivery services, like DHL, Amazon, or Singapore Post, that want their drones to be able to land at the delivery endpoint.
The use of the drones, however, combined with them not having to land will dramatically speed up delivery times.
Equally, "this avoids the risk of recipients getting in the way of rotating blades," said Dr Ravi Vaidyanathan, from Imperial College London.
"So long as there is no prospect of a plane falling from the sky and there is no danger posed by a package dropping on to anyone, then this sounds like a positive environment to begin drone deliveries."
Initially, the drones will be used to deliver blood, plasma, and coagulants to hospitals across rural western Rwanda, helping to cut waiting times from hours to minutes, and potentially saving lives.
Zipline will be paid by Rwanda's health department on a per delivery basis, with the cost a similar price to road-vehicle delivery methods.
"While delivery drones don't tackle the underlying problem of Africa's need for better roads and transport networks, they can deliver critical medicines and supplies to remote villages in countries such as Rwanda while surveyor drones play a part in finding a solution," said Joel Segal, chair of the Africa Business Group at PwC.
The drones are launched of a catapult from a base near the capital, Kigali, and they fly below 152 metres to avoid any other airspace traffic.
According to Zipline they have an operational flying range of 93 miles.
The drones are powered by a nose-mounted battery and guide themselves using GPS location data, and can relay information via a cellular link.
The challenges
Commercial drone delivery has the potential to revolutionise the delivery trade.
However, there are a few problems that must be overcome.
First, and this is true in most parts of the world, is legislation.
In the US earlier this year new rules surrounding drone-use were established by the U.S. Federal Aviation Authority (FAA).
A UK drone bill is also being discussed.
In Africa there is an absence of progressive drone laws, and their use is restricted and prohibited.
Rwanda, South Africa and Mauritius, however, are leading a change in perception with regulations that allow for drone licensing and operation.
The second challenge, perhaps more problematic in a continent like Africa, is that these delivery drones could be mistaken for weaponised drones.
"Whether we like it or not, UAVs [unmanned aerial vehicles] are confused with weaponised drones and are perceived by the general public as related to military operations and/or intelligence gathering," one Congo-based worker told a study carried out by a Swiss foundation.
"In countries and contexts with conflict environment, it is illusory to imagine that the general public, authorities and the armed actors will make a distinction between good 'humanitarian/civilian' drones and bad 'military' drones."
Admittedly, this is a hard challenge to overcome, but the potential environment, time and cost saving benefits of commercial drone use are worth the effort.
Drones, suggests Segal, can ultimately be used to "offer opportunities for both businesses and government to accumulate and share data, combining resources to better estimate where populations are concentrated, areas where deprivation is most severe and consequently where to target investment and services."