The worldwide IaaS market, according to Gartner research, grew from $32.4 billion in 2018 to $44.5 billion in 2019, as Amazon remained the top provider in the space, followed by Microsoft, Alibaba, Google and Tencent.
In 2019, the top five IaaS providers made up 80% of the market, up from 77% in 2018, with three quarters of all providers seeing growth in 2018.
While top IaaS provider Amazon built out capabilities beyond the IaaS layer in the cloud stack to retain its position, Microsoft, which remained at No. 2, saw its offering in the space grow by 57.8% as the company leveraged its sales reach and ability to co-sell its Azure offerings with other Microsoft products and services in order to drive adoption.
Alibaba Cloud, the dominant IaaS provider in China, saw revenue grow by 62.4%, and are set to continue expanding its cloud infrastructure portfolio over the coming years, and aim to offer cloud-based intelligent solutions to its customers to support their digital transformation process.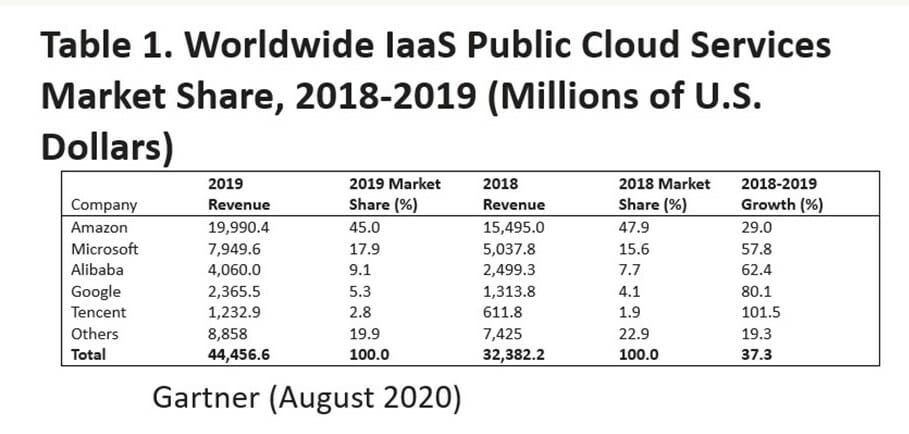 The findings from Gartner shows the IaaS market continuing to rise, maintaining momentum from previous growth in 2018.
"Cloud underpins the push to digital business, which remains at the top of CIOs' agendas," said Sid Nag, research vice-president at Gartner. "It enables technologies such as the edge, AI, machine learning and 5G, among others.
The top five CIO challenges

The role of the CIO is changing; Andy Mack from Echo Managed Services looks at top challenges facing the CIO. Read here
"At the end of the day, each of these technologies require a scalable, elastic and high-capacity infrastructure platform like public cloud IaaS, which is why the market witnessed strong growth.
"There will be a continued push of cloud spending as an outcome of the coronavirus pandemic. When enterprises were compelled to move their applications to the public cloud as a result of the pandemic, they realised the true benefits of public cloud and it is unlikely that they will change course.
"In the recovery and rebound phase, CIOs are recognising that they don't need to bring workloads back on premises, which will further increase cloud spending and drive new applications around cloud-hosted collaboration that incorporate emerging technologies such as virtual reality and immersive video experiences."
Gartner analysts plan to explore the latest cloud trends at the upcoming Virtual Gartner IT Infrastructure, Operations & Cloud Strategies Conferences.