If you had to pay for all the standalone services that GetResponse offers, it would cost you $178 per month.
The good news is that with GetResponse, it won't cost even half that much.
Read on to find out how to save time and money by using this exceptional marketing automation tool.
#1: You don't need to manually track email processes
In their marketing automation Pro package, GetResponse offers a workflow automation planner.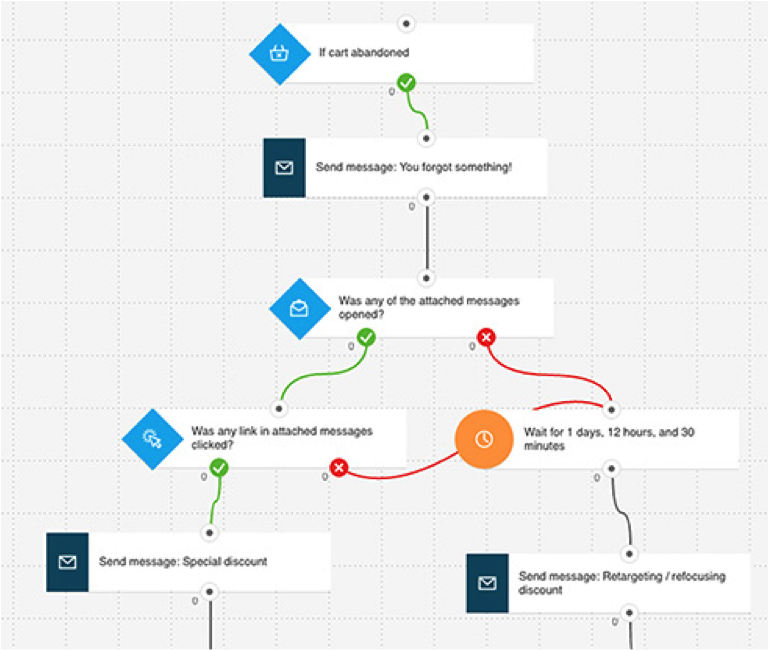 So instead of trying to manually work out a process involving conditions, actions and filters, you'd use this software which dramatically simplifies life because it's a visual representation that can easily be changed, and it allows for all points of views.
For example, you could create a process that looked like this:
When someone opens the welcome email, they are sent another email with a special within 24 hours.
If they don't open the email, they are sent a "don't forget to check your email" message 2 days later.
When they click on a link in the email, wait 2 hours and 3 minutes and then send them a coupon.
Can you see how manually setting this up would be time consuming and require so much effort?
Not only does the workflow automation feature save you time, it also significantly increases your marketing results.
#2: Email on autopilot
Email auto response is standard with all GetResponse packages. That means that you don't need to manually send any emails. Instead, set it up so that the system sends it all for you, when you want.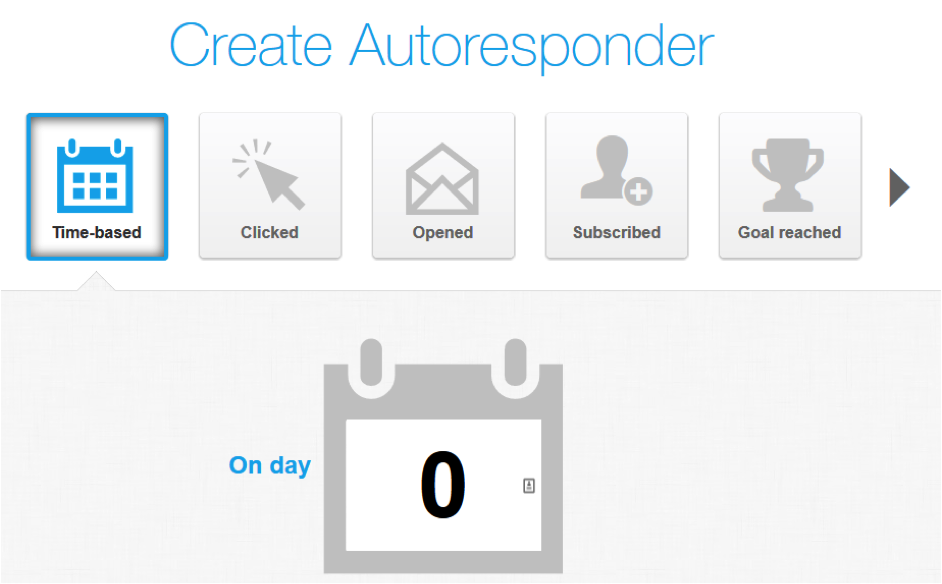 With GetResponse, you can segment your audience by scoring and tagging, so that people on your list only get what they're really interested in.
It goes without saying that this service saves you an incredible amount of time, and with segmentation, your open rates are sure to increase substantially.
#3: You don't need to pay for additional webinar software
A standalone webinar service will set you back about $30 per month, depending on the amount of attendees. GetResponse is one of very few marketing automation platforms that provide webinar software that is specifically designed as a lead magnet.
It consists of a chat feature, polls, image and file sharing, whiteboards and YouTube videos.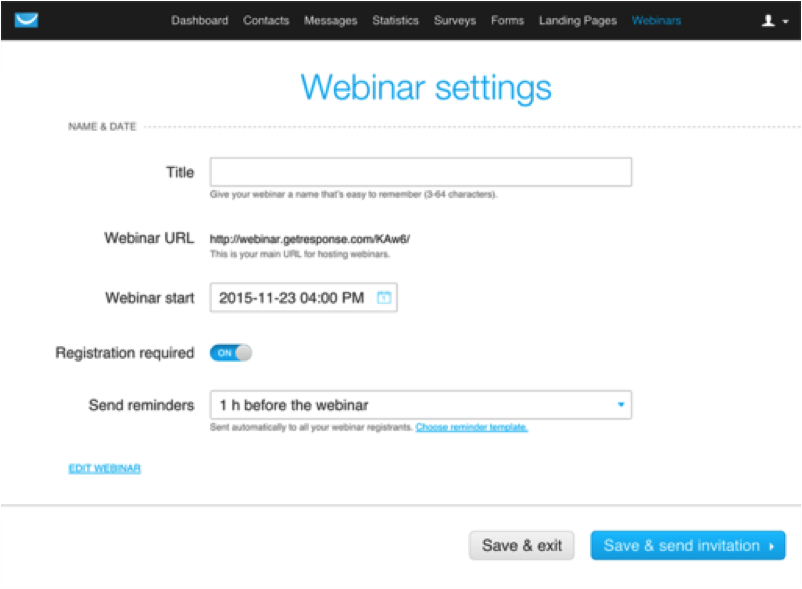 Easily set up webinar landing pages and emails to attract more subscribers.
#4: You don't need to pay for an additional landing page builder
If you want success online, you have to use targeted landing pages, which increase conversions.
Using a standalone landing page builder will set you back around $45 per month, but comes standard with all GetResponse marketing automation packages.
Not only do you save a tremendous amount, but life is simplified greatly, because:
The GetResponse ready-built landing page templates are designed for conversion, so that you don't need to hire a pro to do it for you, or struggle – with limited knowledge – to do it yourself. All you need do is make a tweak here and there.
You won't have to struggle with integrating a landing page with your website, or setting up sign-up forms with plugins, etc.
Create a stunning page that works to increase sales, in minutes.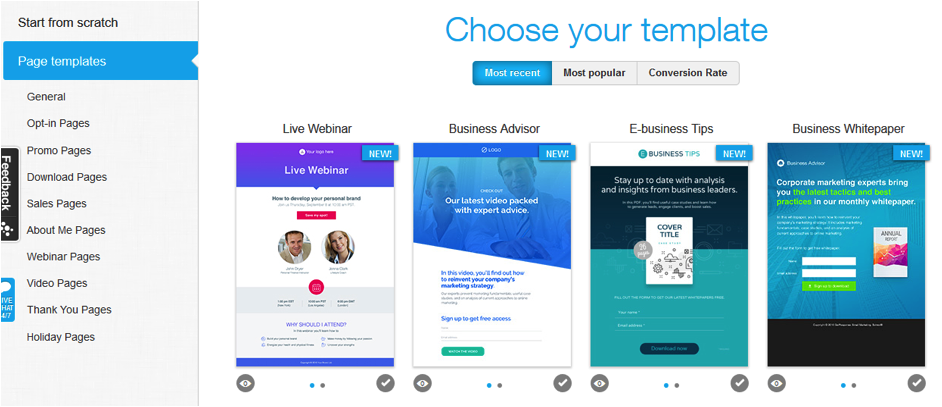 #5: You don't need to use plugins to make sign-up forms work well
You won't find this as a benefit in any of the reviews, but this small element is of great value.
With most of the other mid-level and entry marketing automation platforms (like MailChimp, iContact, ConstantContact, etc.) you need a plugin to make your sign-up form look pretty on your website. It's a pain and can create hours of work searching for a solution.
With GetResponse, simply insert the code and Bob's your uncle. More time to be productive elsewhere, and have peace of mind.

#6: Find out what works on your website
No other mid-level marketing automation but GetResponse offers web traffic tracking, where you can track the entire journey and behavior of your customers on your website, including cart abandonment.
This feature helps you to see what's working and what's not working on your website. For instance, if you notice a high cart abandonment, you can start checking for the reason why, and fix it.
You can also integrate Google Analytics with your GetResponse account.
Paying another provider for this service is likely to set you back about $40 per month.
#7: Conduct surveys without using another service
With online marketing, it is absolutely essential to know your target audience. Without understanding their needs, desires and pain points, you will never maximize your sales.
GetResponse offers a surveys tool to enable you to find out valuable information to improve your offerings and service.
The really great thing about GetResponse surveys is that you can customize it completely by adding your logo and directing people to a thank you page – for free survey services, you'd need to pay for these two elements, setting you back around $35 per month.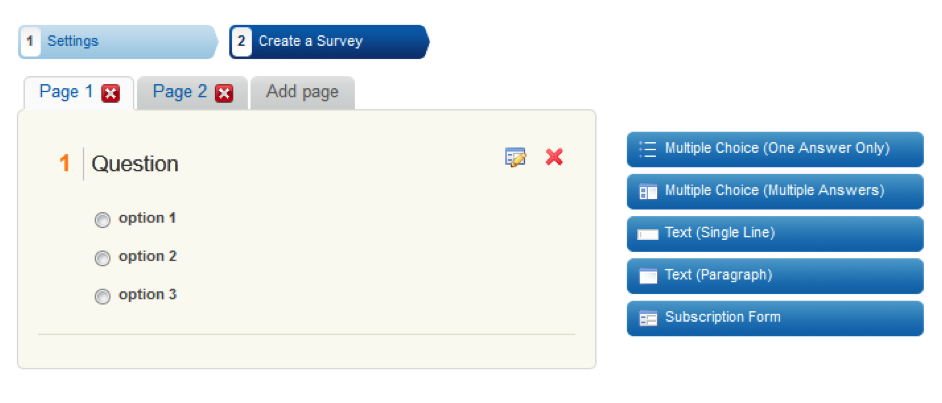 In addition, GetResponse analyzes the feedback and gives the results to you in simple charts, so that you don't need to take the time to interpret the data, or do it manually on an Excel spreadsheet.
#8: Implement and manage your entire online marketing strategy
With GetResponse, you have everything you need to implement and manage your entire online marketing strategy.
For instance, to succeed online, a small business needs:
A website (separate to what GetResponse offers)
Email marketing (standard in GetResponse packages)
Landing pages (included in GetResponse Pro packages)
Lead magnet (use the webinar function in GetResponse)
Conduct market research (via surveys in GetResponse)
Social media management tool (separate to what GetResponse offers)
The only standalone service you would need in addition to the GetResponse marketing automation platform, is your website and a social media management tool.
Voila.
#9: You don't need to find ways to integrate services
Had you started online marketing just a few years ago, you would need to hire professionals to implement your marketing strategy, or slog through the Internet attempting to find ways to make everything work together. You'd need API's, plugins and lots of technical support.
Life was hard.
Not needing to find ways to integrate services and functions will save you hours of time and frustration. By using GetResponse's Pro package, you have everything you need, right there in one place.
Added to that, in testimonials, GetResponse customers rave about the simplicity of the tool.
#10: Pricing of the GetResponse marketing automation tool is affordable
The best is left for last…in the beginning of the post, it was mentioned that using all the standalone services you'd need for basic online marketing, would set you back $178 a month, but the GetResponse Pro package only costs $49 a month. And you get so much more than you need for basic marketing.
To end off…
It's not rocket science to see how the GetResponse marketing automation tool will save you money because everything you need is included in the package. And because they make it so easy to implement your marketing ideas, it saves you a lot of time, which makes you far more productive in your core business.
Related Topics