In 2021, AI augmentation will impact the business like no AI-based technology has done before.
According to Gartner, AI augmentation or augmented intelligence will create $2.9 trillion of business value and lead to an increase of 6.2 billion hours of worker productivity, globally.
Gartner defines augmented intelligence as a human-centred partnership model of people and AI working together to enhance cognitive performance. This includes learning, decision making and new experiences.
"Augmented intelligence is all about people taking advantage of AI," said Svetlana Sicular, research vice president at Gartner. "As AI technology evolves, the combined human and AI capabilities that augmented intelligence allows will deliver the greatest benefits to organisations."
All in the mix: AI is about augmentation, not just automation

In this article, Dr Boris Altemeyer, psychologist and Chief Scientific Officer at predictive people analytics company Cognisess, argues that AI will never completely replace humans. Read here
Business value of AI augmentation
AI augmentation is forecast by Gartner to add the most value to business, with the fewest early barriers to adoption, compared to other AI-based technologies (see Figure 1).
By 2030, decision support/augmentation (AI augmentation) will surpass all other types of AI initiatives to account for 44% of the global AI-derived business value.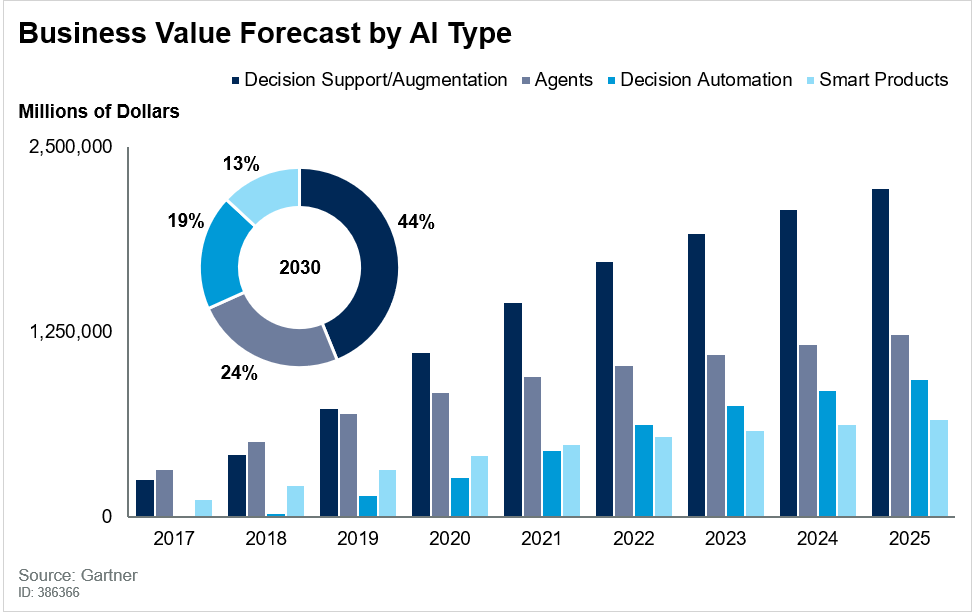 True AI doesn't exist yet…it's augmented intelligence

With all the hype surrounding artificial intelligence, it is easy to forget that true AI doesn't exist yet. Instead companies are leveraging augmented intelligence. Read here
Enhancing the customer experience
The name of the game — customer experience is the primary source of AI-derived business value, according to the Gartner's AI business value forecast.
AI augmentation/augmented intelligence reduces mistakes while delivering customer convenience and personalisation at scale, democratising what was previously available to the select few. "The goal is to be more efficient with automation, while complementing it with a human touch and common sense to manage the risks of decision automation," said Sicular.
"The excitement about AI tools, services and algorithms misses a crucial point: The goal of AI should be to empower humans to be better, smarter and happier, not to create a 'machine world' for its own sake," she added. "Augmented intelligence is a design approach to winning with AI, and it assists machines and people alike to perform at their best."
---
Tech Leaders Summit
On 12 September, Information Age will once again host Tech Leaders Summit at the Royal Lancaster Hotel, London. This year, speakers at the UK's most innovative tech leadership conference — including the CTOs of RBS and Ofcom and Sarah Burnett from Everest Group — will help dissect subjects, such as intelligent automation, emerging tech, agile and cultural transformation. With plenty of opportunties to network throughout the day, this event is not be missed. To find out about the latest innovations and how to lead your organisations and customers through the disrupted era, register here.
---