With growth of the business found to be the top strategic priority for half (49 per cent) of CEOs across the world, generative AI in particular is set to "profoundly impact business and operating models" across every industry, according to Mark Raskino, distinguished vice-president analyst at Gartner.
However, Raskino believes that a major driver of investment in AI technology is a fear of missing out — a trend often seen across other tech markets.
He said: "AI is reaching the tipping point where CEOs who are not yet invested become concerned that they are missing something competitively important."
---
OpenAI CEO Sam Altman shares AI regulation concerns with US Senate — OpenAI CEO Sam Altman admits that 'significant harm' could be caused globally by AI large language models such as GPT-4 unless more stringent regulation is put in place.
---
Behind growth in business priorities topping the corporate agenda for CEOs was technology-related goals (34 per cent), the workforce (32 per cent) and corporate action (31 per cent) — all areas in which AI can, and has, made its mark.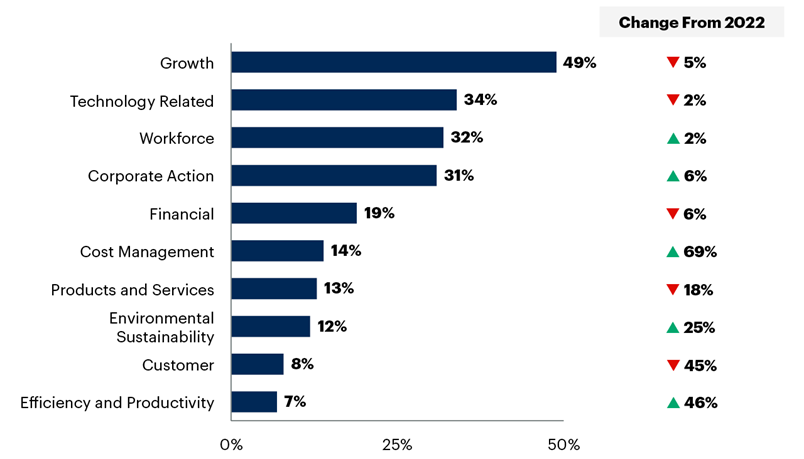 Talent attraction and retention was revealed to be CEOs' top workforce priority, while concerns about compensation was said to be the biggest shift in current and prospective staff behaviour, followed by a desire for greater flexibility and remote or hybrid work.
Training and human connection around AI required
Further research from cloud call centre software provider Aircall reveals that 64 per cent of small and medium-sized businesses (SMBs) around the world are optimistic about the prospects of AI.
However, 63 per cent of employees said a lack of understanding around what AI can do remains — demonstrating the need for driving education and trust on the part of business leaders.
In addition, almost half (46 per cent) of staff surveyed expressed concerns that AI will replace them, while 46 per cent fear that it will lead to lower pay.
"AI is still in its infancy, but we're already seeing its profound potential for businesses. To untap its true value, businesses must see AI as a facilitator of greater human connections — not a substitute for them," said Aircall co-founder and chief sales officer, Jonathan Anguelov.
"Partnering with AI empowers [sales and support teams] to take time back, build stronger customer relationships and human connection. Caution is needed of course, and businesses should spend their time investing in supervision, awareness, and training.
"Ultimately, this will ensure an exciting new journey for them remains one that accords to their values, model, and objectives."
Gartner surveyed over 400 CEOs and other senior business executives from across the world for its 2023 CEO and Senior Business Executive Survey, while Aircall's study saw participation from 3,500 employees within SMBs globally.
Related:
What generative AI means for business analytics — Jim Goodnight, founder and CEO of SAS Institute, tells Information Age his thoughts on the impact generative AI will have on business analytics.