Managing today's corporate finance function is a complex and unrelenting juggling act.
With global markets in a state of constant flux, forecasting is always a challenge. Increasing pressure from regulators, investors and employees around transparency and assurance of control has made risk a no-go area.
When it comes to corporate finance, companies don't want to be seen as 'innovative' and 'disruptive.' Slow and steady wins the race in this case, and CFOs are feeling the pressure to ensure day-to-day activities are maintained, with the focus remaining firmly on profitability.
However, just because the finance department may not currently be a centre for innovation does not mean that it's always been this way.
Most enterprise level finance departments have been using rudimentary forms of robotic process automation in transactional processes for many years – for example, the majority of enterprise finance departments use optical character recognition to read paper invoices.
>See also: CFO's are proving invaluable post-Brexit result
Overall, the recent 2016 Robotic Workforce Research report findings revealed a positive attitude towards automation, with 94% of respondents saying that they are open to a robotic future. But does the finance department have the latest developments in robotic process automation on its radar? Or is already making use of the efficiencies of automation?
The Robotic Workforce Research report asked respondents what extent their business was looking to adopt artificial intelligence (AI) or robotic automation in the finance department – on a scale of 1 to 5 (1 being that they are not considering automation at all and 5 being that they are strongly considering it.) 34% of respondents said that they are strongly considering automation in the finance department.
Further, 44% of respondents already had plans in place to automate, or that they have imminent plans in place to make change happen.
Just over half of respondents (52%) believe that automation in the finance department will take place at a more gradual pace, over the next 2 years.
It's an interesting point of view, and one that shows the finance department could be moving faster when it comes to adopting automation.
Here are a few ways finance departments could be using automation to help alleviate some of the day-to-day pressures:
Self-service reporting across multiple systems
Intelligent automation tools such as robotic process automation (RPA) are perfect for pulling information from multiple, potentially disparate, systems and repositories to create meaningful reports (alleviating the need to rely on IT to create custom 'bridges' between applications).
Capturing information in real time
Automation, by its nature, leaves a digital paper-trail which means all information can be captured and analysed while the 'virtual worker' is doing their job – not a month later.
>See also: Why cloud is changing the tech landscape for CFOs
Cognitive systems can then look out for patterns or exceptions across all of your 'virtual workers' to produce insights, enabling businesses to make decisions much faster.
Hard-coded standards and compliance
Unlike their human counter-parts, virtual workers can be programmed to carry out a task in a very explicit, very rigid way. Not only does this mean they are more likely to comply with standards, but that they are also 100% accurate which further frees up time spent on reviewing datasets and correcting in put errors.
Use cases include:
Procure-to-pay (P2P)
Order-to-cash (O2C)
Record-to-report (R2R)
W4 management
Supply chain vendor setup
Incentive claims
Sales orders
Collections
Reporting
Finance department commitment by vertical
So which vertical sector was the most committed to automating their finance department? Genfour asked our respondents to rate their level of commitment on a scale of 0-5, 0 being not at all, and 5 being fully committed.
The food and drink industry showed the highest level of commitment towards automating their finance department, with a third (33%) of respondents rating their commitment level at 5/5.
>See also: How one CIO left behind a diversity legacy at oil giant BP
The oil and gas industry also demonstrated a high level of commitment, with a quarter (25%) of respondents rating their commitment at 5, closely followed by the communication services industry, with 22% of respondents rating themselves as 'committed' to automating their finance department.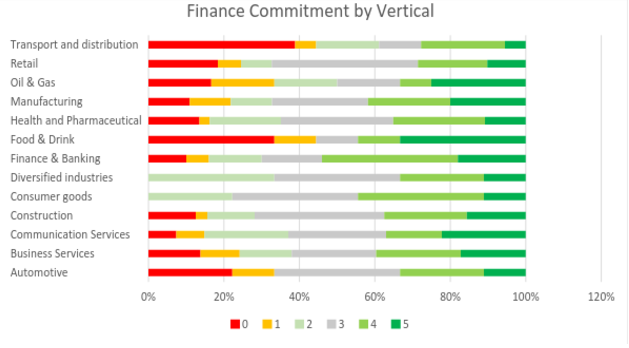 It's encouraging to see the finance department invest in robotics in such a way that its people and processes will benefit, and we look forward to seeing robotics commitment grow across all verticals in the years to come.
Sourced by James Hall, CEO of Genfour