Amazon Braket aims to help developers and researchers in academia and industry begin to explore quantum technology using development tools, simulators, and a portfolio of quantum hardware.
Customers can use Amazon Braket to test and troubleshoot quantum algorithms on simulated quantum computers running on Amazon EC2 resources, or choose from a growing library of pre-built algorithms.
Quantum environments
Once ready, algorithms can be run on quantum processors based on D-Wave, IonQ, Rigetti and other ecosystems, without needing to turn to multiple providers or committing to a single technology.
Should decision makers be concerned by the threat of quantum?

Executives are wary about the possible threat of quantum, but how concerned should they be, and when should they start getting worried? Read here
Alan Baratz, CEO of D-Wave, said: "We share the goal with AWS to explore the practical, real-world applications that deliver customer value, and as a systems partner of Amazon Braket, we expect that its general availability will continue to drive the growth of the developer community and fuel innovations of pragmatic solutions in quantum computing."
Peter Chapman, president and CEO of IonQ, commented: "With the general availability of Amazon Braket, our quantum computers will be commercially available to the public for the first time. Our trapped-ion technology is backed by decades of scientific progress, and we are excited that more customers than ever can access our ion-based computers through AWS to scale their use of this technology."
Chad Rigetti, founder and CEO of Rigetti Computing, added: "Building useful quantum applications benefits from state-of-the-art access to quantum hardware. AWS customers can now access our most advanced processor to date, Aspen-8, based on our 32-qubit node technology.
"By delivering access to our systems in collaboration with AWS, we will be able to reach more customers and help accelerate the growth of this emerging industry."
Users can leverage familiar tools, such as Jupyter notebooks, in order to access pre-installed developer tools that can be used to design quantum algorithms, visualise results, and collaborate with others.
A unified platform
Quantum simulations and hardware tasks are managed within a unified development space, with customers only needing to pay for the compute resources they need.
"As we see quantum computing technologies make more meaningful progress, thousands of customers are asking for ways to experiment with quantum computers to explore the technology's potential and contribute to its development," said Bill Vass, vice-president, technology, at AWS.
"The cloud will be the main way that customers access quantum computers and combine those systems with high-performance classical computing for certain types of computationally-intensive research. Amazon Braket makes it easy for organisations to begin experimenting with quantum computing today — from those just beginning to explore the possibilities, to those that are already familiar with different quantum technologies and are ready to use it as a research tool.
"Our goal for Amazon Braket is to be a catalyst for innovation across the quantum community, bringing together hardware and software developers, researchers, and end users."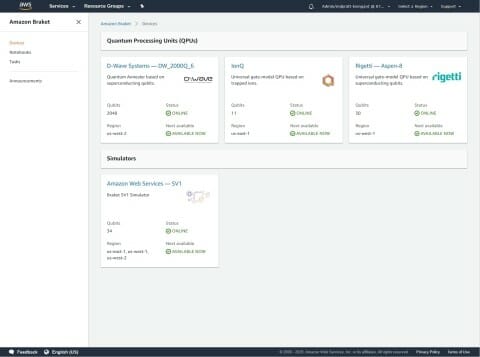 Early trialists
Companies already leveraging Amazon Braket include the Institute for Quantum Computing (IQC) at the University of Waterloo, ENEL, and Volkswagen Group.
Michele Mosca, full professor at the University of Waterloo, commented: "While it's hard to predict which products and sectors will be disrupted the most by quantum computation, or when the disruptions will happen, there is great risk in being caught off-guard and great opportunity in managing the uncertainties wisely.
"The wise path involves continually exploring where the algorithmic advantages may lie and being ready to run on whichever quantum computer offers the resources needed to achieve the advantage.
"A quantum computing service, like Amazon Braket, that offers ready access to multiple hardware devices enables quantum readiness and agility."
How to achieve agile DevOps: a disruptive necessity for transformation

Three experts explain how organisations can achieve agile DevOps. The process is disruptive, but entirely necessary for transformation. Read here
Fabio Veronese, head of infrastructure & networks digital hub at ENEL, commented: "Enel distributes electricity through a network of over 2.2 million kilometres, and with around 74 million business and household end users worldwide. Because of our wide service network, the ability to optimise our resource planning is an essential component of digital transformation, and one that we can turn into a concrete advantage.
"During a collaboration with DATA Reply and AWS, we have tested innovative techniques to perform optimisation using Amazon EC2 resources, as well as today's quantum computers through Amazon Braket.
"These techniques are promising, and we expect they will lead to solutions that can deliver savings to our operations, especially over time as quantum hardware matures."
Florian Neukart, director, advanced technologies and IT strategy at Volkswagen Group of America, added: "At Volkswagen, we want to gain in-depth understanding of the meaningful use of quantum computing in a corporate environment. The key will be the testing and continuous further development of algorithms on various quantum computers.
"For the first time, Amazon Braket makes it possible to address and use quantum computers of different service providers via a standardised programming interface. This offers considerable opportunities for accelerating development work and improving our quantum algorithms.
"We are convinced that Amazon Braket can help deliver the benefits of quantum computing to society and industry even faster."